Taccia Limited Edition Miyabi Winters Breath Fountain Pen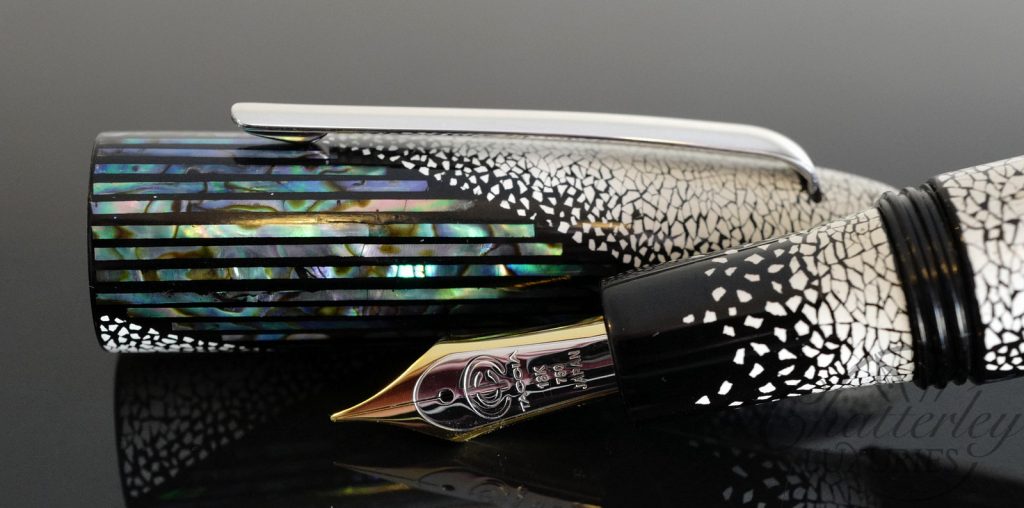 TACCIA has consistently challenged ourselves to push forward the intersection of the modern and the classic. To create the TACCIA Miyabi Maki-e LE™, we combined the latest in penmaking innovation with the allure of handcrafted artwork.
The TACCIA Miyabi Maki-e LE™ builds on our decades of craftsmanship to present our most significant writing instrument yet. Out of pure natural ebonite, we molded a body familiar in shape and significant in size. Each instrument was then fully crafted, inlaid, and sealed, all by an artist's hand, using hand-cut precious material and advanced maki-e techniques, included Raden, Hyoumon, Rankaku and Nashijin Fun to conjure images of nature, history, and space.
After the artwork was complete, we focused our attention on elements to bring out the best writing experience possible. The Miyabi Maki-e LE™ is fitted with an airtight cushion seal cap that smoothes both usage and inkflow. And each Miyabi Maki-e LE™ is finished off with our Japanese 18-karat gold nibs, available in Extra Fine, Medium Fine, Medium and Broad tips.
The TACCIA Miyabi Maki-e LE™ truly represents the pinnacle of TACCIA's design and technical prowess – perfect for the hand, the desk, and the showcase.
Variants:
Amber Crystal-limited to 30 pieces worldwide
Imperial Koi-limited to 30 pieces worldwide
Midnight Sakura-limited to 30 pieces worldwide
Dancing Crane-limited to 30 pieces worldwide
Milky Way-limited to 30 pieces worldwide
Winter Breath-limited to 88 pieces worldwide
Fujiyama-limited to 30 pieces worldwide, available in February 2021