Visconti Dreamtouch Leather and Silk Silver Pen Cases in 1, 2, 3, 6 and 12.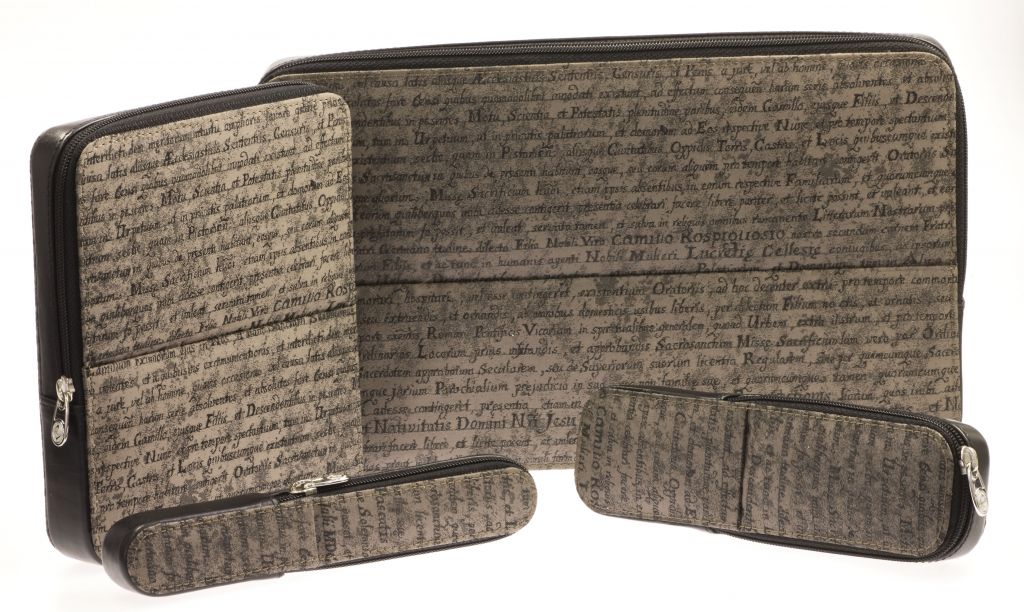 Visconti's famous pen cases are available for a limited time in beautiful calligraphy printed silk and Italian leather. The new pen holders are printed with Ancient Latin text from an official Papal Bible from the 14th century, currently housed in the Laurenziana library in Florence. The limited edition pen holders use the same high-quality Italian calfskin leather used on Visconti's regular edition pen holders and have the same specifications. The pen cases are available in three color options: Blue, Silver and Bronze and in One, Two, Three, Six and Twelve-Pen Sizes. Each pen pouch features a zipper closure and the soft inside lining protects the pens and prevents scratching.
After innovating and reinventing the art of writing for over twenty years, Visconti has now turned its boundless creative energy to the field of leather, creating a collection designed to embrace the art of fine writing while enhancing their traditional, celebrated brand values: enthusiasm, art and technology.
Employing Florentine leather-working traditions that stretch back over mroe than 500 years, Visconti has managed to create a style of leather with the same soft and flexible features as their Dreamtouch nibs in 23kt Palladium.
The very purest full grain aniline leather is treated with an exclusive, patented Dreamtouch procedure, imparting an extraordinary softness to the leather while maintaining all of its natural properties, including of course any small blemishes it may proudly sport.
Genuine full-grain leather is never identical but it is possible to identify the animal's various dappled patches through small differences in the grain and minute veining.
If purchased individually and shipping within the US, the one, two and three pen cases will ship USPS Priority small flat rate shipping.  Check out as normal with UPS Ground free shipping and we will get it out via USPS.