Visconti Homo Sapiens Red Wine Dark Age Demonstrator Maxi Fountain Pen
This pen is pre-owned but never inked. Its in like new condition.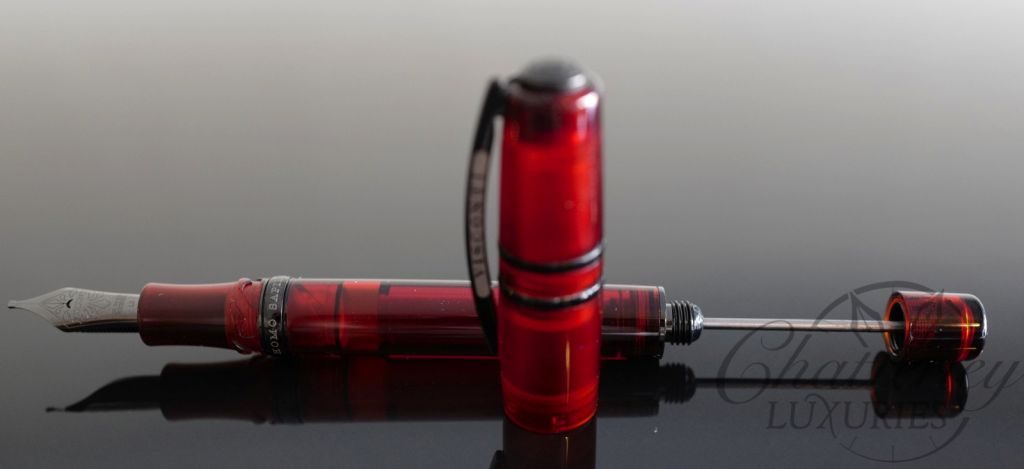 As the worldwide success of its Homo Sapiens collection continues, Visconti is delighted to present another new Limited Edition. The Homo Sapiens Red Wine fountain pen. The unique design of the demonstrator fountain pen in a very limited number. There are 2 versions that will be available in the United States. One listed here is the Dark Age, limited and numbered to only 28 pens worldwide. This version is exclusively for Chatterley Luxuries. The other Version will be for the US only and will be Sterling Silver trim and is now sold out.
The see-through effect is an open window to the most important patent from Visconti, its Double Reservoir Power Filling system made with titanium for dependable, long-lasting function. The fountain pen is equipped with Visconti's famous Dreamtouch 23K palladium nib blacked out!
Visconti Limited Edition Homo Sapiens Red Wine Fountain Pen Features:
A semi-transparent Red Acrylic
Arc-shaped clip, cap rings and nib all in black
Double Reservoir Power Filling system made with titanium (blacked out)
Visconti's famous Dreamtouch 23K palladium nib
Numbered, limited edition of 28 fountain pens
MSRP on this Fountain Pen is $995