Chatterley/Montegrappa Extra "Colori Di Bassano Del Grappa" Limited Edition Fountain Pen
This pen is pre-owned, but never dipped or inked, so we can put any nib you want on it. Comes with box and papers.
Introducing the Montegrappa for Chatterley Colori Di Bassano Del Grappa Extra Limited Edition Fountain Pen. This Limited Edition Fountain Pen pulls its inspiration from the Bassano Del Grappa itself where Montegrappa is located. The collection has 4 Colors. Hillside Green, Bassano Bridge Brown, Brenta River Blue and of course Montegrappa Red.
These pens are using a high quality stacked resin. Montegrappa and Chatterley wanted to showcase that not just Celluloid can be used to create amazing pens. Montegrappa is very picky when it comes to its extra profile and only the best resins are allowed to be used in the profile. After months of exploration, we found that this resin would hold up to the test of the quality expected by Montegrappa, the color and depth that Chatterley wanted and the end result is this edition.
-925 Sterling Silver trim With Rose Gold Vermeil Plating
-Piston Filler
-18k Gold oversized #8 Rose Gold nib
-Ebonite Feed
-Limited and numbered to only 20 pens in each color worldwide
Brenta River Blue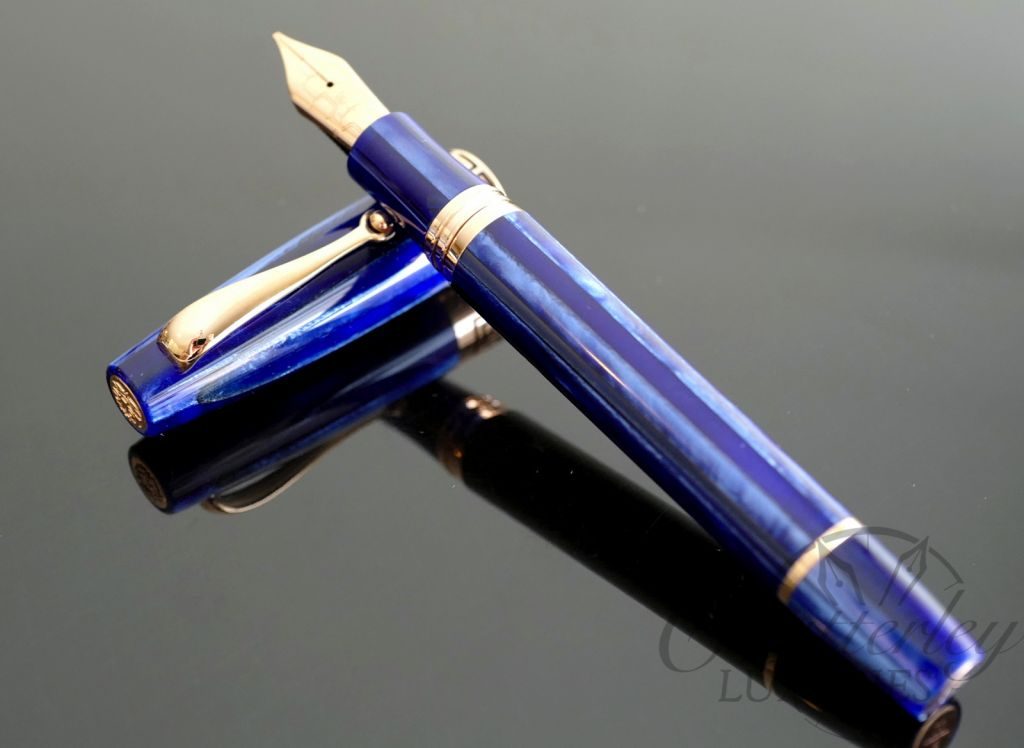 Inspired by a model from the thirties, Extra 1930 was designed for people who love classic design and original colors and decorations. A manifestation of Montegrappa values, Extra 1930 combines the innovation of state-of-the-art technical solutions with the tradition of its aesthetic precious metal, the colors of the quality celluloid chosen for Extra 1930 were inspired by models from the Montegrappa museum. In this case, Stacked Resin has been used.
Montegrappa introduces a terrific line made for lovers of fountain pen writing. The new Extra is named such because of its oversized 18kt gold nib. This unusual size allows the Extra to have a unique flexibility and a generous ink flow.