Description
Chatterley Pens The Romulus Limited Edition… The First Chatterley Pen…
This pen is lovingly used. And comes with an 18k F nib. It a pen based off of the Poseidon, made by Bexley over 10 years ago…
Its number 15/24. This particular pen has special place in Bryant's heart. He gave it to his mother when they first came out…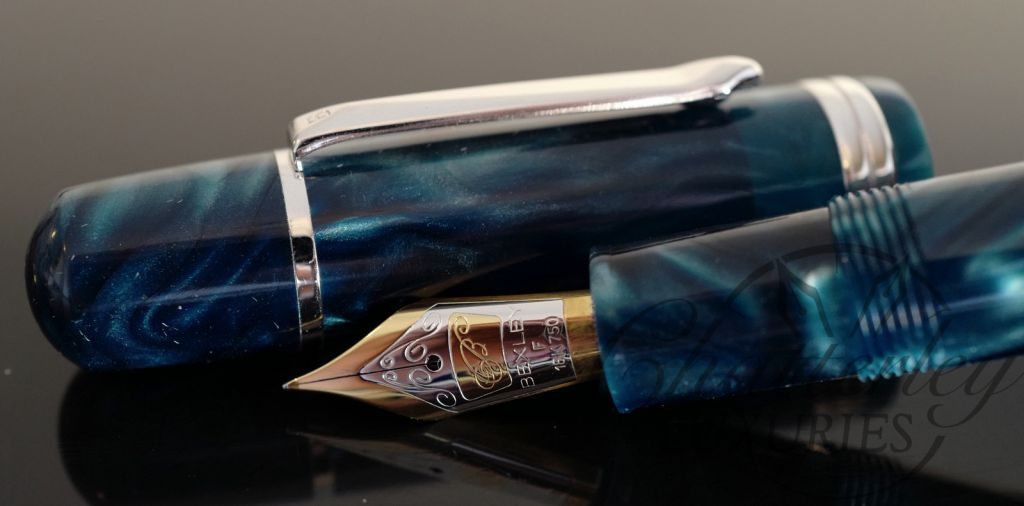 Here is the original text…
Romulus in Italian Mythology was known to be the first King of Rome.
Each Fountain Pen comes with numbered box and card. These made of high quality acrylics and fitted with Bexley's ridiculously smooth 18K Gold nibs. The filling systems are CC/Converter. The pictures really don't explain the detail and depth of the acrylics, but I tried to capture it… They Measure 5 inches Capped and 7 posted. Every pen has its own unique design.
Here are some more specs…
They are 13cm capped and 17.5cm posted from nib to top of cap.
The cap itself is 7cm
The body itself is a little over 12cm from nib to end and from shoulders to end is about 10cm making the nib a little over 2cm.
The cap is 1 1/2 cm at the bottom (Where its the largest, but the cap does not taper that much.)
The barrel is about 45MM around on the largest part and 40 on the smaller part where it tapers.