Conway Stewart Fountain Pen Vintage Limited Edition Black Marlborough
Available for purchase now is the #001/300 fountain pen in this series.
The Conway Stewart Marlborough Vintage Limited Edition is a distinguished new design, that is inspired by the classic styling of our vintage models and created with present day manufacturing techniques, resulting in a timeless addition to the Conway Stewart Family.
The Marlborough is named after Sir Winston Churchill's family name and continues with the tradition of our flagship Churchill model in being a visually imposing writing instrument with ties to our proud British heritage.
With a straight design to the cap and barrel shape, and a vintage style washer clip, the Marlborough recalls some of finest Conway Stewart pens from the 1920s.
True to the early examples of Britain's Best, the Marlborough Vintage model is being made available in a limited selection of genuine ebonite, the material of choice for fountain pen manufacturers through the early 1930s.
The material chosen for the Marlborough Vintage is of the highest quality ebonite in a choice of Classic Black, Blue Ripple, Rose Ripple and Woodgrain. Each piece is carefully examined for color, pattern, and consistency. Once personally selected, the ebonite material is turned into pen parts, hand assembled, hand polished, and carefully hand fitted to ensure that every Marlborough Vintage fountain pen is kept to the highest standards of quality.
The barrel is accented with wide solid precious metal bands, while the bandless cap is set off with an engraved design at the top is reminiscent of some of the very early pen designs from Conway Stewart.
A new and improved inner mechanism for the lever fill versions allows for an easier and more complete filling of the ink sac, the lever itself is richly plated to match the trim of the Marborough and adorned with the CS logo.
The Marlborough pen is substantial in style yet remains very easy to use with the gently curved section accommodating a wide range of hand sizes. Crafted completely out of ebonite, the Marlborough is both light in weight and warms gently in the hand during use.
Each Marlborough Vintage is housed in our exclusive Churchill presentation packaging accompanied by a Churchill cigar, a bottle of Conway Stewart ink, and a book of famous Churchill quotes.
Whether as a gift for someone special or even a treat for yourself, the Conway Stewart Marlborough Limited Edition will bring a smile to the face of the most discriminating connoisseur.
The Marlborough Vintage is limited to only 300 pieces of each ebonite finish and for the first time, in a choice of three filling mechanisms: Lever Fill, Eye Dropper and the convenient Converter Cartridge.
Dimensions:
Cap: 64 mm – Barrel including nib: 126 mm – Posted: 180 mm – Cap diameter: 15 mm – Barrel diameter: 13 mm
Weight: 18 gms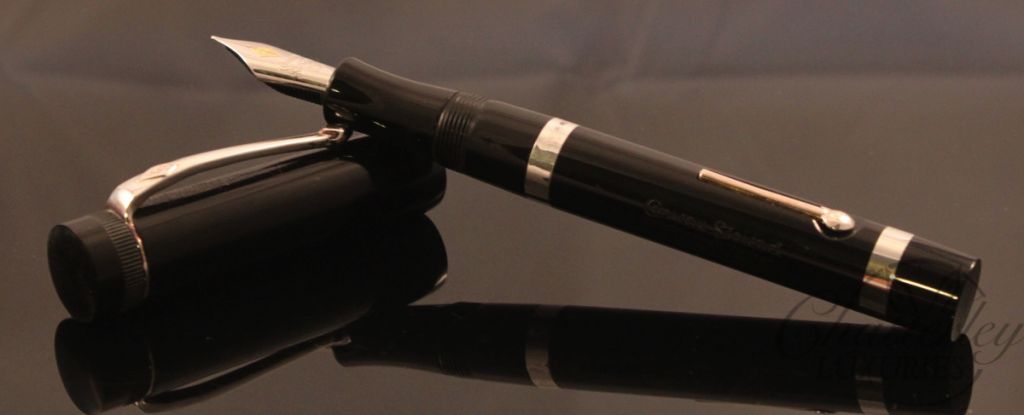 Dimensions:
Cap: 64 mm – Barrel including nib: 126 mm – Posted: 180 mm – Cap diameter: 15 mm – Barrel diameter: 13 mm
Weight: 18 gms