Conway Stewart Fountain Pen Blue Laurel #1/30
In 2006 Conway Stewart launched the '
Elegance
' series consisting of several limited editions, each created with different designs and produced with the highest quality of English craftsmanship.
This pen for sale here is the #1 pen in the series and is numbered accordingly.
The Deco Diamond was the first of this new series, followed by the Westminster Green, Westminster Teal, Elizabeth Garret Anderson, the Elements Series, Oliver Cromwell, Plumage Grey, Mandarin Yellow Plumage, Aztec, Jaguar and then the Fistral. The exclusive designs featured on the Elegance model begin with the cap and barrel hand crafted at their factory in Devon, England from rods of solid sterling silver.
Each writing instrument is then carefully engraved with intricate patterns and accented with a hand applied enamel by award winning craftsman Robert Glover, whose work has been published in numerous industry titles and who is the recipient of many notable awards and presentations.
Not only is there an art in the creation of the enamel colors, and the application of multiple layers to the sterling silver pens (Robert often uses a trimmed natural goose quill to apply the various colors of enamel) there is a significant craft to the careful hand polishing of the finished enamel piece to render every enamel surface precisely the correct depth above the guilloche engraving to allow for the best reflection of transmitted light through the vibrant colors.
Following the success of the over-subscribed Elegance Pen of the Year 2011, Conway Stewart has launched the Elegance Pen of the Year 2013, the Blue Laruel, a unique design that will be limited to just 30 pieces world-wide in a choice of fountain pen or roller ball writing modes. The design is again inspired by Festive Season decorations in rich blue enamel that is layered over the guilloche engraved sterling silver, giving emphasis and depth to the gently flowing engraved enamel panels on the caps and barrels and laurel motif on the cap band.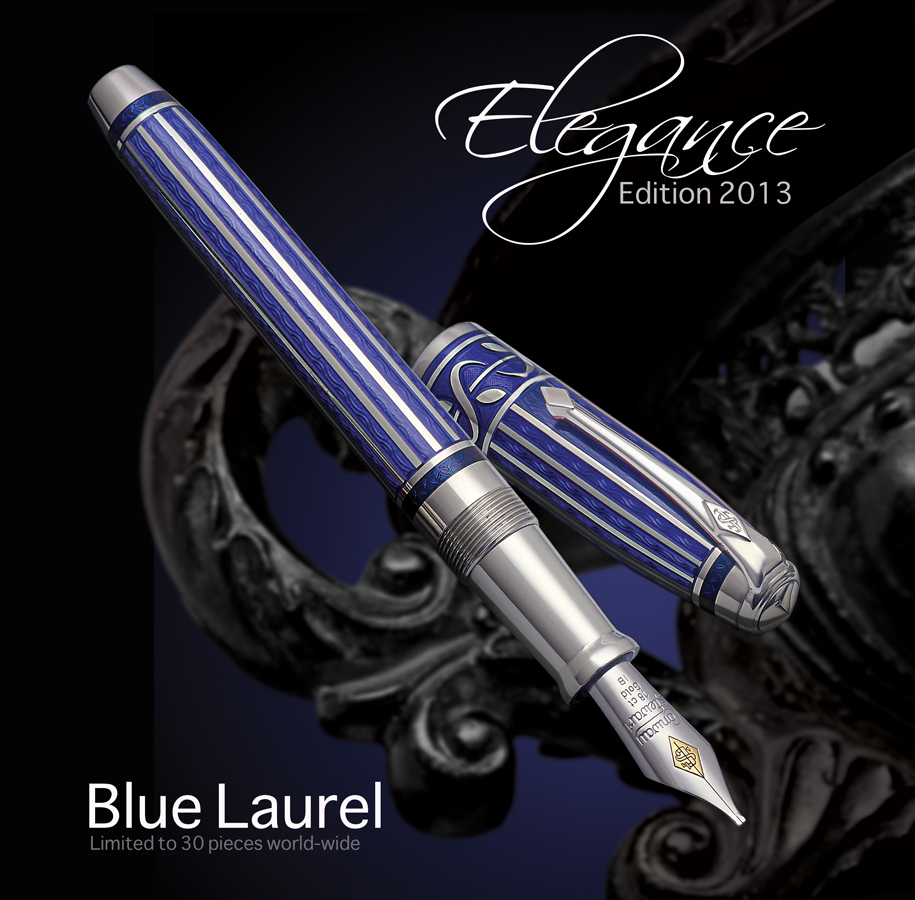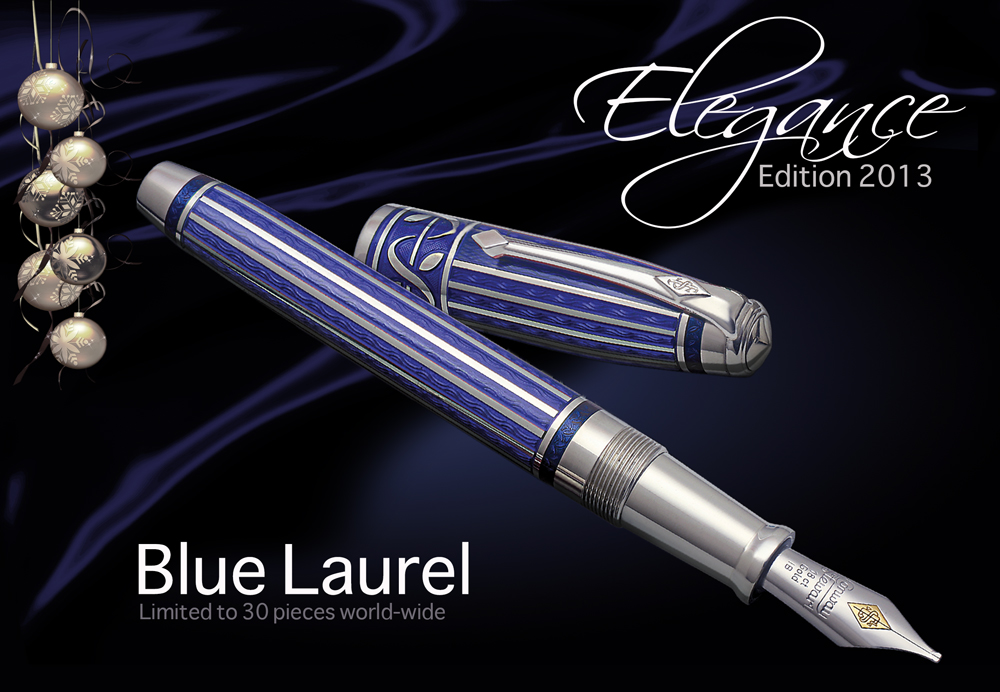 The hallmarked solid sterling silver construction of the cap, barrel and front section are set off with an 18 kt two-tone gold nib, accented with rhodium plating and available in eight nib widths allowing the ideal choice for your individual handwriting style.
Ink is delivered via the reliable converter cartridge system. Every attention to detail has been taken to ensure that the Elegance Pen of the Year 2013 Blue Laurel is not only a visually perfect pen, but one ideally suited for everyday use. The Elegance model is crafted to be ergonomic in shape, slightly tapered and is a mid sized pen that rests perfectly in the hand, a perfect harmony of balance and elegance for ease of writing.
Nib grades: Extra Fine to Extra Broad, Italic Fine, Italic Medium, Italic Broad Filling mechanism: converter cartridge
Dimensions: Closed: 134 mm – Posted 166 mm – Barrel incl nib 125 mm – Cap 60 mm Barrel Diam 12 mm – Cap Diam 15 mm
Weight 62 gms
Retail List Price for Fountain Pen or Roller Ball £1,392 $2,400 €1,670