During the classic era of the 1920s, a fine fountain pen was considered not just a luxury, but an everyday necessity. The best and most exclusive of these fountain pens were often adorned with precious metal overlays, ornate filigree, engraving, or even diamonds. They served as luxurious status symbols, notable even during a time replete with flamboyant displays of wealth and decadence. The new Conway Stewart Gatsby draws upon this era to bring a dramatic new look to their enamel limited edition series.
The goal with this design was to bring back the sense of style and bustling energy that epitomized the Art Deco era. Beginning with a time honoured flat top shape drawn from vintage pens of the golden age of fountain pens, Conway Stewart carefully crafted a shape and size that would balance in the widest range of hand sizes. Using an intricate interlocking design forming lines, rectangles, and squares on both the cap and barrel, the Gatsby is a classic embodiment of the bold new style that first came to life during the 1920s. The choice of Hallmarked solid sterling silver for cap and barrel, polished to a gleaming lustre serves as a counterpart for the deep red and yellow colours chosen for the hand applied enamel work. The result is bold, stylish, and sure to draw comment whenever it is used.
The art of enamel to decorate precious metal has been a much loved European tradition for many centuries. It proved to be the perfect choice for bringing the delicate engraving design used on the Gatsby to vibrant life. Rich bright red accents gleam from among the vivid yellow background that covers cap and barrel. Through the translucent enamel the crisp Deco design of the engraving comes to life, with each movement of the cap or barrel under the light revealing a new aspect of this stunning design.
Conway Stewart prides itself in its working relationship with the best of English craftsmanship. The artist for this enameled series is known for his creativity and design in jewellery, plaques and trophies. Robert Glover M.A. RCA, has been published in numerous industry titles and is the recipient of many notable awards and presentations. The hallmarked solid sterling silver construction of cap, barrel and front section of the Gatsby limited edition is set off with an 18 kt gold nib, accented with rhodium plating, available in a choice of eight nib grades. Ink is delivered via the reliable converter cartridge system. The Gatsby is a substantial pen, crafted with an eye to providing not only a first rate appearance, but to also be comfortable and well balanced in the hand when in use. This makes the Gatsby as much a pleasure to write with as it is to look at: A perfect combination!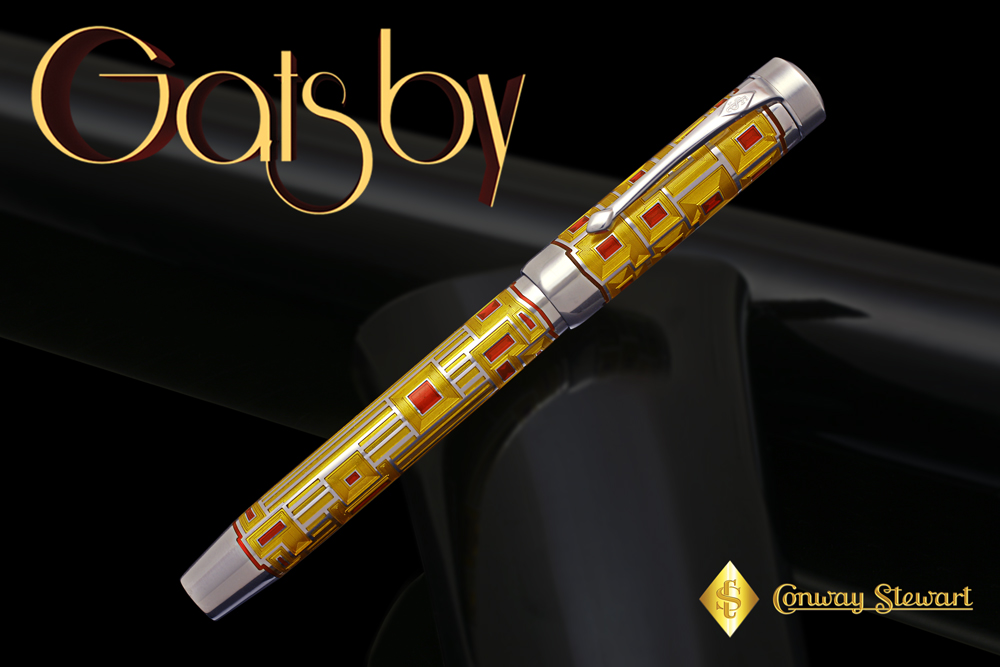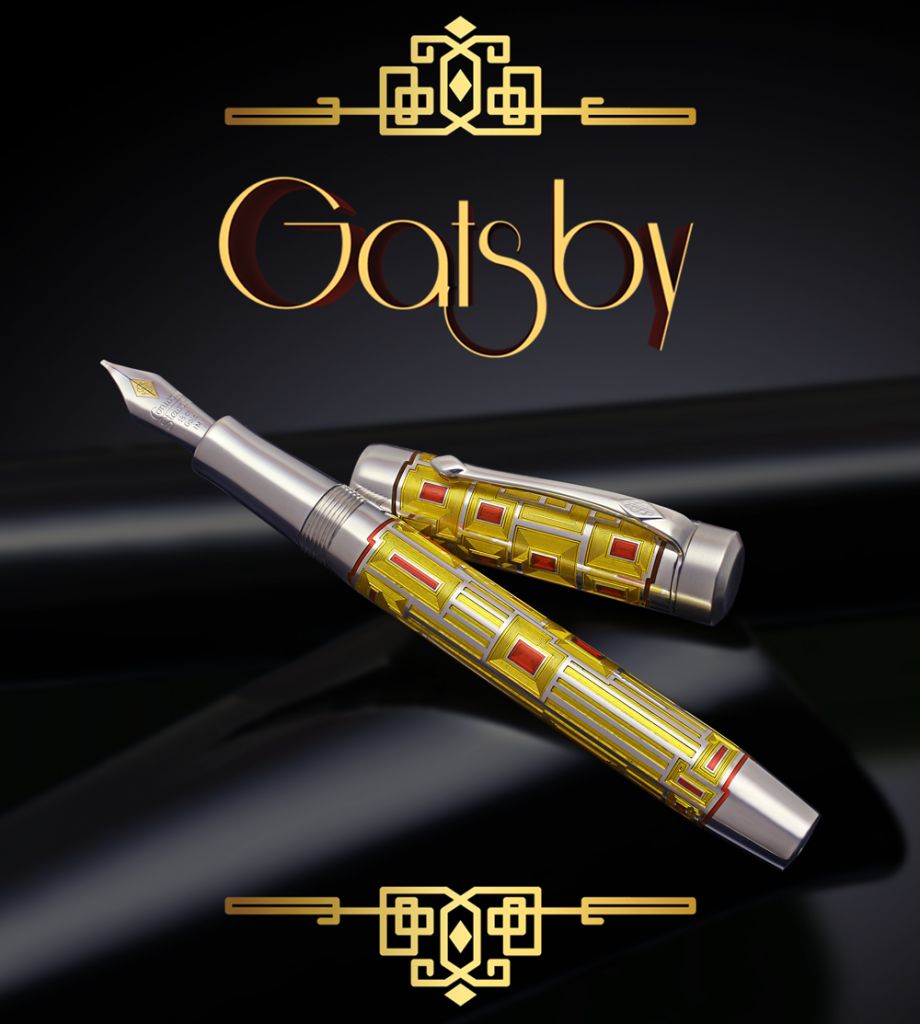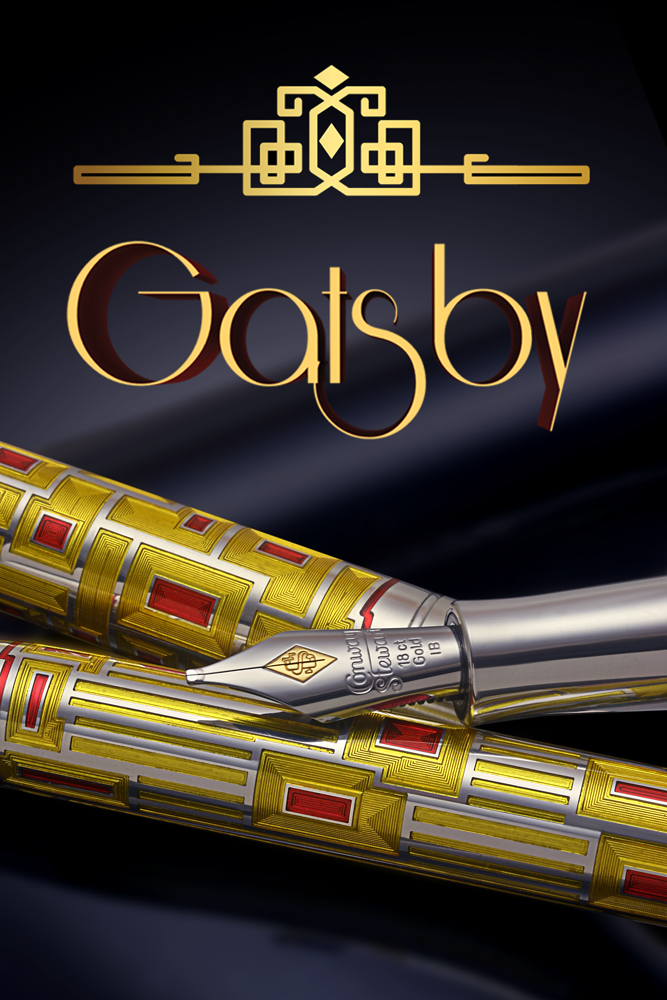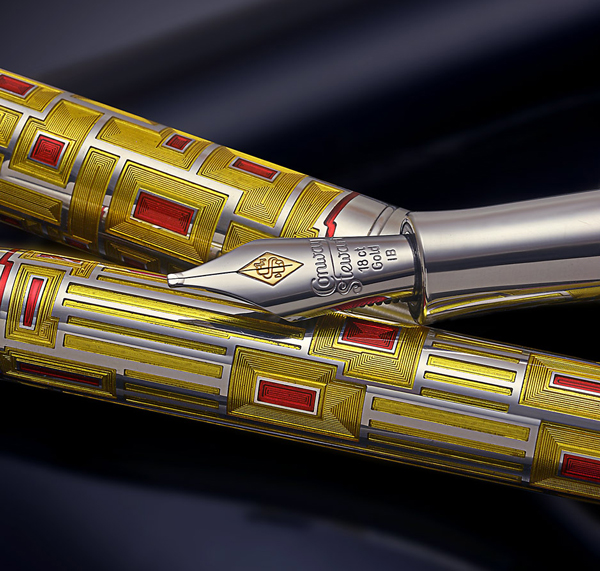 Specifications
• Writing Mode: Fountain Pen or Roller Ball
• Dimensions: Closed: 144 mm – Posted 181 mm – Barrel including nib 133 mm – Cap 59 mm – Barrel Diam 13 mm – Cap Diam 15mm – Weight 70 gms
• Large 18 ct Gold Nib Grades: F, M, B, EB, IF, IM, IB
• Mechanism: Cartridge/Converter
• Edition Size: 100 numbered pieces available in fountain pen or roller ball
• Packaging: Conway Stewart exclusive presentation gift case