MK-20, Chikubushima, a Noh Play
Chikubushima (Chikubu Island). This design was selected from a Noh play, "Chikubushima". Chikubushima is actually a small island on Biwa Lake near to Kyoto. There have only been a few temples built there over the past hundreds of years, but no residences or businesses. The story of the Noh is about the island where a vassal asked an old man who was a young woman on a boat for a ride. The vassal asked the old man why a woman is allowed to this island against the regulations. The old man replied that the young woman is the goddess Bensaiten of music and wisdom, and both of us are not human. Then, the goddess went into the temple and the old man disappeared into the lake. After a while, the Bensaiten came out in bright dress and danced, while in the lake the old man also appeared again from the water with a lot of treasures and gave it to the vassal. He wants him to help his people before he goes back into his Dragon Palace in the lake. The technique is Shishiai Togidashi Maki-e.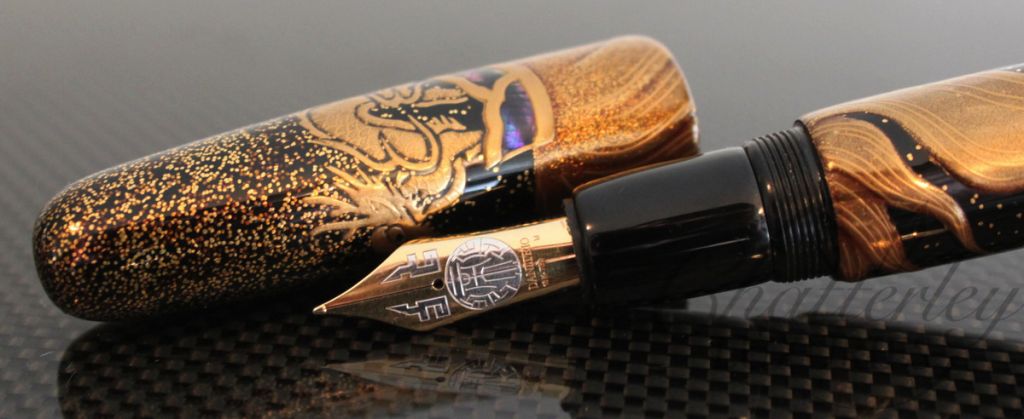 This pen size is Mikado, which is a larger pen and is fitted with an ebonite feed and a size #8 18kt gold nib. The nib grades available are Fine, Med, Broad or Stub. This pen fills via eye dropper. Here is a link to Danitrio to see how the eyedropper works for their pens.
Artist Info: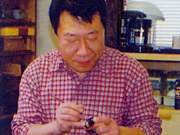 Akihiro Shinde.
Signature: Koho The Third.
Born in 1959. He learnt from his father, Master Sachio Shinde, Koho the Second since 1978 while he was studying at the Wjima Urushi Art Technical Institute.