Description
Danitrio Urushi Maki-e Fighting Goats on Sho-Genkai Fountain Pen
The pictures below shows a different one we had. The one we have currently is exactly the same, except its number 8/30.
Danitrio makes remarkable hand painted pens using the Japanese skill and craftsmanship that has been mastered over the last few thousand of years. Maki-e is performed on the pen, after it has been hand selected, and prepared.  The Maki-e on this pen is more than just paint on a pen, it has texture, it has character. This is achieved through many many days and hours of carefully applying the Maki-e.  The eyes of the rams are made of raden.  Raden is small pieces of colorful shell that are applied to add even more depth to these beautiful pens. On each of the pens that are hand painted, you may find the artists signature.
Good basic paintings start with base painting, which the craftsmen paint twice or three times with Urushi mixed with finishing powders to make the base hard and durable.  Then followed by the interim paintings which is done by one or two layers preparing for finishing paintings.
About the artist: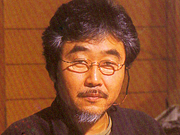 Yuhaku (Masayuki Haria)
Title: Dento Kogai-shi. Born in 1954.
He learned from master Kasei Yoshida, A Maki-e artist of tea sets mainly used for the tea ceremony in 1977, and he has participated in exhibitions each year since 1990. He has done Maki-e for Danitrio since 2001.
This pen size is Sho Genkei, which is a larger pen and is fitted with an ebonite feed and a size #8 18kt gold nib. This pen fills via eye dropper.
Size/Shape of pen: Sho-Genkai
Base Material: Ebonite
Painting: Maki-e
Filling System: Eyedropper