David Oscarson Light Blue and White Trellis Collection Limited Edition Fountain Pen
This pen is lovingly used, but as are most Enamel and Silver pens, the wear showing is very little. It comes complete with box and papers and has an 18k Medium nib. Current Retail price is $5900.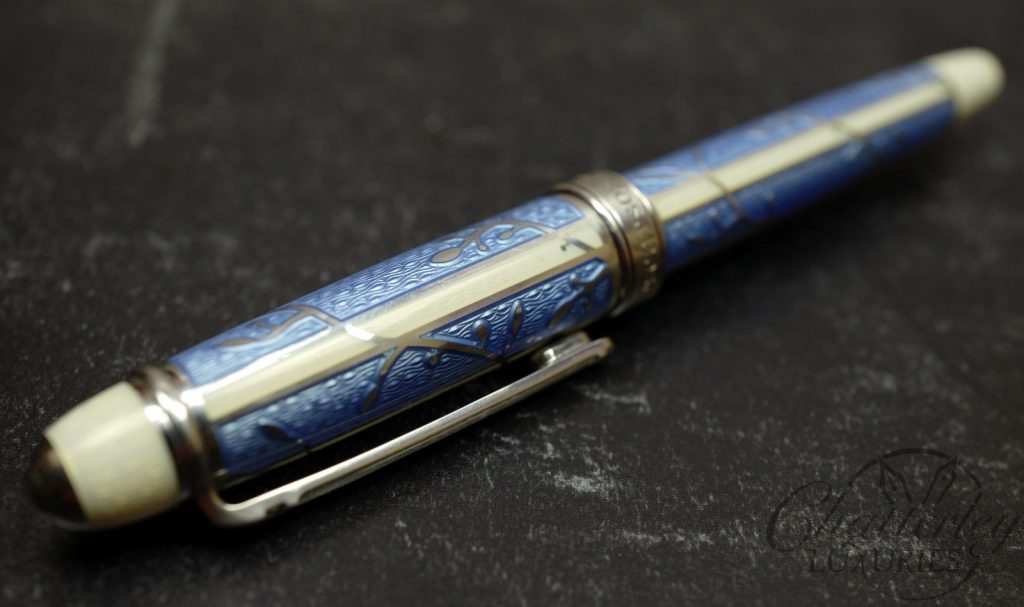 Trellis Collection
The Trellis Collection is the seventh in the David Oscarson™ series of Limited Edition writing instruments. Produced in five color variations, each will be limited to production of 88 pieces (including fountain pens and roller balls).
The Trellis Collection continues in the spirit of artistic mastery and the tradition of Old World craftsmanship by combining the centuries-old technique of Guilloché with the art and expertise of Hard Enamel. The Trellis Collection incorporates multiple levels of Guilloché on each Collection piece. The four colors of translucent hard enamel in the Trellis Collection are accented with opalescent white hard enamel and finished in 18-karat Yellow Gold and Rhodium vermeil. The fifth Trellis Collection piece features opalescent White hard enamel accented in translucent black, finished in 18-kt. Yellow Gold vermeil.
The "leaf and bud" motif of the Trellis Collection requires multiple stages of engraving; the entire body of the pen is first cut down to the level of the guilloché pattern underneath. The pattern is then engraved onto the background of the body of the pen, omitting the trellis, and leaf and bud designs which remain in high relief. MSRP on the Trellis collection is $5900