Up for sale is the #01/50 pen in this edition. It currently has an Italic Broad nib on it, and other nibs may be available. If you would prefer a different nib grade, email prior to ordering to info@chatterleyluxuries.com to see what nibs are available.
The new Belliver model from Conway Stewart is a return to the finest traditions of CS heritage, rooted in attention to detail, a perfect size and weight, as well as a timeless design married to understated accents. From the carefully crafted resin cap and barrel, each alight in the pearlescent shades of our Classic Brown to the rich gold trim and expertly fitted 18 carat solid gold nib, the Belliver was created with one goal in mind: Making the experience of writing as perfect as possible.
The Belliver name comes from the location where the Conway Stewart factory is located on the outskirts of Plymouth Devon. It is also the name of a "Tor" situated close by in the Dartmoor National Park. A Tor is a small hill – usually capped by a granite outcrop within the National Park. There are very many Tors within the park and they are a popular tourist destination with walkers trekking from one peak to another during their holidays. The spelling of the name is occasionally Bellever but the more modern usage is Belliver.
The area around the Tor has been inhabited since prehistoric times and has several good examples of ancient burial chambers and stone circles that were used for ceremonial purposes.
The granite outcrop on the top of Belliver Tor and the granite caps are the result of thousands of years of weathering which has exposed the tops of substantial Granite deposits laid down close to areas of high volcanic activity in the long distant past. The granite is of good quality and was used to construct the pillars outside the British Museum in London, and to build the London Bridge.
The Belliver is sized to be ideal for the widest possible range of hand sizes and writing styles. Not so large as to be unwieldy in the hand, but still of a size to command instant attention, as well as to afford a comfortable grip.
The Belliver is balanced using a solid brass barrel liner to offer just enough weight for the pen to sit easily in the hand without becoming tiring during long periods of writing. The cap is lighter in weight, allowing it to post securely on the end of the barrel if you so choose. The section is gently tapered to bolster the comfort of writing with the Belliver. When creating this new design, the craftsmen at Conway Stewart were inspired by some of the greatest designs of the company's history. Looking to provide not merely an attractive pen, but a true modern classic that would serve faithfully as a reliable and enjoyable fine writing instrument.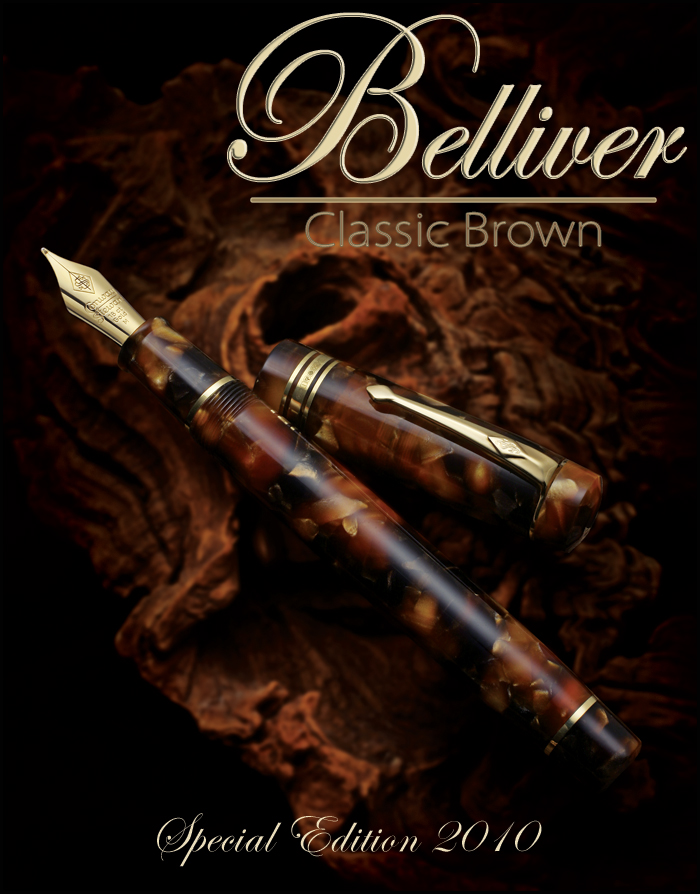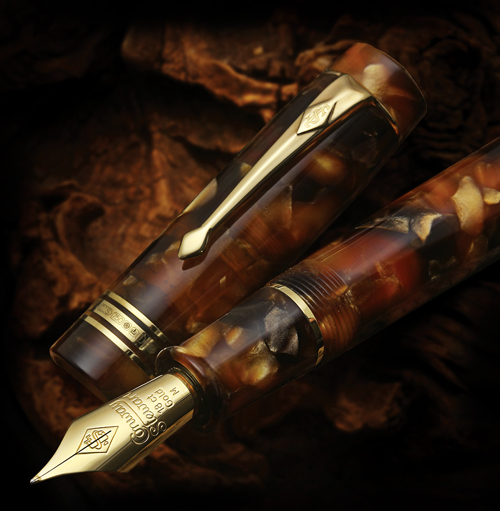 Dimensions:
Closed: 132.5 mm – Posted (including nib): 165 mm – Barrel (including nib): 126.5 mm
Cap: 58 mm – Barrel diameter: 13.2 mm – Cap diameter: 15 mm – Weight: 30 gms