When Delta launched the Pompeii Limited Edition in 1996, obviously made it in the "Pompeian red" coloration, because the walls of the houses of this ancient Roman City were painted in this red tonality.
However, a sensational scientific discovery demonstrated that the true color of the walls of those houses was actually "yellow".
This incredible new information circulated around of the world have forced Delta to again take inspiration from Pompeii with a new pen, and duly adopting the yellow as the base color of the new impressive celluloid.
The new Rediscover Pompei, made in "Pompeian yellow" celluloid, interlaced with antiquing streaks, comes in Ballpoint, Rollerball and two versions of Fountain Pen. This is the Rollerball version.The central ring offers a carved representation of the greek key design, crafted from Sterling Silver. The clip features a small wheel to facilitate the placing in the pocket. It is plated with rhodium as well. The MSRP on this pen is $595.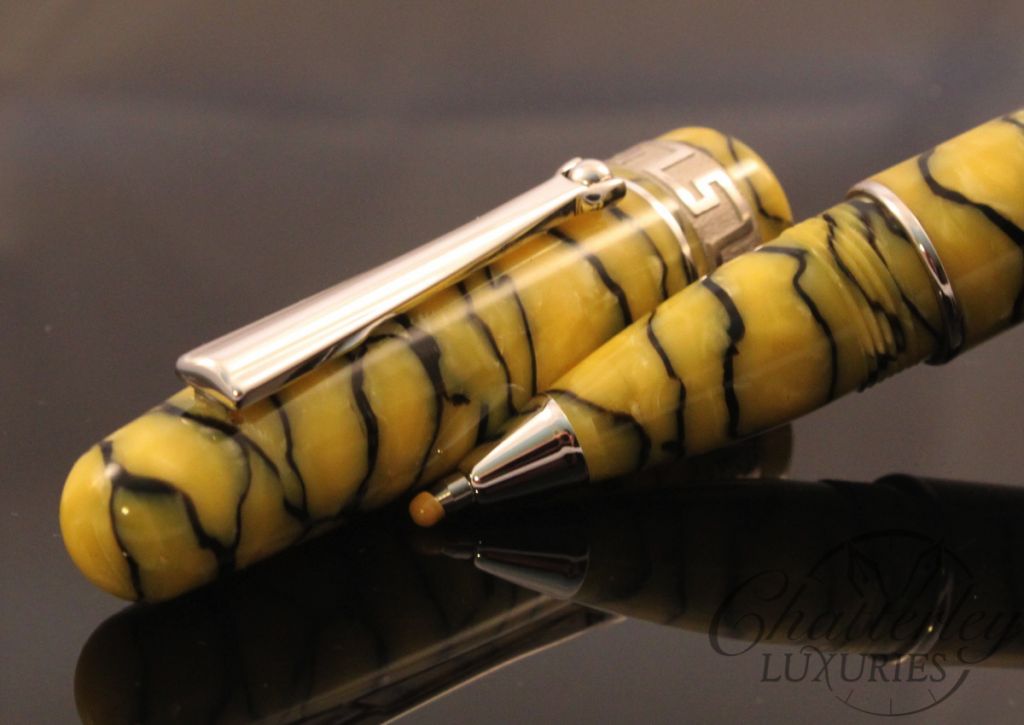 The celluloid is a very valuable material; its origins date back to the 900's and is obtained by blending cellulose with nitric acid, camphor and alcohol. Just like all materials of vegetable origin, it needs long drying periods, usually longer than a year, for an adequate settlement. The property that has made Celluloid into the material leader in the manufacturing of writing instruments is its resilience and ability to high resistance to hits and scratches.