Visconti Manhattan Teal Northern Lights Limited Edition Demonstrator Fountain Pen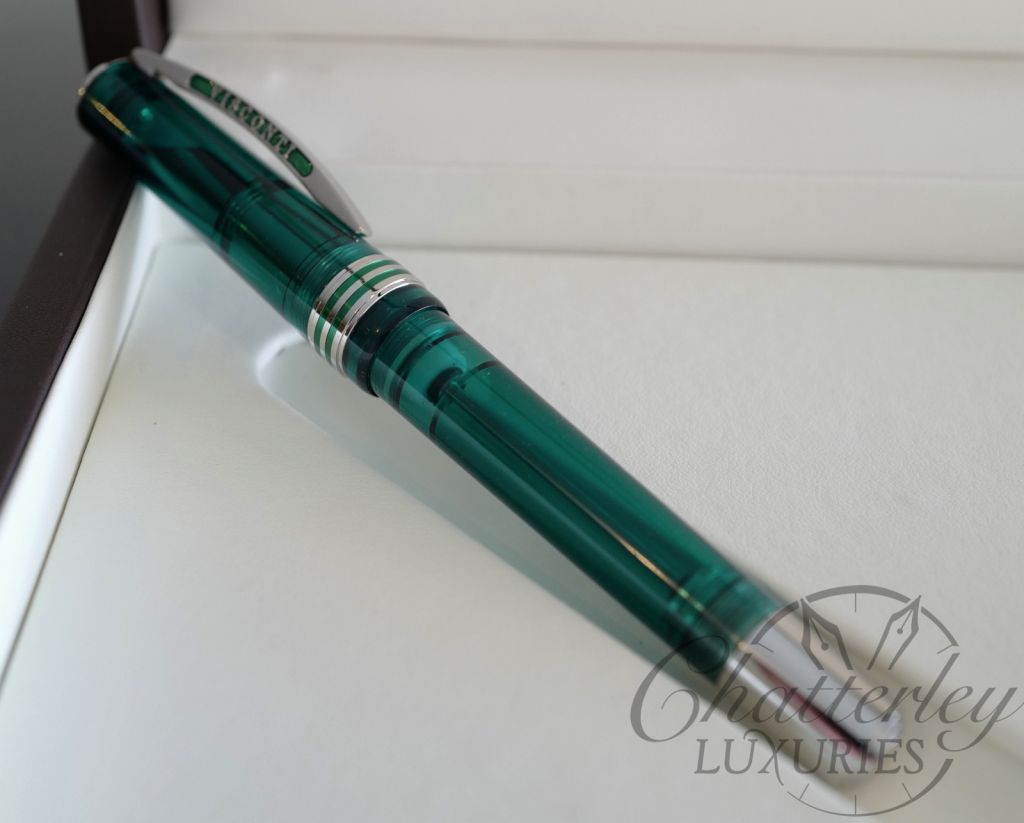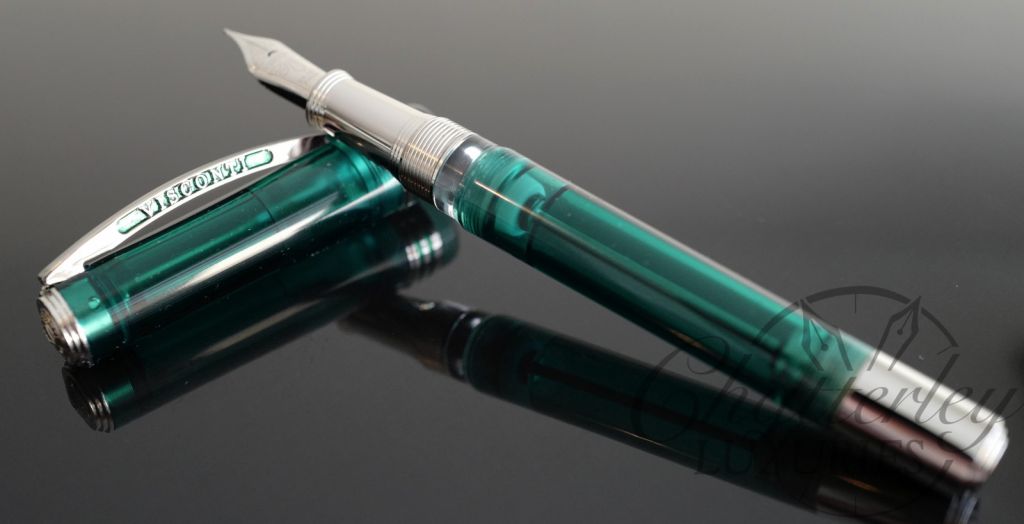 The Aurora Borealis, or more commonly referred to as the Northern Lights in the Northern Hemisphere, is one of the most beautiful naturally occurring phenomena. These bright dancing lights can be seen above the magnetic poles of the North and Southern hemispheres. The Northern Lights are a result of collisions between gaseous particles found in the Earth's atmosphere, with charged particles from the sun's atmosphere. The variations in color are caused by the type of gas particles that collide. A pale yellowish-green, the most common auroral color, is produced by oxygen molecules located 60 miles above the earth.
The temperature above the surface of the sun is known to be millions of degrees Celsius. At this high of a temperature, collisions between gas molecules are frequent and explosive. The rotation of the sun causes free protons and electrons to fly from its atmosphere, escaping through holes in the magnetic field. The earth's magnetic field is weaker at the north and south poles, therefore allowing the charged particles to collide with the earth's gas particles. These collisions emit light that we know as the dancing lights of the north.
While many colors can be seen in the Aurora Borealis, green is one of the most common. This specific green hue can only be found naturally in one other way, in the rare blue tea leaf. The blue tea leaf is a known symbol of inner peace and balance, as is the Aurora Borealis. Visconti's newest
Visconti srl – Via dell'Osservatorio, 120 – I 50141 Firenze Italy www.visconti.it
release, the Northern Lights aims to pay homage to the inner balance. This writing tool has been conceived as the perfect writing instrument to keep with us always, and to transmit serenity and inner equilibrium. This particular tone of green reminds us of a pure form of nature and the harmonizing of natural thought (seen as the color yellow) with spiritual thought (seen as the color blue).
The Northern Lights fountain pen was created in Visconti's iconic Manhattan body in acrylic resin with stainless steel trims, and is available in a limited quantity of 188 pieces. The metal parts are chiseled and enameled by the expert hands of Visconti's skilled artisans. The pen features Visconti's famous double reservoir filling system with the iconic 23kt large palladium nib.
Dedicated box with matching color ink bottle
MSRP $895 ($60 more for Stub and EF)