Inventory Reduction: Pineider Limited Edition Arco Blue Bee Fountain Pen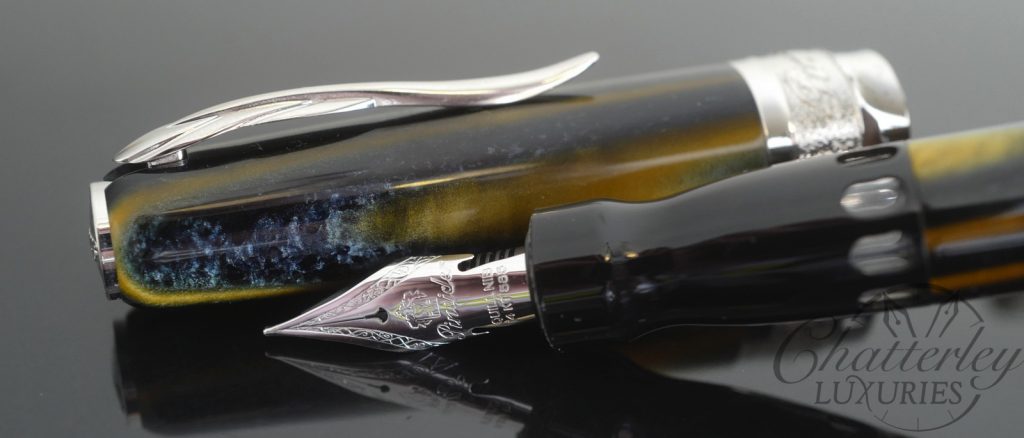 Arco is a limited edition of 888 numbered pieces inspired by the celluloid iridescence. The Arco material is made by overlapping alternating layers of resin in blue and yellow colors, joined by gold-colored glues. The slabs of the material are then turned with an eccentricity of 4 degrees bringing out the overlapping layers, bringing to light the natural iridescence and transparency.
Arco is fitted with a piston filling system.
The Hyperflex nib is suitable for everyday use and makes the pleasure of writing its strong point. The fountain pen is the extension of the hand, Hyperflex Nib allows a fluid stroke, which does not require any pressure.
The package is a very elegant Pineider desk with paper and Pineider watermarked paper envelopes.
The Pineider Arco is a new collection of limited edition fountain pens made in Florence, Italy, and designed by Dante Delvecchio. The unique design of the Limited Edition Arco fountain pen is a stratification of layers of materials, creating a design with colors that were popular in the '30s. After intensive research, Pineder has been able to replicate these famed hues with several layers of resin, creating a visual effect that mimics celluloid—a once popular material in pen manufacturing. This fine writing instrument is complemented by 14 kt Quill Nib, a twist magnetic cap lock, and a piston filling mechanism.  The Arco Pineider Arco is limited to 888 pieces worldwide.
MSRP $698