Montegrappa MG5 Vetrate Enamel Limited Edition Fountain Pen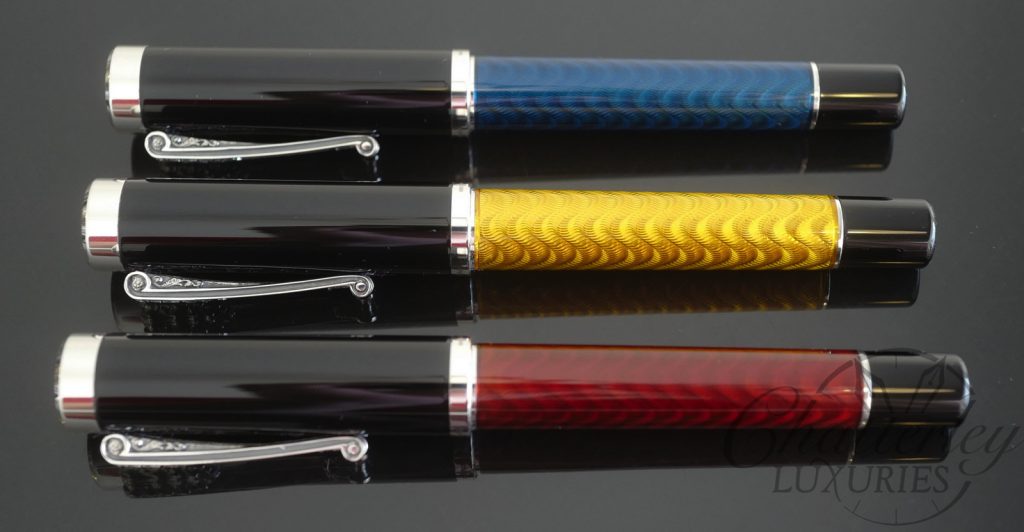 Montegrappa has been making pens in Italy since 1912. And through out that over 100 year process they have made some incredible pens. Also with in that time, they have also made pens for many other prestigious brands which is not uncommon, when you have the capabilities that Montegrappa has.
One of those brands was Michel Perchin.
Michel Perchin pens were inspired by Faberge's Blue Serpent Clock Egg.  And almost all of them were amazing enamel pens. During that time, Michel Perchin commissioned Montegrappa to make the pen called the MP5. An enamel body and resin cap pen with a snake clip to give the feel of the Faberge Blue Serpent Clock Egg. Now years and years later, Michel Perchin is sadly no longer in business, but Montegrappa still had many of the barrels made for Michel Perchin. And that's where Chatterley came into play. We saw these barrels and knew we had to create the MG5. The true maker of the amazing Mp5 pens was Montegrappa, so we created the MG Vetrate or Stained Glass.
The pens are made similarly to the MP5, but very much enhanced.
The MG5 Vetrate has an Enamel sculpted Barrel in 3 colors. Cardinal Red, Canary Yellow and Indigo Bunting Blue. All the trims are 925 Sterling Silver. The clip is also very special. Its made by the way of Lost-wax casting and is very detailed. The nib is an 18k Solid gold nib that comes in Extra Fine, Fine, Medium, Broad, Stub or 14kt gold nib in Extra Fine Flex and Fine Flex. The pen fills via in house Montegrappa Piston filler. Each pen is numbered on the blind cap. The Cardinal Red and Indigo Bunting Blue are limited to 28 pens and the Canary Yellow is limited to only 18 pens.
When the MP was released about 10 years ago, it carried a $1495 retail. Our version has an updated clip and piston (MP5 was CC filler). But we were able to cut margins and make this pen at the exact same retail price.