Description
Pelikan Ductus P3100 Silver Fountain Pen
This pen is lovely used and has a Medium 18c nib. It does not come with box or papers.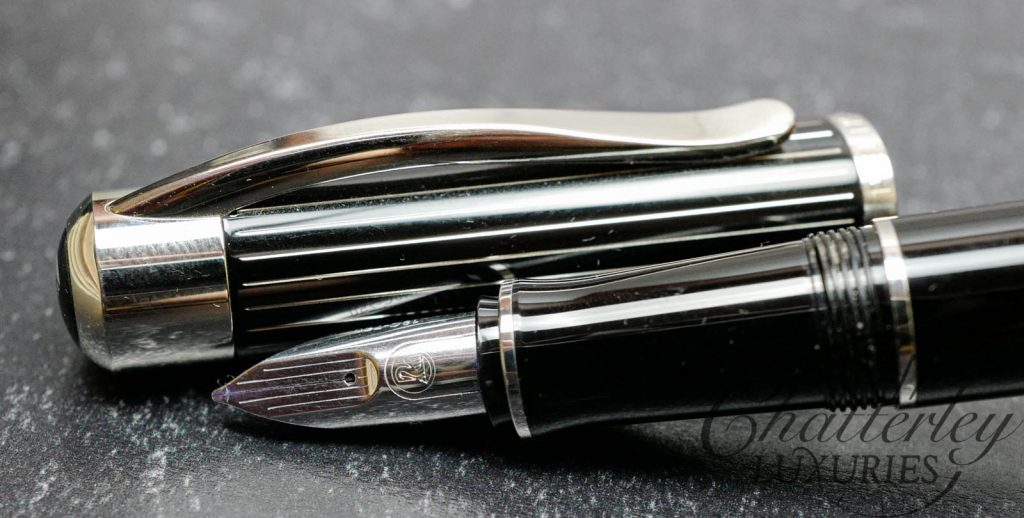 A modern interpretation of the Pelikan traditional striped silhouette, the Ductus P3100 Silver fountain pen was designed with uncommon materials. The singular appeal will make you fall in love at first sight – or first stroke.
The Pelikan Ductus P 3100 Silver fountain pen makes a striking first impression with its handsome cap and filler knob in lacquered metal embellished with precious silver stripes. The barrel and grip sections are made with black high-grade resin, compelling you to take it into your hand. Topping it all off is the cap top, rings and strong spring-action clip made in silver that is so aesthetically pleasing, you'll be proud to place it in your pocket.
Each Ductus is finely crafted in a process of over 300 individual steps, a testimony to Pelikan's dedication to precious and writing perfection. With the rhodinized 18K gold nib, the Ductus Silver fountain pen makes each daily writing experience a joy. The Pelikan Ductus P3100 Silver fountain pen accepts cartridge refills only.

Pelikan Ductus P3100 Silver Fountain Pen Features:
Handsome cap and filler knob in lacquered metal embellished with precious silver stripes
Barrel and grip section in black high-grade resin
Spring-action clip in platinum that will make you proud to place it in your pocket
Make each daily writing experience a joy with the rhodinized 18K gold nib
Accepts cartridge refills only
Pen Size: 5 1/2 x 1 5/8