Pelikan Souveran M800 Green Striated Fountain Pen with Special Flexy OB nib
This pen has a special nib – it's a 14c which was only produced from 87-88 and has added flex to make it write like the old flexy pelikan obliques. The nib itself cost around $350 and Linda Kennedy added flex to it.
This pen has been lovingly used and does not come with box or papers. It does have some scratches on the cap that can be polished out, but it is a user grade pen with an exceptional nib. (Writing sample below)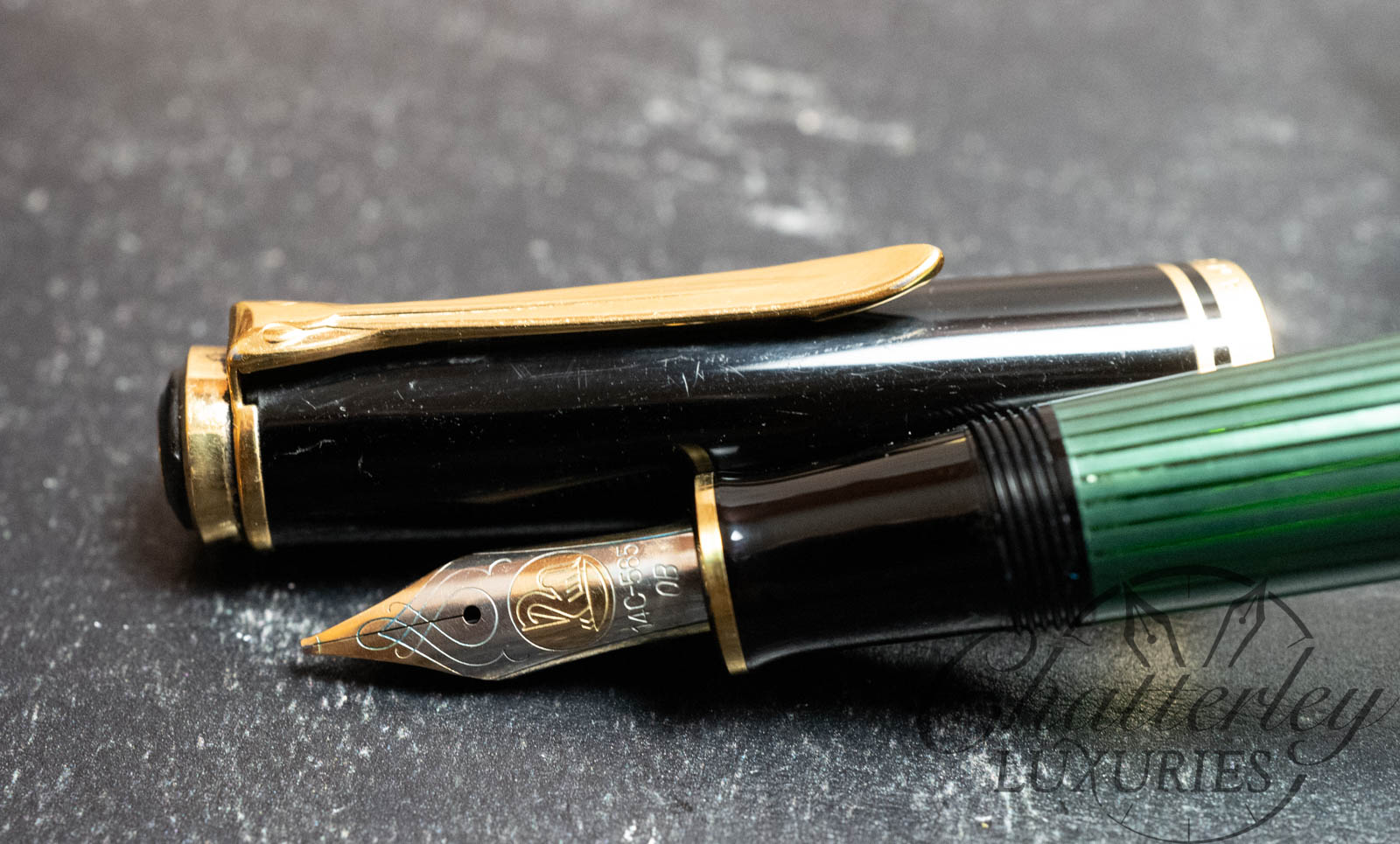 In the year 1929 Pelikan was the first company in the world to introduce the differentiated piston mechanism. This technique causes the spindle inside the fountain pen to turn quicker than the end piece of the barrel, with the help of two different threads. To this date, this fountain pen exists in many different variations, and though it has been developed in design and technical details over time, the basic mechanism remains the same.
In 1950, the model 400 was launched. With its green-striped sleeve, it has become a world-wide symbol for the brand of Pelikan. In the eighties, the series was baptized Souverän, though popular lore has taken to calling it by its nickname Stresemann, because the state secretary of the "Weimarer Republik" was famous for his striped suits…
The production of the sleeve is work-intensive. Adhering to a special Pelikan recipe, the raw material cotton is processed through many different steps until it is shaped into a striped sheet. It is then formed into the right shape, cut and sanded with a diamond. Next, the characteristic double clips at the back of the barrel and on the cap are integrated into the material. This is done with the highest precision in order to obtain a virtually seamless transition between the materials. The writing instrument is then polished to a high sheen before the slightly springy clip with its famous, stylized Pelikan is mounted.