(Sealed) Montblanc Patron of the Arts 888 Limited Edition Moctezuma I Fountain Pen
This pen is brand new, and SEALED in its pen sleeve. It  comes with box and papers. Below are stock pictures of the pen.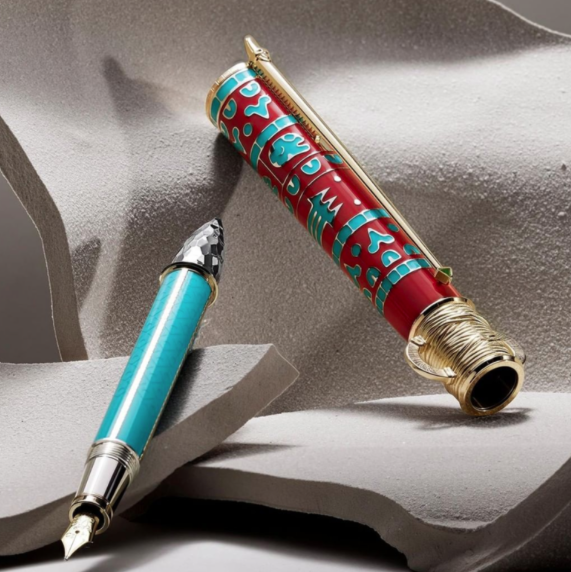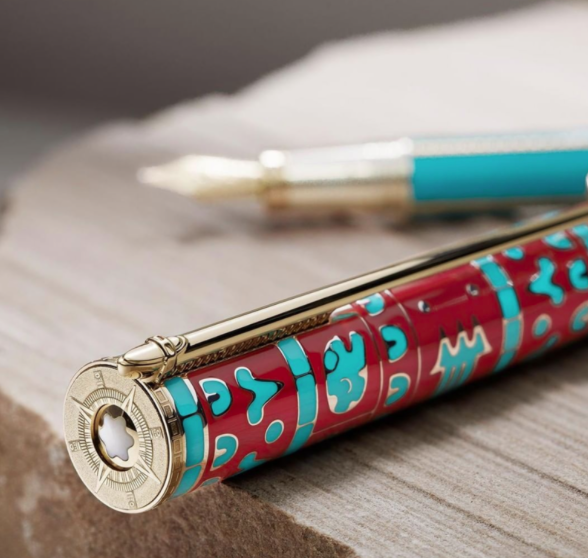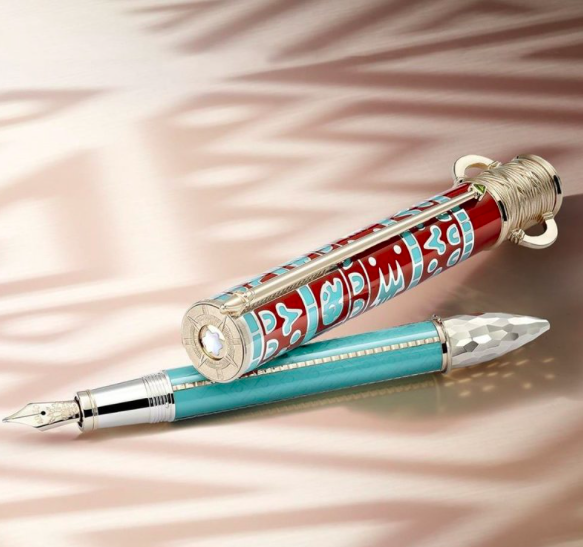 Ushering the golden age of the Aztecs via Moctezuma writing instrument
Moctezuma I was crowned ruler of the great Aztec Empire in 1440, thereby ushering in the golden age of the Aztecs. During his reign, he shaped the image of the Aztec state that we are familiar with today – one rich in culture and mythology. The capital city of Tenochtitlán, today's Mexico City, blossomed under his rule.
The Montblanc Patron of Art Homage to Moctezuma I Limited Edition 888 is dedicated to this supreme ruler of one of the most special cultures in world history. The overall design is inspired by an "atlatl", an Aztec spear-throwing device. The shape of the cone, refined with a hammer finish, is based on an Aztec sacrificial knife with an obsidian blade. The lacquer colors – turquoise and carmine red – are inspired by the colors of the royal cloak. The handcrafted Au 750 solid gold nib is adorned with a fine engraving inspired by the Aztec glyph for the city of Tenochtitlán: a three-armed cactus with a royal diadem and two scrolls.
On this tribute pen Patron of Art Moctezuma 888 we find a number of symbols of this great ruler. The Montblanc symbol, in pearl mour, is embedded in a sunstone. Moctezuma's victories are carved in this stone. The shape of the pen is based on an Altatl, or Aztec spear thrower. The pen is made in turquoise lacquer with a pattern that refers to the mantle of Moctezuma. On the cap are symbols of war symbols and a skull (laquer inlays). The 4 lines represent the 4 cardinal directions that radiated out from the Templo Mayor, the large temple, Huitzilopochtli. The pattern as reminiscence to the stairs up the temple. The stairs had 100 steps. The top ring of the extended cap and the top of the clip refer to the Aztek crown and jewelery. The clip represents the spear. On the sides it is decorated as a reference to the feathers. In the tip an inlay in jade. In the Aztec times, jade was more expensive than gold. The cone in special hammered pattern shows the sacrificial knife used in the Templo Mayor. This knife was made from obsidian.
In 1992, Montblanc started the foundation "D'enterprise Montblanc de la Culture" to support and protect the contemporary arts. Montblanc annually creates a strictly limited edition fountain pen whose design is in the style of a patron of art whose name bears relation.