With all the spirit of the Roman inovations and conquests comes a magnificent pen, The Gladius Limitado, an exclusive with and Chatterley Pens.
This pen is NOS, kept in our safe for years since the release.
"Chatterley Founders Club" price available. On specific Chatterley Designed, Collaborations or Exclusives we will be offering a special price for anyone who has previously bought any Chatterley Collaboration/exclusives from us. Just email us at info@chatterleyluxuries.com to let us know when and what Chatterley pen you purchased from us to get the Founders Price.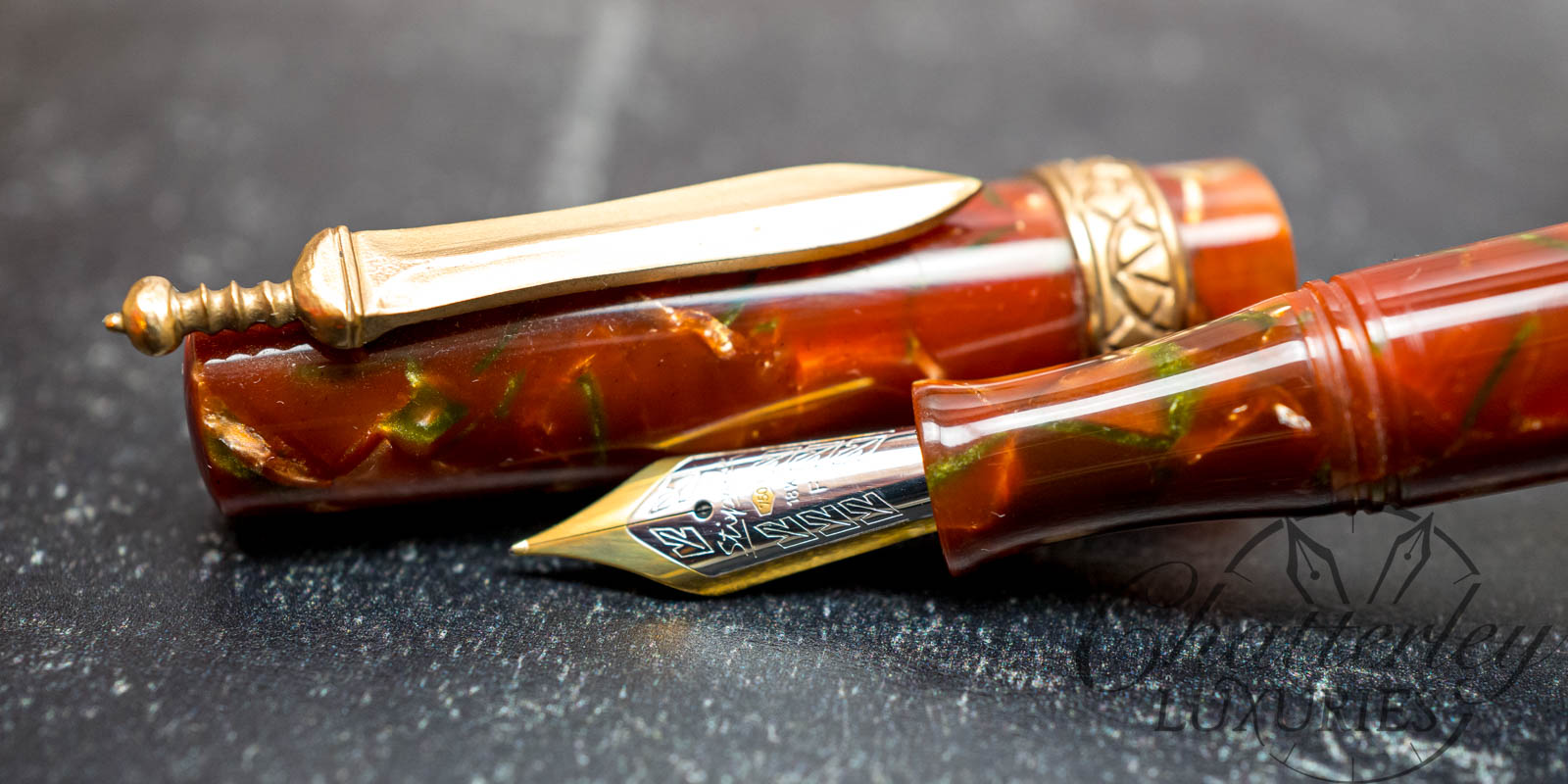 The Gladius (Latin: glădĭus) was the Latin word for sword and is used to represent the primary sword of Ancient Roman soldiers.
Created in radient Red and Green Tibaldi Celluloid, and beautifully accented with bronze trim. The clip, resembling a Gladius that would have been standard issue to any Roman Soldier, used 2000 years ago. Functionality with art of this pen is ideal, with a piston filling system, 14kt gold nib.  This exclusive project with Pentime and Chatterley pens and numbered to 20, nib grades available are Fine, Medium and Stub. The MSRP on the Stipula Gladius Limitado Bronzo Fountain Pen with Gold Nib is $1150.00
This pen is available with an Extra Fine, Extra Flexible nib. The nib goes from EF-BB with no problem. The nibs and Feeds have been modified to do this. The flow has also been adjusted. If you have never used a flex nib, its very wise to contact me first to see if a flex nib is for you. These nibs are beautiful to write with and can really add amazing character to your writing style, but the nibs are soft. This means, the room for error is less than a standard nib. And too much pressure, or too much pressure at the wrong angle can bend or spring tines.