Visconti Alexander the Great Limited Edition Fountain Pen
Contact us for our Chatterley Loyalty Pricing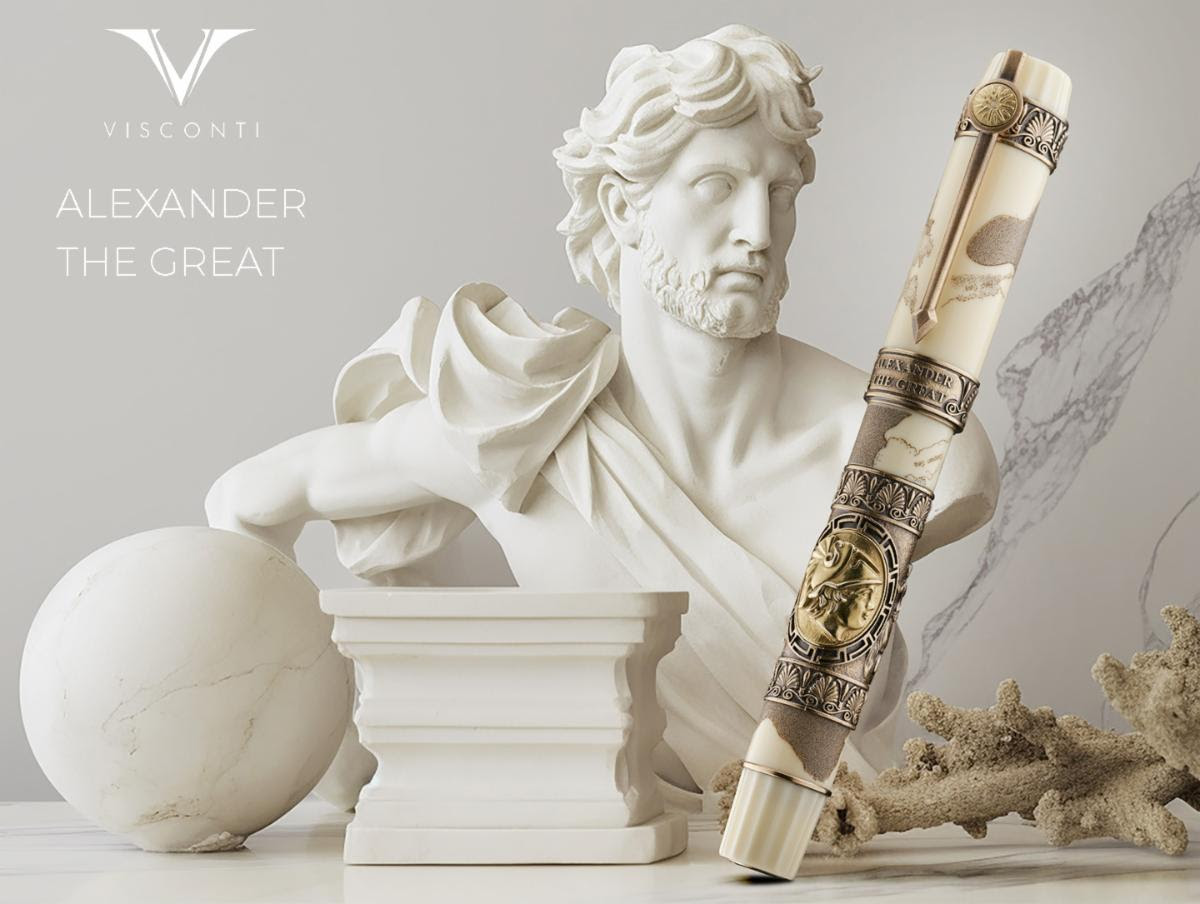 Every year Visconti commemorates a famous figure in history. 2023 brings an incredible tribute to Alexander the Great (356-323 BC) as it is the 2300th anniversary of his death. A key figure in ancient civilization, the Alexander the Great limited edition features many details that pay homage to the young conquerors' short yet valiant life.
"There is nothing impossible to him who will try." -Alexander the Great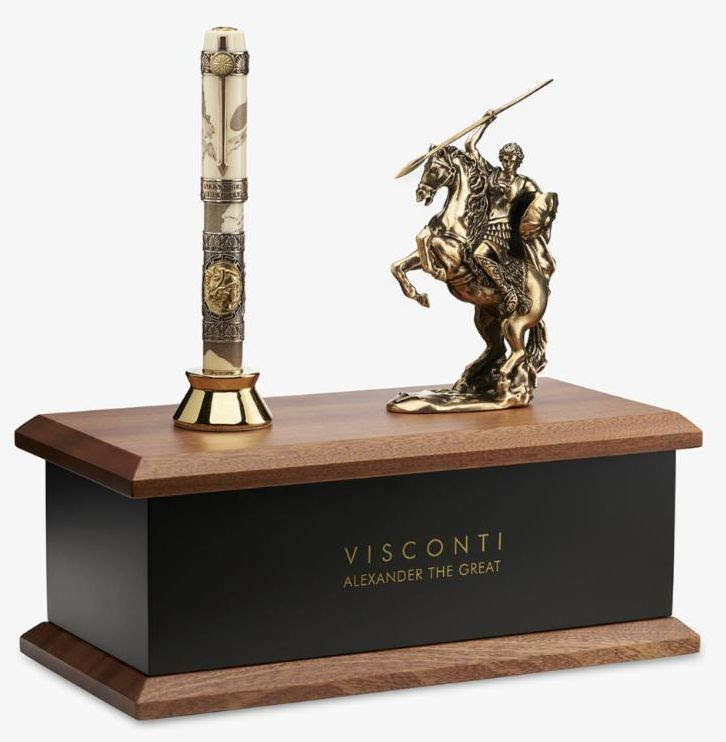 History
Winner of numerous battles and conqueror of many territories, Alexander the Great died in Babylon when he was only 32 years old, leaving behind an extraordinary legacy. He founded and re-established numerous cities, among them the biggest of the ancient world-Alexandria in Egypt, the center of the Hellenistic civilization.
In the Details
Visconti crafts this incredible collection with a cylindrical shape, including carved details reminiscent of Greek columns. The map of Alexander the Great's empire, created by scrimshaw technique is darkened to make the depiction stand out against the ivory colored resin on the barrel and cap. The metal fittings are in aged bronze and feature typical Greek decorations.
On the central ring an inscription reads 'Alexander the Great' and on the bronze band of the barrel there is a gilded plate depicting the face of this fantastic figure. In homage to the Macedonian phalanx, the clip, also in aged bronze, is spear-shaped featuring a gilded shield depicting the sun, Alexander the Great's family crest.
In-House 18kt Gold Nib
The fountain pen features Visconti's in-house 18kt yellow gold nib, available in EF, F, M, B, and Stub widths.
The Alexander the Great is available as a fountain pen and rollerball. The fountain pen features Visconti's famous power filling system with a threaded cap closure and is presented in a magnificent, custom limited edition box depicting Alexander the Great on horseback seemingly in the midst of battle with spear and sheild in hand. The collection is limited to 323 pieces worldwide.
Fountain Pen $5,950
Rollerball $5,750
Edition: Limited, 323 pieces worldwide
Fountain Nib: 18kt Yellow Gold: EF, F, M, B, S
Filling System: FP: Power Filler, RB: A40 Refill
Material: Acrylic Resin and Bronze
Trims: Aged Bronze