Visconti Green/Bronze Divina Elegance Maxi Fountain Pen
This pen is used, but in great condition. It comes with box and papers. It does have tarnish on the bronze which can be easily polished out. This edition is now sold out with Visconti and can't be ordered.
It has a 23k Palladium Extra Fine nib.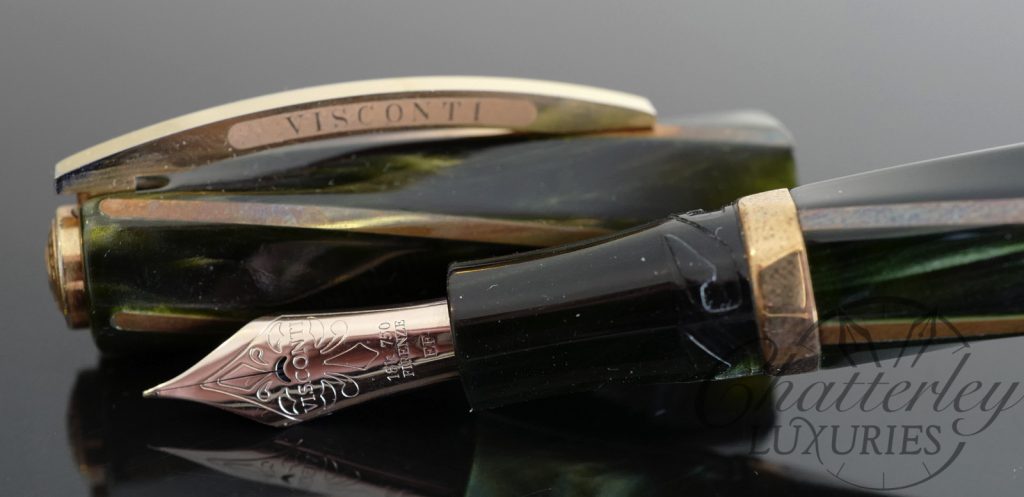 This Fountain Pen is based on the golden ratio, which according to the classical Greek sculptor Phidias contains the key of knowledge. The number is 1,618 and it corresponds to what is considered a "particularly aesthetic ratio." This ratio occurs repeatedly in nature and in fact it defines the "ideal relation," an arithmetic measure which is enjoyable for the eye, called also "golden mean proportion" or "golden section."
Visconti welcomes the newest addition to the iconic Divina Elegance Collection- a stunning pearlescent green with solid bronze and rose gold plated trims. The Divina Elegance, an evolution on the timeless Divina shape, draws on the art and science of the Renaissance period from which Visconti first created the Divine Proportion limited edition pen, upon which this series is based. The Divina Elegance represents an iconic Visconti design that integrates luxury with functionality, and features the series' signature rods that spiral around the pen. The spirals on the Green Divina Elegance are solid bronze, and the metal trims on the pen are plated with rose gold.
$1195 MSRP F, M, B
$1255 MSRP EF and Stub