Up for sale is the #01/100 pen in this edition. It currently has an Italic Broad nib on it, and other nibs may be available. If you would prefer a different nib grade, email prior to ordering to info@chatterleyluxuries.com to see what nibs are available.
The Celebration Wellington is a bold, modern take on classic guilloche hard rubber pens from the 1920s. A crisp wave pattern engraving covers the full length of the Celebration Wellington. An 18 carat solid gold ring at the barrel end balances the gleaming gold clip.
In keeping with the classic vintage style of the Celebration pens, there is no cap band to break up the smooth lines of the engraving.
A set of red, white, and blue rings is inlaid by hand into the cap top, adding a distinctive touch.
The Celebration Wellington is based on one of their most popular current models, a pen that brings a subtly curved cap and barrel that make for a pleasing balance to the eye and in the hand. This stylish modern look is married with the timeless look of vintage style engraving and a classic rich black hand made resin, with the result being a pen that makes the perfect choice for those who appreciate understated and classic elegance.
Filling is via the dependable cartridge converter system, and the Celebration Wellington is being offered with the choice of Fine, Medium, Broad, Italic Fine, Italic Medium and Italic Broad solid 18ct gold nibs.
The Celebration Wellington is packaged in a refined compact gift box, while the Celebration Churchill is housed in our large Churchill presentation packaging, complete with cigar and bottle of ink, accompanied by a book of famous Winston Churchill quotes. For those seeking the epitome of style and elegance, a fine writing instrument that brings to life the time honoured traditions of British craftsmanship, the Conway Stewart Celebration pens make a great choice.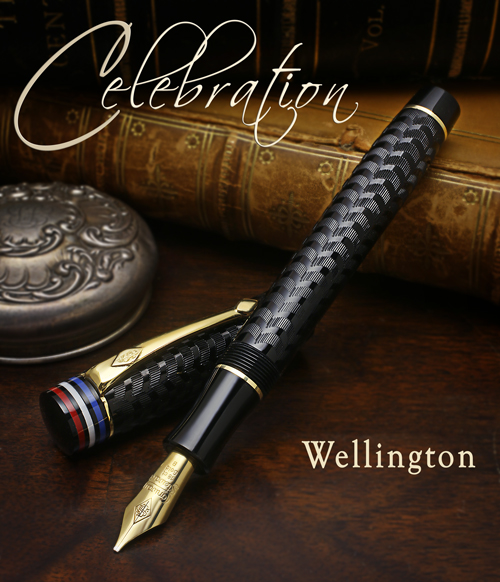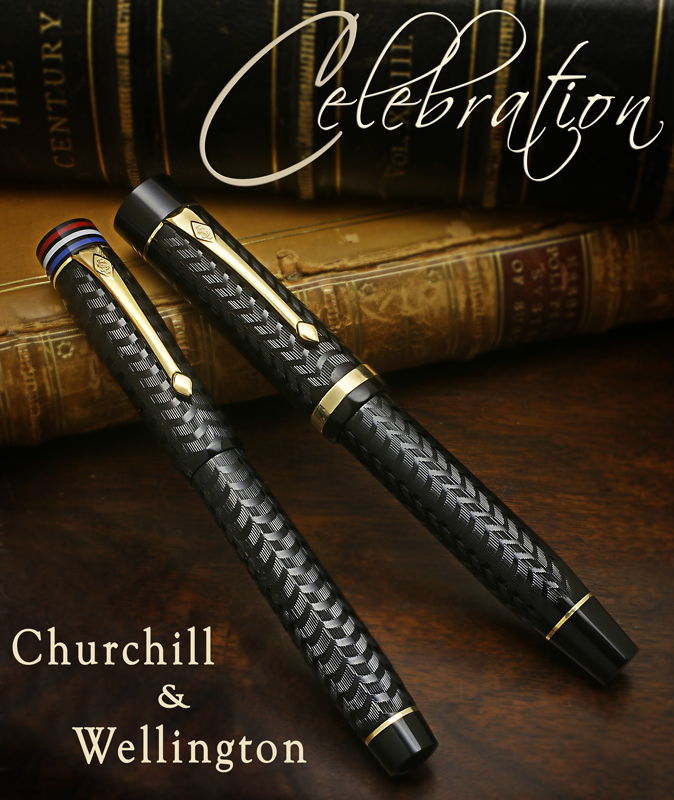 Celebration Wellington Fountain Pen £405 $646 €465