Visconti Limited Edition Dante Alighieri Fountain Pen
Contact us for our Chatterley Loyalty price
In Stock and read to ship!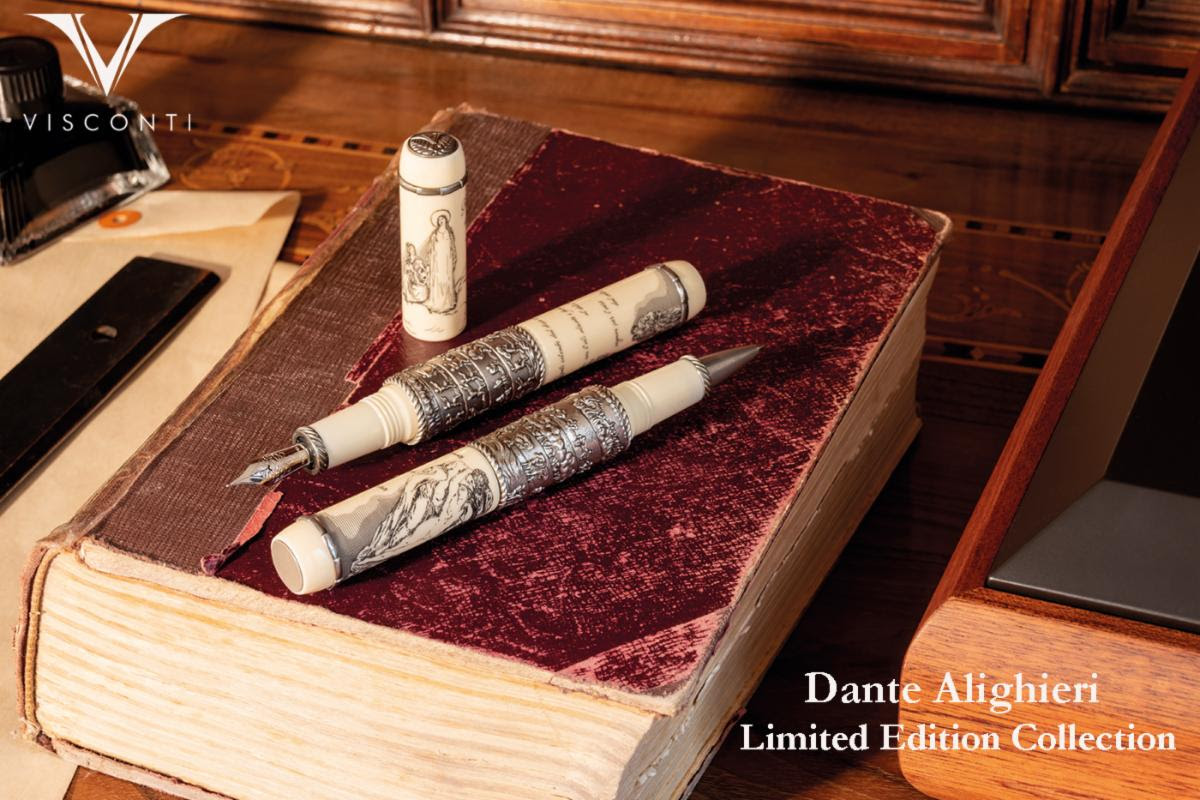 In commemoration of the 700th anniversary of the death of Florence's greatest literary genius, Visconti chose to celebrate the masterful poet with the limited edition "Dante Alighieri" collection.
Dante Alighieri, poet, politician, scholar of philosophy and theology, was born in Florence in 1265 and came of age when the city was experiencing a period of wealth and change. Dante's life was dedicated to the pursuit of art and culture. His true inspiration was always love and the power of his feelings directed towards his muse and lost love, Beatrice. His sublime verses, written in the vernacular considered to be Italy's 'first true language' led to the universal literary masterpiece that is the Divine Comedy.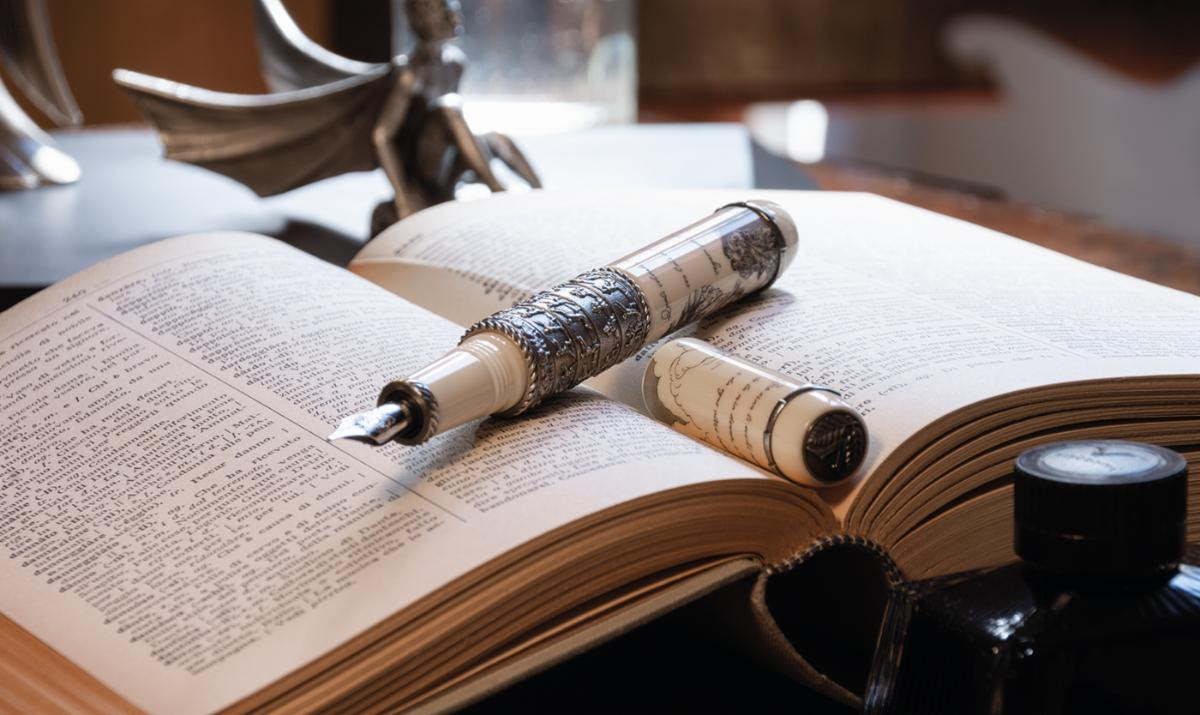 The Dante Alighieri collection is inspired by the different types of love that the poet encounters in the "Divine Comedy" through hell, purgatory and paradise.
Visconti's craftsmanship and artistry is on full display yet again in the detail of the silversmithing and meticulous scrimshaw work throughout the pen that depict different scenes of Dante's "Divine Comedy."
Paradise
The cap of the Dante Alighieri pen is entirely dedicated to Paradise, with a quotation from the XXI Canto and an illustration of Beatrice and Dante, also inspired by a Doré tablet.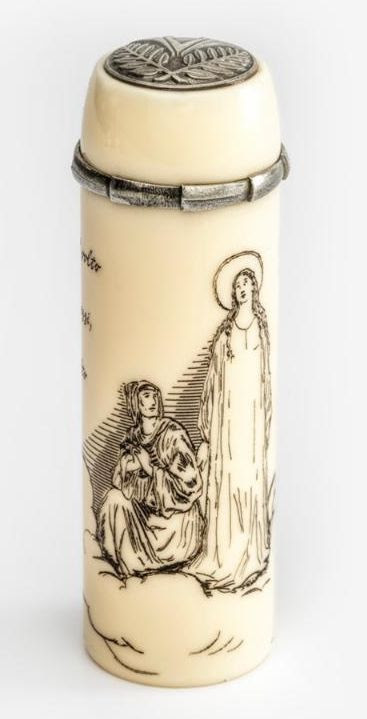 Purgatory
In the center of the pen body, a typical representation of purgatory, made with a silver micro-fusion, shows the fortunate damned spiraling up to heaven.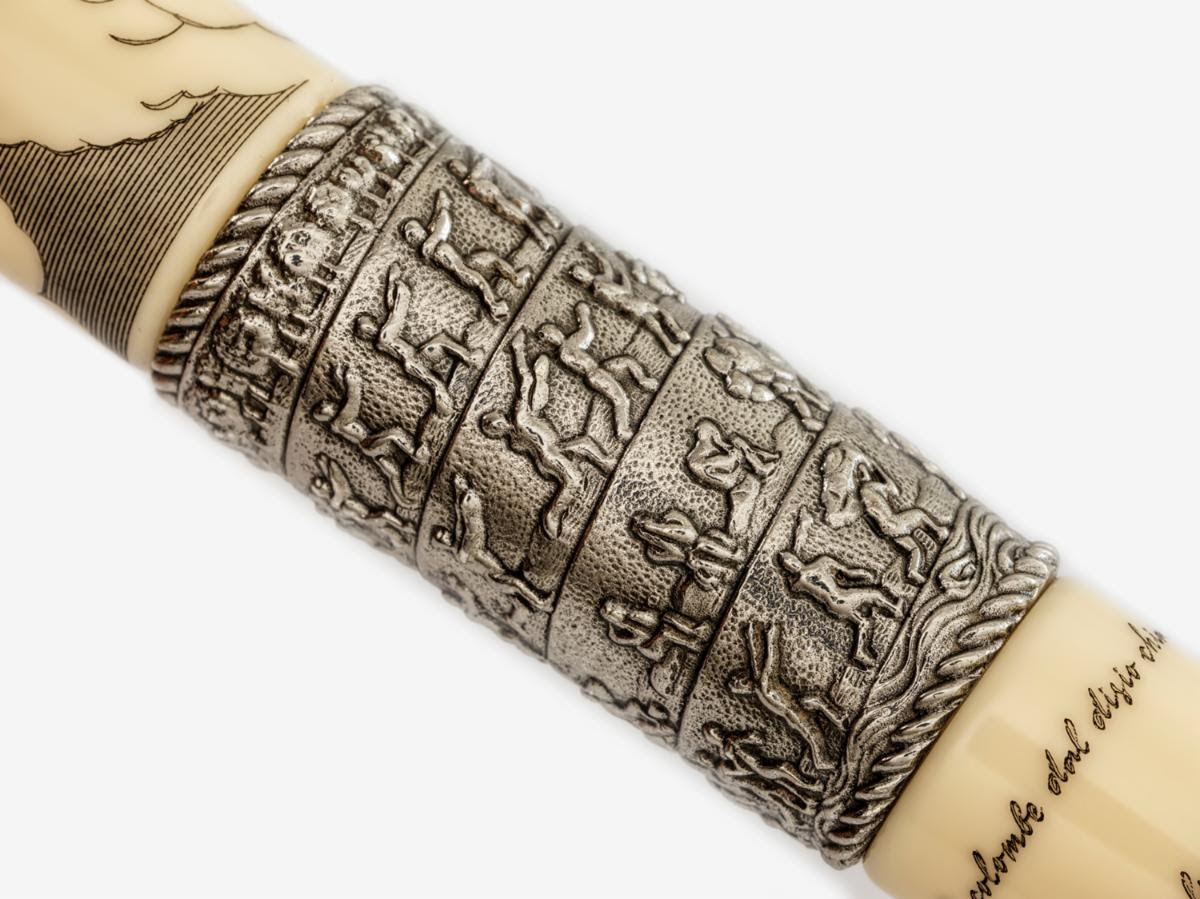 Hell
At the bottom of the pen body, hell is depicted with a quotation from Canto V and an illustration freely inspired by a Gustave Doré painting. The protagonists are Paolo and Francesca and their love for one another.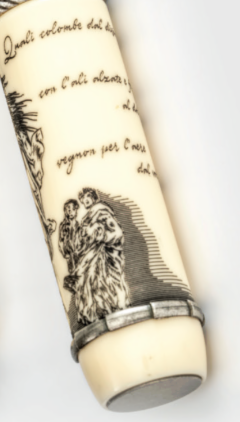 The Dante Alighieri collection features:
An oversize, pearlescent ivory color acrylic body engraved with scrimshaw detailing on the cap and acrylic sections.
The barrel of the pen is also comprised of a cast and metal-worked aged silver section depicting scenes of the infamous poem, Divine Comedy.
The fountain pen features Visconti's 18kt white gold nib.
The edition is limited to 321 pieces worldwide.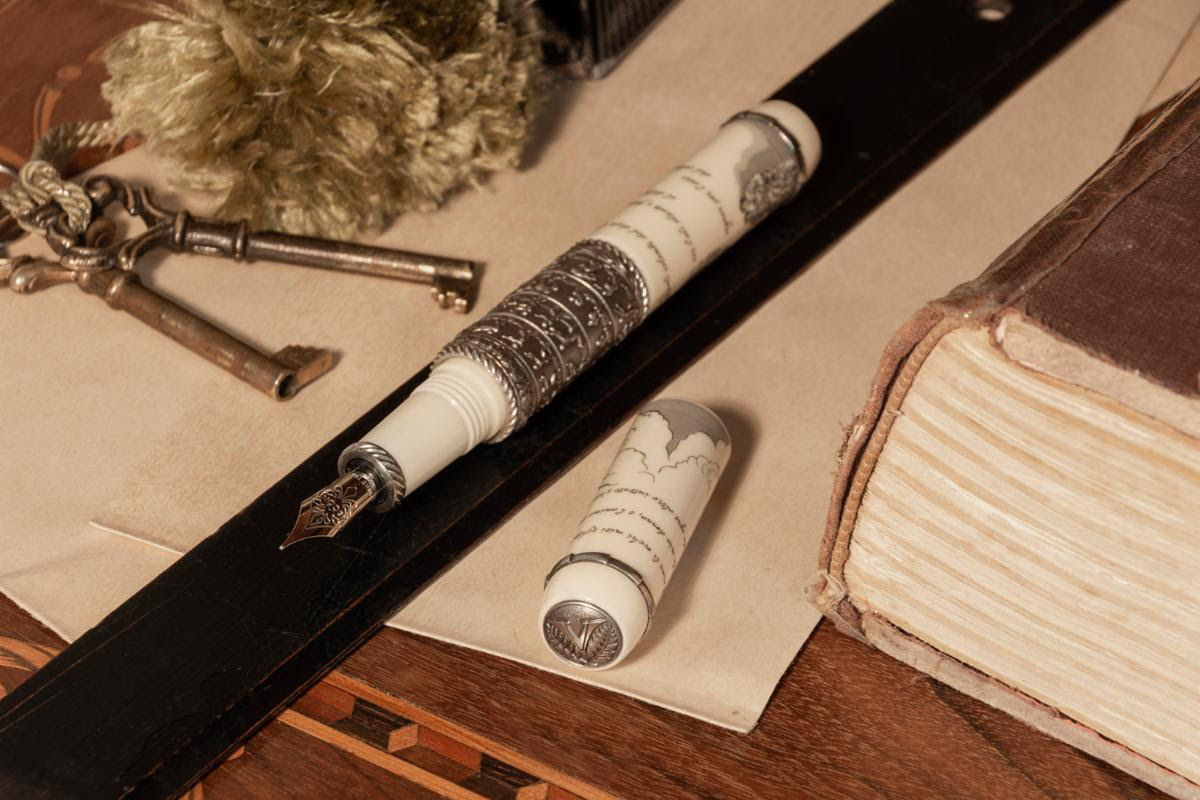 The limited edition box is a true display piece thanks to a brass structure formed by two statues finished by hand by a Florentine craftsman depicting an angel and a demon, strategically placed at either end of the box to support the pen. The mahogany base contains a glass ink bottle and a booklet dedicated to the collection.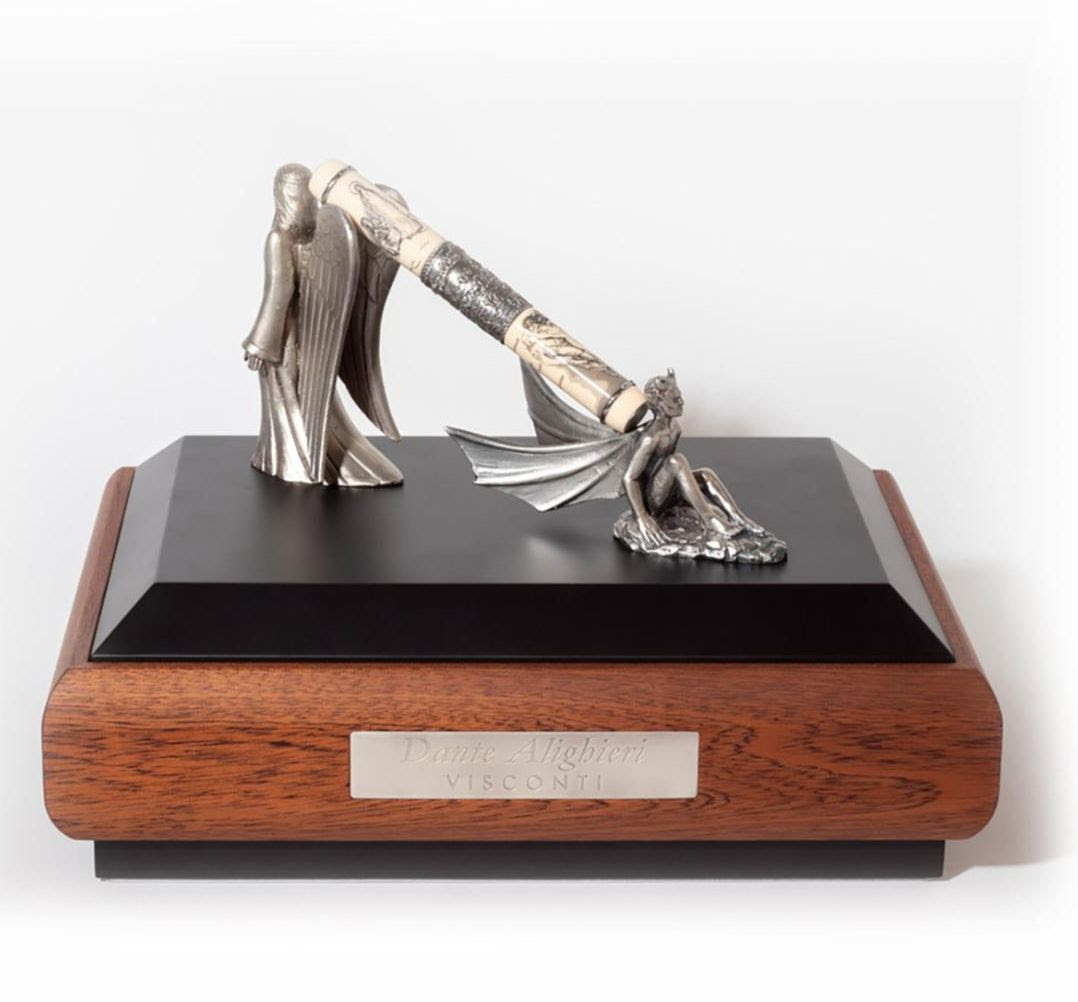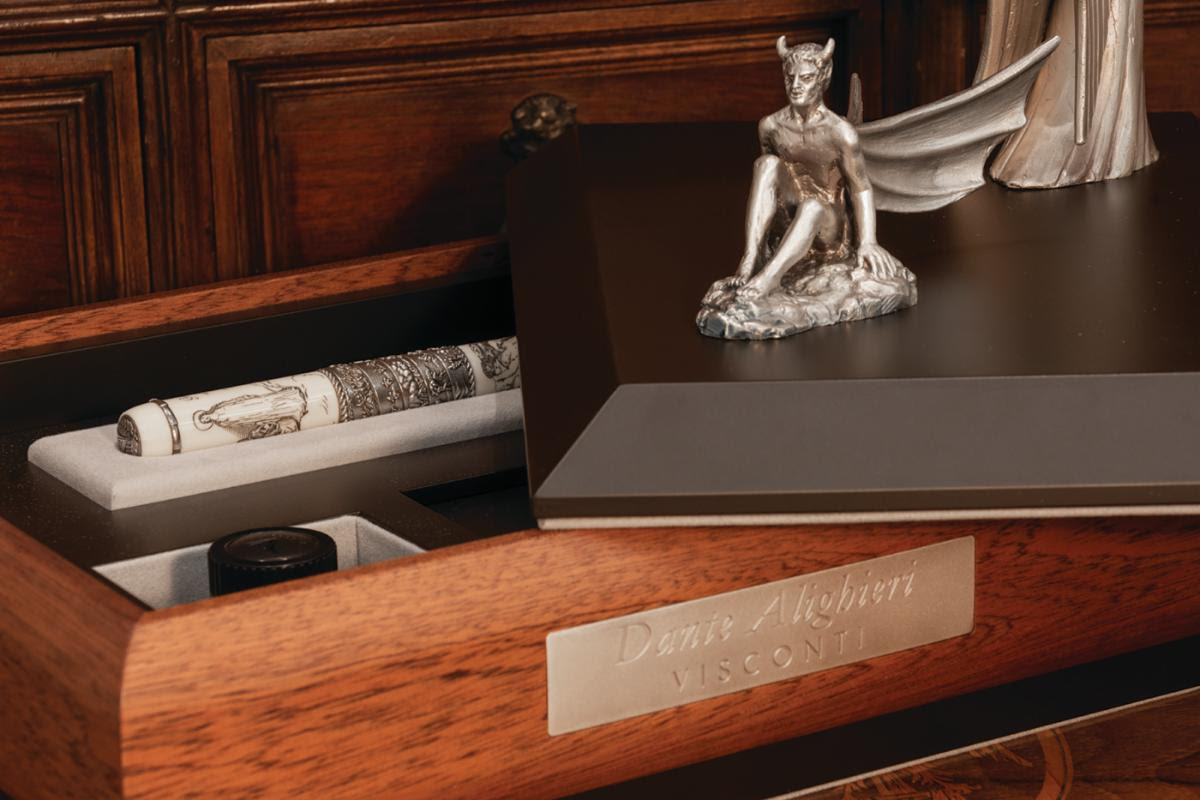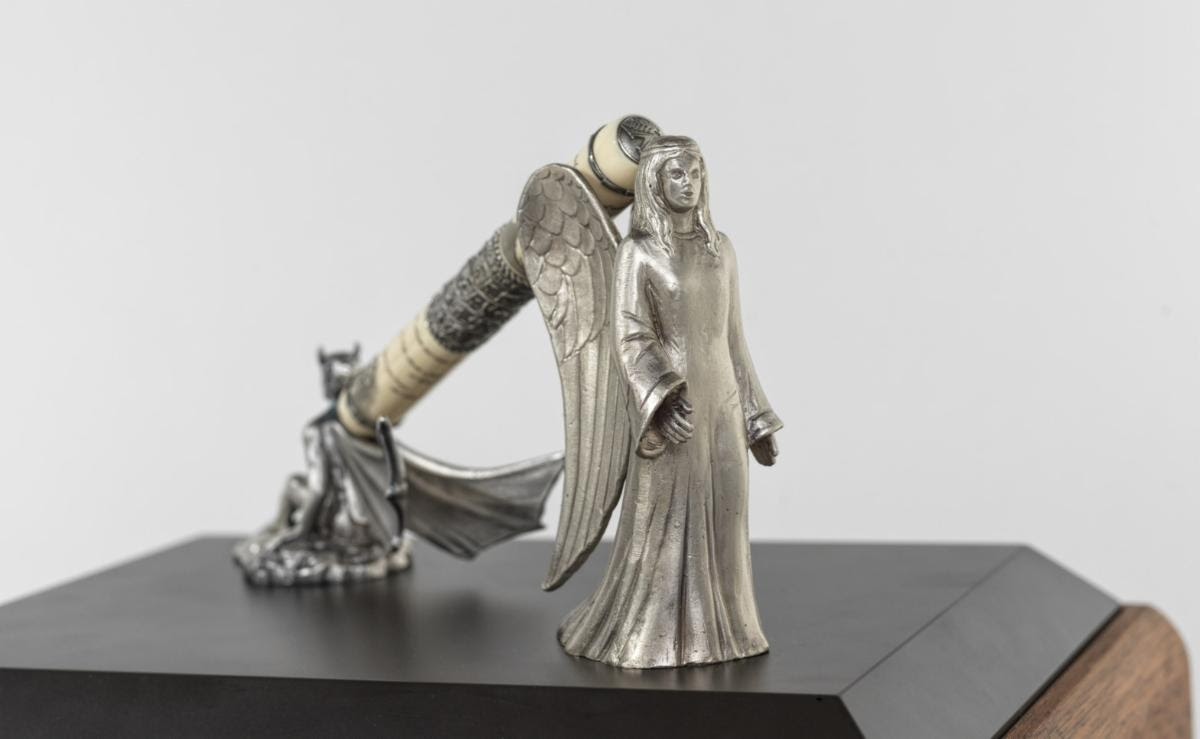 MSRP $5750