Visconti Ponte Vecchio Golf Limited Edition Fountain Pen
This pen is lovingly used with box and papers and signed ball. It has a 18k Fine nib. As you can see the sterling silver vermeil has tarnish. This can be polished off to be made shiny.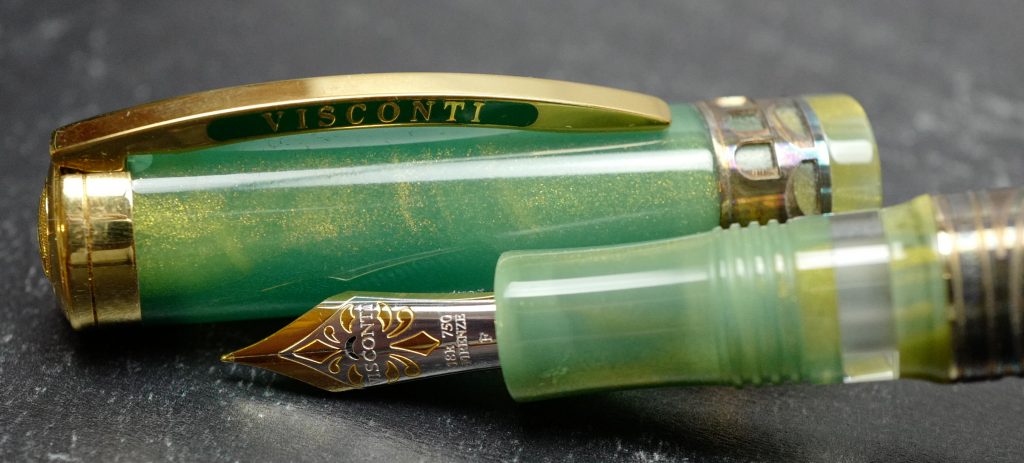 The Ponte Vecchio Golf, a fountain pen that strengthens the firm's ties to the Golf sport, as well as to the city where Visconti has plied its trade.  
This limited edition pen is available with vermeil trim. The pen is made of green resin with gold dust and stands out for the same elegance, culture and vision of design that unites the Renaissance city, the art of writing and the sport of golf. But golf is the star of this pen, which sports a perforated relief engraving of a golfer's swing. On the cap band is an image of an arch from Florence's most famous bridge and the name of the pen. Visconti's hallmark arch-shaped clip stands out on the cap. 
Making this limited edition even more special, Visconti asked 16 champions to sign 18 golf balls each, for a total of 288 pens in the total collection. This pen comes with a golf ball signed by a player who took part in the Ponte Vecchio Challenge. The pen has the double reservoir Power Filler system and an 18-karat gold nib.