Chatterley Montegrappa Legacy Extra Grande Celluloid Limited Edition Power Push Fountain Pen
This pen was inked, but like new and comes with box and papers and comes with any nib you want.

Chatterley Luxuries is proud to present another amazing Montegrappa Collaboration. The Montegrappa Legacy Extra Power Push Limited Edition. This edition consists of 24 Celluloids, many of which are now completely out, or are almost completely gone.
A little about Celluloid and why its so rare and collectible. Although its been used on pens for over 100 years, today its a material that is no longer being made. The conditions alone to make and cure make it a non starter. The material is very toxic to work with and very flammable so even if you can find someone to make the required large amounts, the costs would be astronomical. The minimums are so high now for just one design/color, you'd have enough celluloid for thousands of pens in just one color. Then you have to wait for the celluloid to cure in slabs, and hopefully it cures correctly. This can take many years. Cutting into it too soon will certainly ruin it and your celluloid can bow after a short time after turning your pen. After the celluloid cures and after its cut into rods, it can be turned into parts. But after that, the created turned parts need to be cured again. Montegrappa for example cures the parts in a low heat oven for over a year at least in order to be sure the part is perfect and will last lifetimes. So maybe 3-4 years for a significant financial investment for one color before you will see any return and thats if it all cures correctly. For these reasons, no one produces true celluloid nitrate anymore sadly. So what's out there is all thats left.
Below is a picture of the curing oven at Montegrappa we took in April of 2019 while visiting. As you can see there was celluloids curing for years in order to make sure they are perfect.
This collection is dedicated to the beauty and love of Celluloid!
The pen is a brand new model from Montegrappa called the Extra Grande Power Push. Based off of the Flagship pen, the "Extra", this pens length is 149mm from cap to end of body. They fill via Power Filler opposed to the standard Piston Filler on the Extra. You access the Power Filler from the middle of the section as seen below.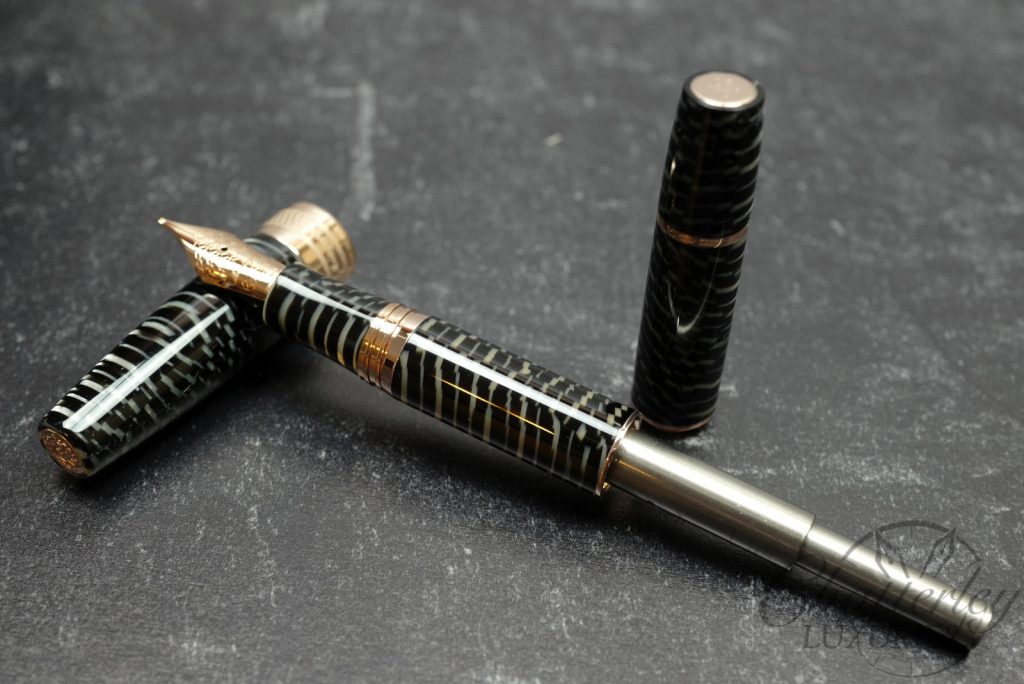 These pens have Sterling Silver Rose Gold Vermeil trim. These pens are fit with oversized #8 18k rose gold nibs with ebonite feeds. Nib grades are EF, F, M, B and 1.1 Stub. Each different celluloid has a "class ring" style emblem tastefully engraved on the clip with an elegant stone matching each color. The engraving has the year and name of one of the more notable and distinguished pens the celluloid was used on. Each celluloid edition is limited and numbered to only 10 pens.
Full specs
-24 Celluloids
-Power Push Filling system
-18 Rose Gold Nib
-Nib Grades: Extra Fine, Fine, Medium, Broad and 1.1 Stub
-Rose Gold Trim
-Ebonite Feed
-Limited to 10 pens each trim