Description
Visconti Homo Sapiens Chiantishire Limited Edition Demonstrator Maxi Fountain Pen
We have decided that because of the variation of these pens, you get to select your exact pen! Below are the pens we have available. Select the corresponding Limited Edition number and that pen is yours!
We have taken pictures of both sides of them, so 2 pictures each pen. The corresponding number is below the Picture.
This pen comes with a large wood box and a bottle of Visconti Bordeaux Ink.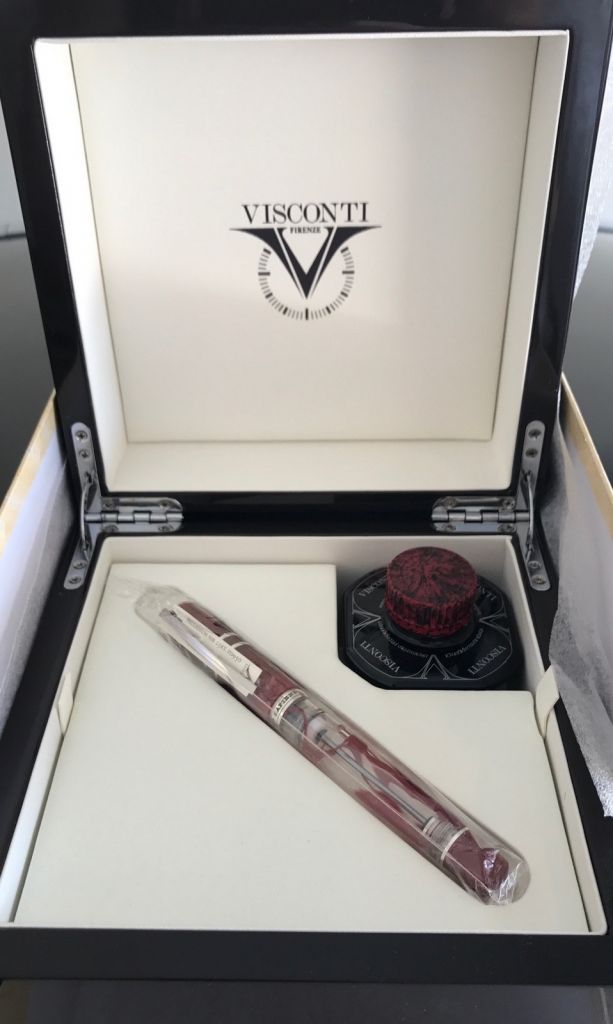 The Chiantishire is an homage to the Tuscan hills, where the famous Chianti wine is produced. The cap is made from a solid block of specially made resin made to fit the high quality standards of Visconti both in strength and color. The heart of this collection is seen in the body. Visconti uses a patented material: a mixture of celluloid and polycarbonate mixed in a secret formula. This material is injected into the transparent body, adding red and gold swirls, unique to each individual pen, that give the user the sensation of having a real glass of Chianti in their hands.
The Chiantishire collection is "millesimè" like the most important wines and is limited to 888 pieces worldwide.
Technical  Features:
Writing Style: Fountain Pen, Roller
Pen Size Over Size
Nib : Large 23 Kt. 950 Palladium
Point F, M, B, EF, Stub
Filling System :  Double Reservoir Power Filler
Trims : 925 Sterling Silver