Conway Stewart Detection Collection Michael Jecks Fountain Pen
This pen has been lovingly used.  It does not come with box or papers.  It is equipped with an Italic Broad nib.
The first of the Detection Collection celebrates the works of Michael Jecks, British author of the Templar Series, known for the best-selling medieval crime stories set in the turbulent 1300s. Michael's love for Conway Stewart pens started with the purchase of the Churchill model in classic black resin which he used almost daily. His passion for our fine writing instruments grew and he soon added the solid sterling silver Drake model to his daily choice of writing instruments.
To launch the first series of the Detection Collection, the pen model design chosen by Michael is an adaptation of our popular Winston from the European Edition. The Winston model bears close characteristics of our award winning Churchill model — one of Michael's favourite pens — bringing a fresh modern style to the timeless classic oversize flat top look.
The Michael Jecks Church House edition is limited to only 100 numbered pieces in a choice of fountain pen or roller ball writing modes. Crafted from our elegant Dartmoor finish, an interesting series of browns, shimmering with suppressed highlights, marbled into a deep black background. This choice of resin is deceptively simple with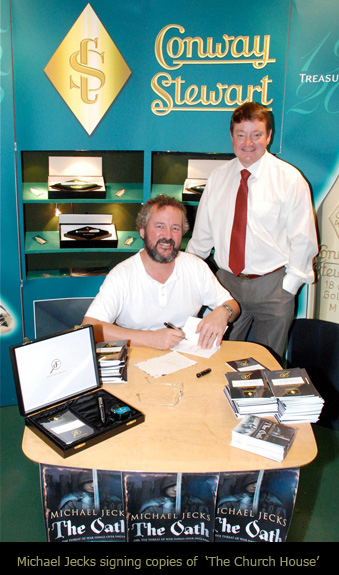 its mixture of understated shades and allows the owner to experience the best of both worlds: elegant and classic design with a touch of shimmering fashion.
The barrel is set off with an 18 carat solid gold ring at the bottom and a large gold band at the section and Michael Jeck's autograph engraved on the barrel. The cap features a pair of solid gold bands and the Detection Collection logo engraved on the cap top. The fountain pen is mounted with an 18 carat solid gold nib.