Under the bright glowing acrylic overlays, the Sterling Duro is a carefully constructed fine writing instrument created by our master craftsman in our factory located in Devon, England. The cap and barrel are crafted from solid sterling silver rod stock, adding perfectly balanced weight to the pen itself.  The cap top, cap band, and barrel end are left in gleaming bright polished silver, further accented by a silver pocket
clip in the classic and stately design that has graced Conway Stewart writing instruments since the 1930s. When you remove the cap, you unveil a shining solid sterling silver section graced with a two tone rhodium
plated 18 carat solid gold nib.
The 18 carat solid gold nib is available in a choice of eight grades, from Extra
Fine to Extra Broad, Italic Fine, Italic Medium and Italic Broad. The solid sterling silver section brings the weight of the pen forward in the hand, ensuring perfect balance when writing. Setting pen to paper is transformed from an everyday chore into an elegant event!
The Sterling Duro series is available in a choice of fountain pens and roller balls. Each writing instrument is housed in our luxury Conway Stewart packaging and lined in a deep lush velvet in our corporate colors.If you are ready for something a bit beyond the ordinary in a fine writing instrument, take the opportunity to experience the stunning our Sterling Duro in person at your favorite
retailer of fine writing instruments today!
Blue? Purple? Red? Nebula is a mixture of all three, interspersed with accents of white. Each individual piece of Nebula rod stock used in making the Conway Stewart pens is as individual as your fingerprint, offering the opportunity to experience this exciting new mix of color in a unique manner. For those wishing to make a bold statement will find Nebula a perfect match.Price: LIST RETAIL $970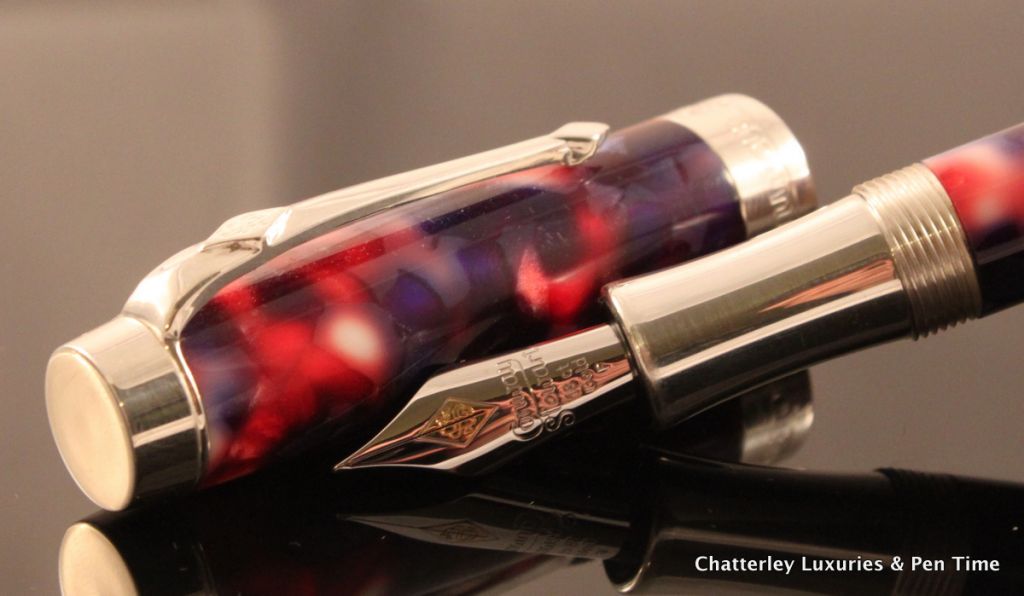 Packaging: Exclusive diamond shape packaging