Danitrio Chinkin Phoenix Fountain Pen on Takumi with painted Clip
Danitrio makes remarkable hand painted pens using the Japanese skill and craftsmanship that has been mastered over the last few thousand of years. Good basic paintings start with base painting, which the craftsmen paint twice or three times with Urushi mixed with finishing powders to make the base hard and durable.  Then followed by the interim paintings which is done by one or two layers preparing for finishing paintings.
As with Maki-e, Chinkin should start with Okime, the design transcription onto the finished surface with Urushi first. Then very fine special chisels are used to carve and trace the lines with sticky Urushi by rubbing into it, and finally, gold foils or powders or colored Urushi powders are sprinkled over it and the surface is cleaned by Washi, Japanese paper. Wajima is the main source of Chinkin which was originally developed in the 13th century, and it is called Sohkin in China. However, today's Chinkin is quite different from Chinese Sohkin. Wajima is not the only source for Chinkin. Chinkin can be found in Fukui Prefecture, Akita Prefecture, Okinawa (Ryukyu), and Aizu of Fukushima Prefecture. They use different designed varieties of chisels, and yet, Wajima is the most famous for this art.
Designs of Chinkin are made by the following techniques.

1. Ten-bori (carving by point): The size of points could be as small as only 0.1mm, and it is the only way to make the surface for the design by chiseling points one by one.
2. Ten-bori no Bokashi (Gradation of point carving): Reducing the chisel points and changing the space between the points to make the design with gradation.
3. Ten-bori no Henka (Variation of point carving): To push (Tsuki-nomi) or draw (Hiki-nomi) the chisel from a point to carve various short lines in a small space.
4. Suji-bori (Line carving): Short or long, straight or curved lines can be carved by skillful craftsmen.
5. Katagiri-bori (Carving sharp curved or angle lines): Use a special chisel to carve strong contrasting lines.
 Good Chinkin can be done only on genuine Urushi surface which has a few special characteristics such as its membrane no manmade "Urushi" has.
The pen is on the Takumi size and fills via cartridge convertor and features a size 18kt gold nib.
MSRP on this pen is $3000
Meet the Artist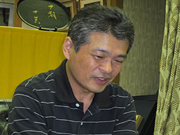 Katsuhiro (Katsuhiro Nishi)
Born in 1955. He lives in Wajima as an excellent artist for more than 38 years now.  We are very fortunate to have him join us to contribute to the art since ten years ago, and we can see his works at Shitsugei Dento Kogeiten, Traditional Urushi Craft Exhibition every year.  He was already appointed to be a "Tokutaisha", very high honored position at the Traditional Urushi Art Craft Association widely regarded as the most hopeful candidate to be the next National Treasure of Chinkin appointed by the Japanese government. We were fortunate to meet him in Wajima and discussed with him on Chinkin art and he promised to support us with his talent and hard work on Chinkin.