Danitrio Tautieh or Totetsu Maki-e Grand Trio Fountain Pen
Totetsu in Japanese, or Taotieh in Chinese, is the name of a mythical creature widely used as a bronze ware for more than 1000 years, beginning in the Chinese Shan Dynasty. The creature possessed the head of a human, the body of a sheep or cow, the horn of a goat, eyes on the side of his chest, a tiger's teeth, the nails of a man, and it made sounds similar to that of crying human babies. The bestial face of this man-eating devil was popularly regarded as an extremely avaricious creature that robbed people and bullied the weak. The Totetsu was greatly feared and disliked. But the Chinese used this design as a charm against devils, in the belief that it would ward off evilly minded people from their property.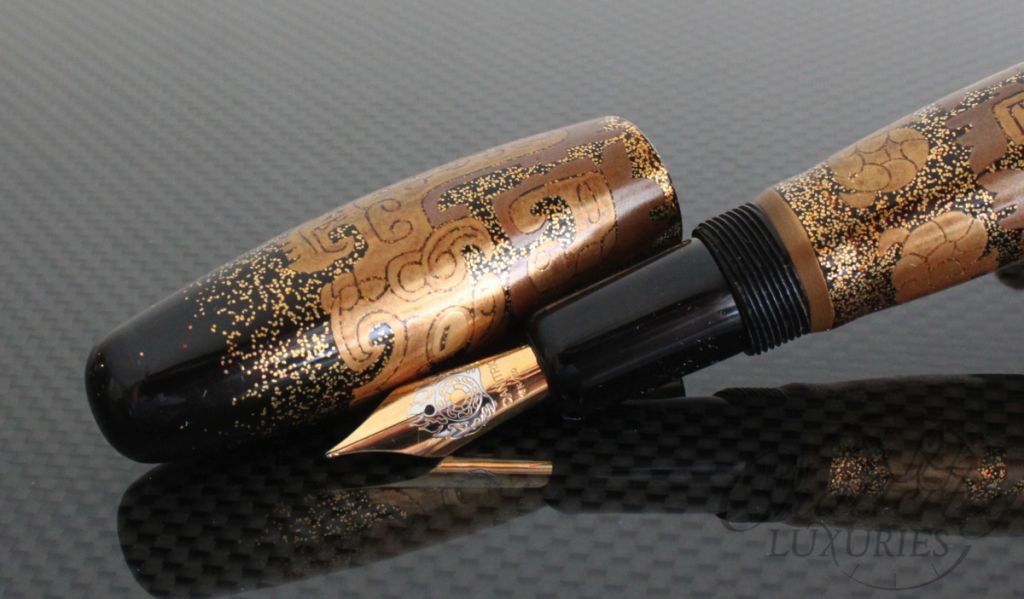 The artist Akio was inspired by a Totetsu design on a 1000 year-old bronze ware when he visited the Taiwan National Museum, to recreate this creature on his Maki-e.
Danitrio makes remarkable hand painted pens using the Japanese skill and craftsmanship. The amount of detail in the paintings on the pen is remarkable. The little details may easily be overlooked. One thing to consider is how the artist uses difference sizes of gold flake to create the desired effect. This pen take many months to finish.
The pen fills via cartridge convertor and features a Medium size 18kt gold nib. This pen has an MSRP of $3000
F-13 This pen is numbered 4/50