Danitrio makes beautiful pens using the Japanese skill and craftsmanship that has been mastered over the last few thousand of years. One of their lines of pens is the Genkai, which is a fairly large pen, long and cylindrical in shape. Many of these have flat tops and bottoms. They are fitted with #8 size 18kt gold nibs and fills via Cut off Valve eye dropper.
This particular pen is a One-Of-A-Kind. And this is why, while Danitrio has made several Raden pens, they have never before done Raden work like this on a Genkai pen. This pen was made as a prototype and there were never any more pens made like this on this size pen.
Raden "Ra" of Raden means shells and "den" means inlay. Generally they use abalone, also use eggshells, and various semi precious stones such as lapis, malachite or coral.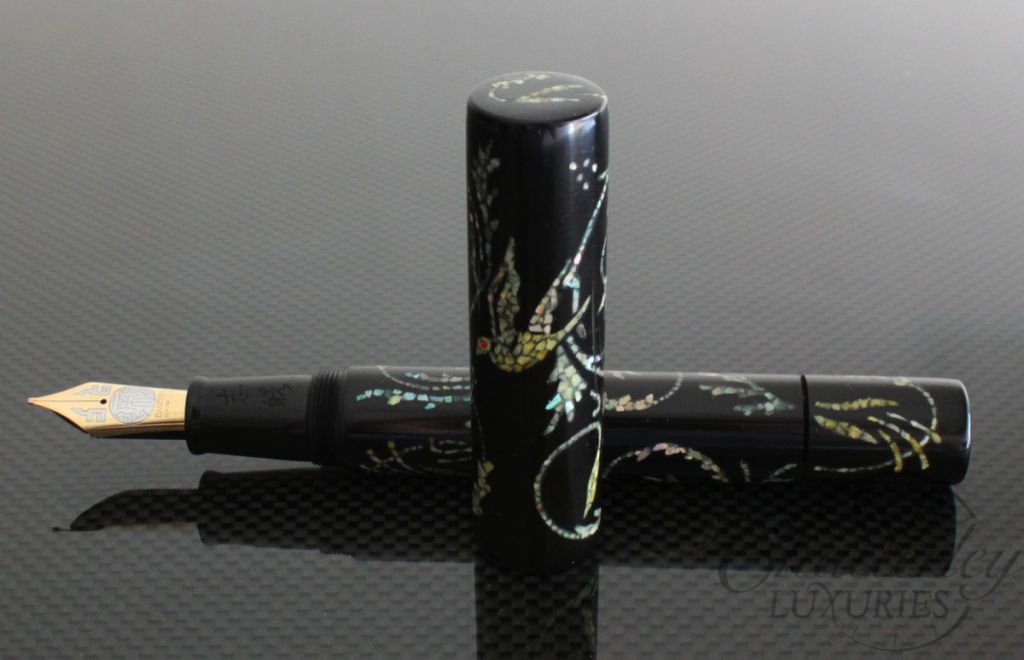 -Basic Urushi information about Danitrio pens.
The base for Urushi paintings must be smooth and strong in order to have a good Urushi painting, which will last thousands of years. When the base is ready for painting, the first painting uses Sabi, Urushi mixed with polishing powders, as its base painting and call it Shita-nuri, the base painting.
All these works are usually done by Nu-shi, craftsmen of Urushi paintings, painting 7 times in average and it takes 2-3 weeks before the Nu-shi can send back the pens to our Maki-e sh, who will do more Urushi painting works or Maki-e onto the pens.
Craftsmen call Urushi a living thing. Its qualities differ even from the same trees, but the quality is different from the trunk or branches. Different qualities from different trees or different areas or countries.  Then, crude Urushi must be refined to make more than 10 different qualities of Urushi for different usage. Now craftsmen have to pay more than $600.00 per pound for genuine Japanese Urushi, $250.00 for Urushi imported from China.  They use it on different occasions and different places, while manmade Urushi or plastic paint only cost a few dollars a pound. Genuine Urushi is like pure gold, only for fine jewelry. and pure gold is too expensive for cheap works with cheap materials.
The translucent Urushi has to be made with Japanese Urushi, because Urushi from China or Vietnam are all black when they sap from the trees and they can never be refined to be Suke-Urushi to be used for the basic paintings.
This pen is equipped with a 18kt gold nib. The nibs available for this pen either Fine, Medium, Broad or Stub. If you are interested in a different nib, please email directly to info@chatterleyluxuries.com