Omas Solaia Wine Limited Edition Rollerball Pen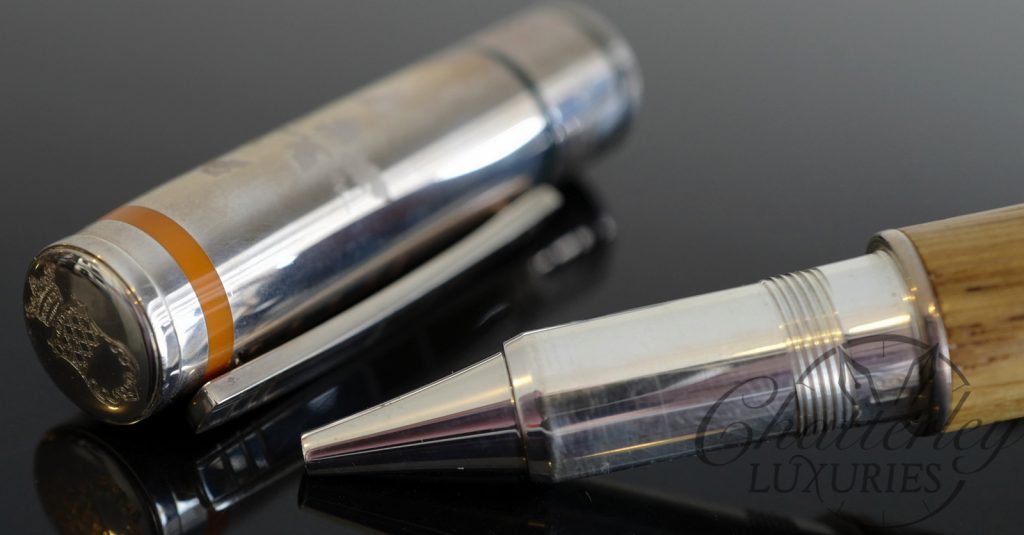 Omas confirms its own passion for the world of wine with a new Solaia Limited Edition Rollerball Pen, dedicated to the prestigious Italian wine tradition, which pays homage to Marchesi Antinoris seventeenth-century history.
The OMAS Solaia Rollerball Pen features elegant engravings recalling the world of this noble wine: the family coat of arms and the vine plant dominate the cap surface, the rhombs which we find in the Marchesi Antinori shield, decorate the Limited Edition knob.
The shape of the barrel douelle is skilfully recalled in the particular and rounded clip.The Numbered and Limited Edition in Silver recalls the first historical Solaia wine year: 1.978 pieces, 1.200 Piston Filling Fountain Pens and 778 Roller Balls.
The box, inspired by the Solaia wine packaging, reminds its noble taste and exalts the beauty and the splendor of the precious writing instrument.
Omas and Marchesi Antinori, both symbol of the refined exclusiveness of Italian product, through an exciting path, creates a prestigious Limited Edition, which tells the handcrafted tradition, the attention of testing and innovation, emblematic values of the two Italian companies.
In 1978 Solaia was first produced almost accidentally, thanks to Marchese Pieros intuition. It was the first Italian wine elected Wine of the Year in 2000 by Wine Spectator and continues to increase and score the worldwide markets.
The Oak Wood of the Marchesi Antinori barriques, where the precious wine has aged for years, produced in the Tignanello Estate in Tuscany, today revives with the Solaia Limited Edition.