Visconti Dragon Limited Edition Rollerball Pen
This pen is lovingly used, but in perfect condition. Sadly the beautiful Dragon stand box is broken. 🙁 So this is just for the pen.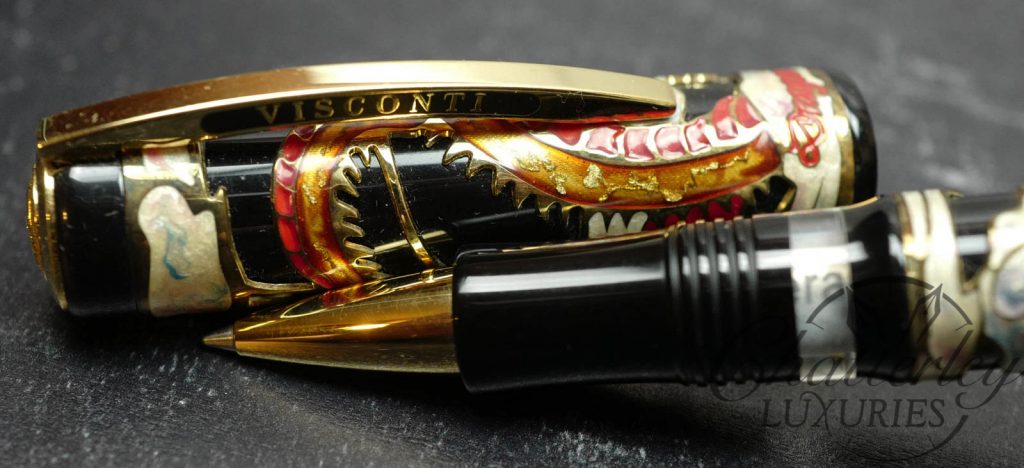 Visconti celebrates the year of The Dragon, one of the 12-year cycle of animals, which appear in the Chinese zodiac and Mongolian zodiac, and the only animal that is from a fairytale. The Year of the Dragon is associated with the earthly branch symbol. Dragons are powerful mythical creatures celebrated by Chinese culture that symbolize strength, well-being, harmony, and intellectuality. Many consider Dragon people extremely lucky and blessed. In Eastern philosophy, the Dragon is said to be a deliverer of good fortune and a master of authority. Therefore, those people born in the year of the Dragon have a sense of honor, respect, audacity, and loyalty. Visconti has master crafted a Chinese dragon in gold vermeil lacquered in multiple layers of color like only the ancient Florentines masters could do. Visconti uses a natural black resin as the back drop, creating a silhouette against the array of striking colors and imposing imagery of the vermeil overlay. This striking pen utilizes the Visconti double reservoir power filler and Dream Touch 23K palladium nib. 2012 Dragon fountain pen presented in a magnificent lacquered box with dragon display.
Visconti Limited Edition 2012 Dragon fountain pen features black resin barrel and cap which act as the back drop under the dragon, which is covered with gold vermeil and layers of colored enamel Limited 888 pieces.
Celebrate the year of the Dragon, the only mythical creature in the Chinese Zodiac with this quality pen that carries an MSRP of $3550