Visconti For Armando Simoni Club Arco Bronze Brown Celluloid Fountain Pen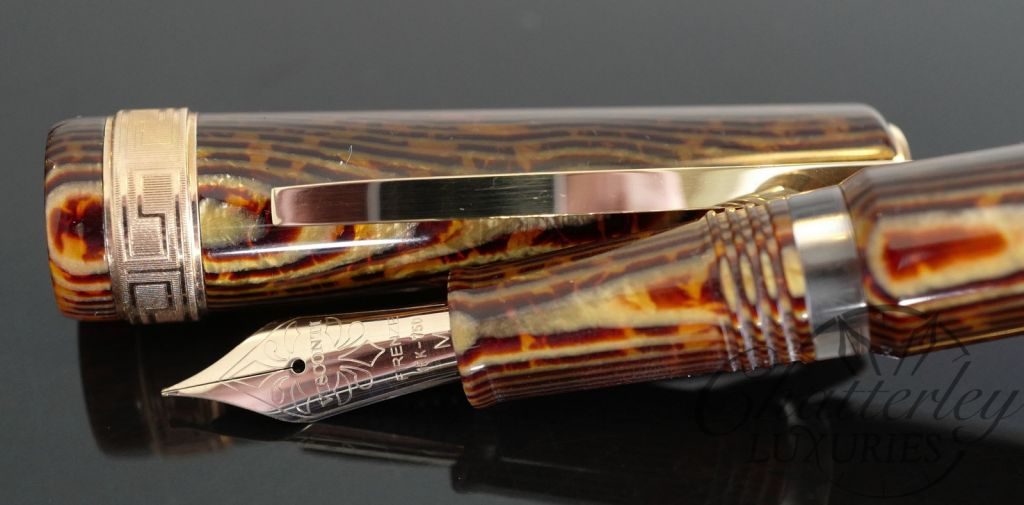 Visconti has always had a special place in the heart of pen connoisseurs for its innovation and creativity since 1988. More recently, Armando Simoni Club has also struck the hearts of pen aficionados by using the best celluloid material ever created. Their attention to detail is another hallmark of the brand.  These two writing instrument brands share something in common: true Italian craftsmanship, recognizable by all fountain pen collectors. It is hard to find a collaboration of this caliber between two unique pen brands.
The concept: look deep into the DNA of each company, and find their essence. The iconic Visconti "Manhattan" pen was chosen to be re-interpreted and to represent this exclusive partnership with ASC. Designed in an oversize version, even more appealing, this piece will come with a Visconti 18kt gold Medium nib and will have a prestigious double reservoir filling system. Ink level will always be visible, thanks to a transparent window on the barrel. The Arco Brown celluloid is the icing on the cake, enriched by the elegant rose gold-plated trims.