Visconti has discontinued all Midi Sized Fountain Pens and are sold out from Visconti and distributor level, so whats left is all there is. Only one of these remain…
Visconti Fountain Pen Homo Sapiens Dark Age Midi Fountain Pen
Imaged below is both the Midi and Maxi Dark Age Fountain Pens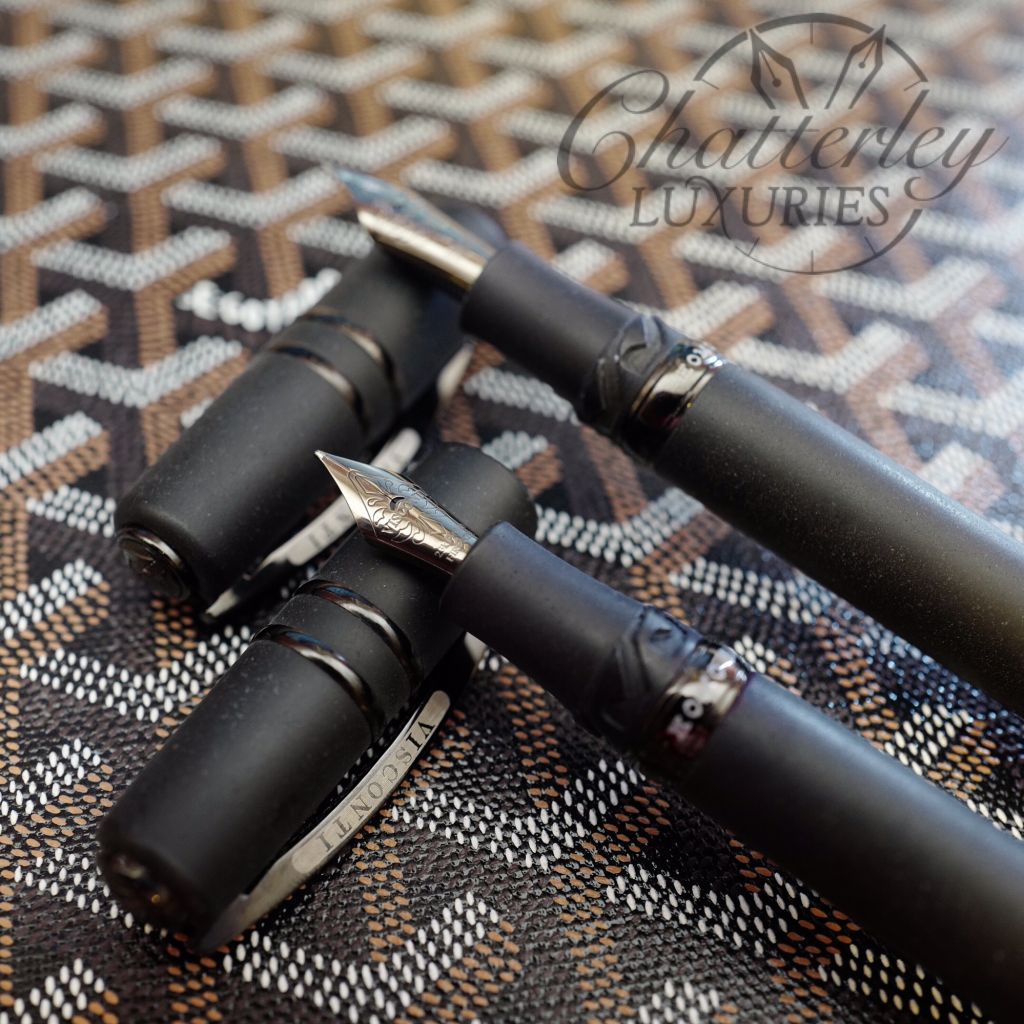 More than five thousand years ago Homo-Sapiens marked the dawn of human history and the invention of writing thus began. The same age discovers metallurgy, allowing the mastery of metals which signified the beginning of human evolution all the way to the invention of the wheel. The first great civilizations arose on the Nile, Tigris and Euphrates river banks and soon began the development of sciences like algebra, geometry, astronomy and engineering.
Visconti conceived the Homo-sapiens range of writing instruments for real writers, for those to whom the fountain pen continues to represent an essential traveling companion, a daily friend to share the same civilization that writing helped create.
The pen is made from a material that is as antique as the world around us: lava from the Etna volcano. Lava has many characteristics that make it very unique in the manufacturing of writing instruments. Visconti has successfully produced a material containing over 50% pure basaltic lava, catalyzed together with resin in a formula that is patented and obviously kept secret. The extraordinary characteristics of basaltic lava practically transform it into a material perfectly fit to writing instruments.
Visconti lava fountain pen characteristics:
Virtually unbreakable: It has a high degree of resilience
Flame-proof: Visconti lava has a resistance to heat of over 100°C
Slightly hygroscopic: allowing it to absorb hand sweat during use
Dense: to the touch, allowing the best possible finger-relaxing grip
Unquestionably new in the range of materials employed in the making of fountain pens
All the Metallic parts of the pen are black including the 23k Palladium nib. This adds an amazing look to the Homo Sapiens.
The 23 ct 950 Palladium DREAMTOUCH Nib
With Homo-sapiens Visconti introduces the first ever made 23 ct 950 palladium Dreamtouch nib.
Dreamtouch is the term we coined to define a nib that requires no pressure whatsoever in order to write, it traces in a gentle way thoughts and words for dream-like handwriting.
Palladium has interesting physical features that allow the production of fountain pen nibs; its manufacturing is possible today thanks to new metal-fusion technologies and to the welding of iridium tips. This metal has been the fundamental element in 1989's Pons and Fleischmann cold fusion theory.
Palladium actually melts at much higher temperatures than gold: 1552°C against 1063°C. It is therefore obvious that this metal has better mechanical features; being more resistant than gold and that any manufacturing process involving palladium becomes a lot more challenging.
The international classification system lists only four precious metals and their related titles: platinum, palladium, gold and silver.
Value: the 23 ct 950/1000 palladium nib is the purest nib ever manufactured in fountain pen history. In other words, it contains 95% pure palladium against 75% pure gold in the 18 ct nib and 58% gold in the 14 ct nib.
Flexibility and Memory: Palladium has the best possible properties for any type of writing, enhanced by some 30% compared to the same nib in 18 ct gold.
Resistance to ink corrosion has been improved up to 100% thanks to the pureness of the material to an extent to which no protection treatment of the plating is needed.
Originality: the palladium nib will render even more exclusive your Visconti, either as a collection piece or as a daily use fountain pen.
Technical Characteristics
Homo Sapiens Dark Age Midi Fountain Pen
•             Virtually unbreakable:                   high degree of resilience
•             Flame-proof:                                  heat resistance to heat over 100°C
•             Slightly hygroscopic:                      absorbs hand sweat during use
•             Dense to the touch:                        comfortable to grip and relaxing to write with
Filing System: Captive Converter (works like a Piston Filler)
Roller ball recommended refills: A 40
Ballpoint recommended refills: A 38, A49
Packaging: Visconti pen case with polishing cloth
MSRP on this amazing pen is $550 and come in Fine, Medium and Broad nibs.