Visconti Homo Sapiens Evolution Lava Maxi Fountain Pen
This pen is lovingly used and comes with box and papers.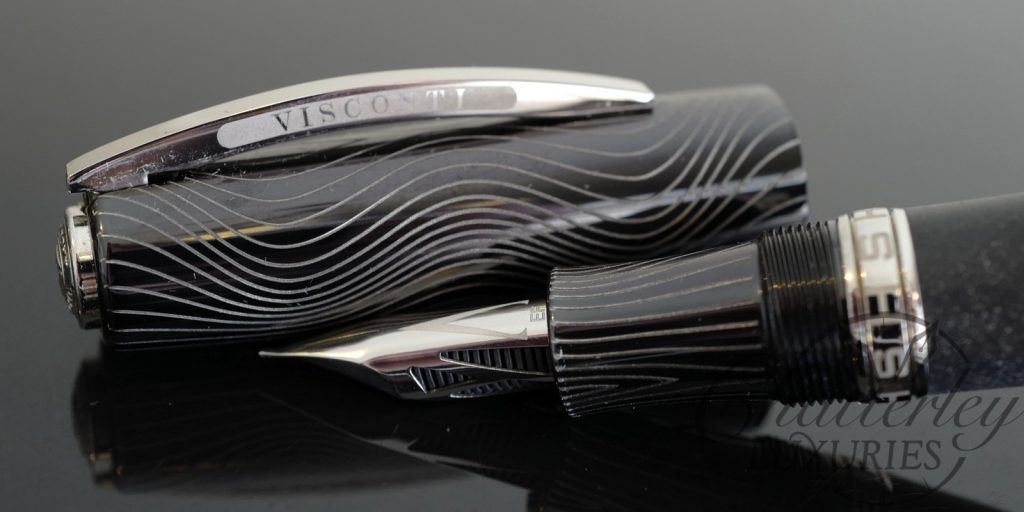 The Homo Sapiens Evolution, the latest addition to the iconic Homo Sapiens collection. The Evolution combines the unique volcanic lava material used to make the body of the original Homo Sapiens collection, with a specially designed metal cap and grip section crafted from Galvanized steel. The Evolution is equipped with Visconti's new and exclusive Skeleton nib, giving a modern face-lift to the original design.
Visconti's lava is extracted from the Etna Volcano in Sicily, Italy. This unique lava possesses special qualities making it the perfect material for writing instruments. Visconti's lava is virtually indestructible, yet extremely comfortable and warm to the touch; the material is hygroscopic, absorbing moisture from your hand. The dense material has a soft feel offering a comfortable and relaxing grip to write with.
The uniquely engraved design of the cap is repeated on the grip section and blind cap creating beautiful symmetry and the pen cap closes with a screw mechanism. The Evolution is offered as a fountain pen and rollerball. The fountain pen's vacuum power filler is made of titanium to resist ink corrosion and features
Visconti's newest nib, the much anticipated Visconti Chromium 18 Skeleton nib. The nib's special shape is turned from a capillarity tube made of Chromium 18 offering a smooth writing experience. The nib is customized with grooves and cuts that have been carefully selected to give an aesthetically appealing design.
In addition, writing performance is enhanced due to improved air and ink flow through the nib. The Skeleton nib is available in EF, F, M, B and S widths.