Visconti Knights Templar Rubies Special Reserve Limited Edition Fountain Pen
This pen has been lovingly used. It comes complete with box and papers, but no wax seal.  It is equipped with a 23k Palladium Medium nib.  It is LE #36/112.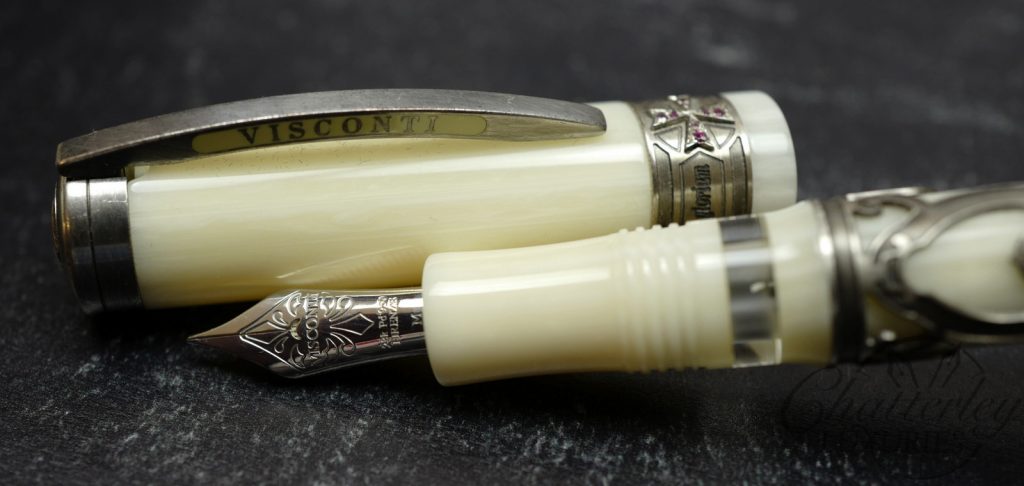 About 700 years ago, with an infamous charge of heresy, the Order of the Knight Templars was outlawed, the knights killed, and their fortunes confiscated. The Order, founded around the year 1118, owes its name to the Dome of the Rock, an Islamic sanctuary located in the whereabouts of the Biblical Temple of Jerusalem. The Templars used to call this Dome "Templum Domini." The Knight Templars are remembered for the economic and cultural development they had spread throughout Europe and are still known today as shining examples of honesty, utter devotion, and faithfulness.
This fountain pen has been inspired by the legendary white robe with the red cross the Knight Templars used to wear. Limited to 112 pieces, the pen is comprised of ivory-colored resin overlayed with aged silver filigree. The cross decorations are inlaid with precious rubies. The metal trims are reminiscent of the iron and steel used by this military order. The seal bears a significant historical weight as well, portraying two knights – a symbol of poverty and of the dual nature of the monk-soldier.
Material: Ivory Colored Resin.
Trims: Aged Silver Filigree.
Filling System: Double Reservoir Power Filler.
Lock System: Screw System.
Clip: Visconti Clip Aged Silver Filigree.
Nib: 23kt Palladium Nib.