Closeout-Visconti Opera Demonstrator Silver Dust Limited Edition Fountain Pen
Comes with a Free Traveling inkwell!
Because of the variation of these materials, we have taken a picture of the exact pen you will receive. Pick the pen you want below and add that specific one to your cart. 🙂 

Visconti has seen many successes in their Demonstrator pens from the launch of the Van Gogh Clear in 2002, to the Opera Master demonstrator revealing the double reservoir filling system to the world for the first time. We are thrilled to introduce the latest Demonstrator pen, the Visconti Silver Dust.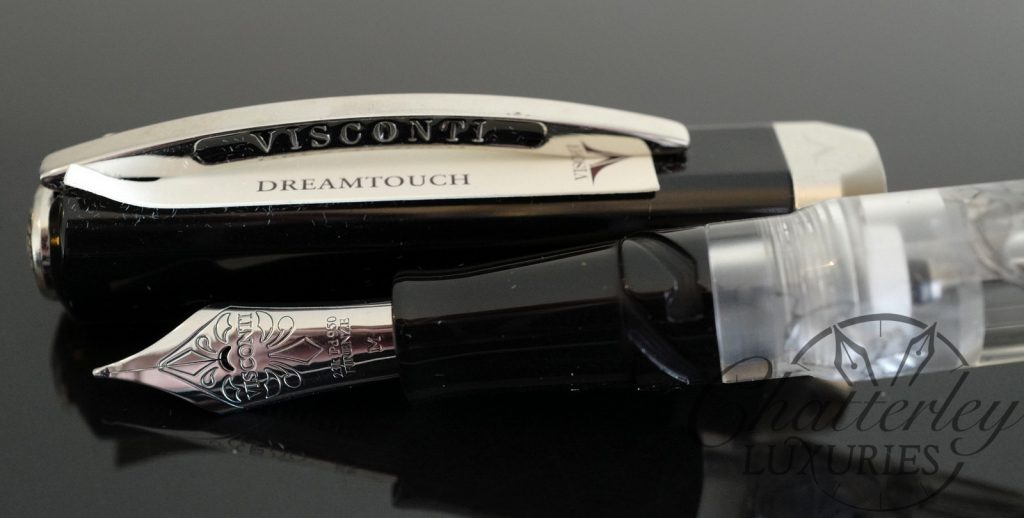 The Silver Dust Collection takes its inspiration from cosmic dust. Cosmic dust is a type of particle created from tiny crystals released from stars. It is formed when a star, like the sun, sends out atoms. In August 2014, scientists announced the collection of possible interstellar dust particles from the Stardust spacecraft after its return to Earth in 2006. Since studying the particles, scientists have found that cosmic dust exists all over the planet and enters Earth's atmosphere every day. Visconti has decided to celebrate this historical event with the launch of this exquisite special edition pen.
The Visconti Silver Dust is a limited edition with only 600 pieces crafted and released worldwide. It is based on the iconic Opera body, featuring the squared circle form, a combination of a square and a circle, to create the perfect ergonomic shape for a writing implement.
It has a clear body in acrylic resin with particles that recall the silver cosmic dust.
The cap is made from a solid block of specially selected Lucite resin made to fit the high-quality standards of Visconti in both strength and brightness. The heart of this collection lies within the body of the pen. The result is a completely translucent body swirled with particles that recall the silver cosmic dust. The famous double reservoir filling system can be seen amid the swirls.
Nib grades are Extra Fine, Fine, Medium, Broad, Stub
This pen is a limited production, not a limited edition, so the pens are not numbered.
It utilized the Double Reservoir Power Filler
The nib is an 18k Gold Nib
MSRP $1095