Description
Closeout-Visconti Opera Master Blue Swirls Limited Edition Fountain Pen with Traveling Inkwell
This pen can comes with an 18k Rhodium plated nib.
They come with Viscounts very popular Traveling Inkwell and will packaged like below. The pen in its single box and the Inkwell in its own box. The Traveling inkwell has a $70 value.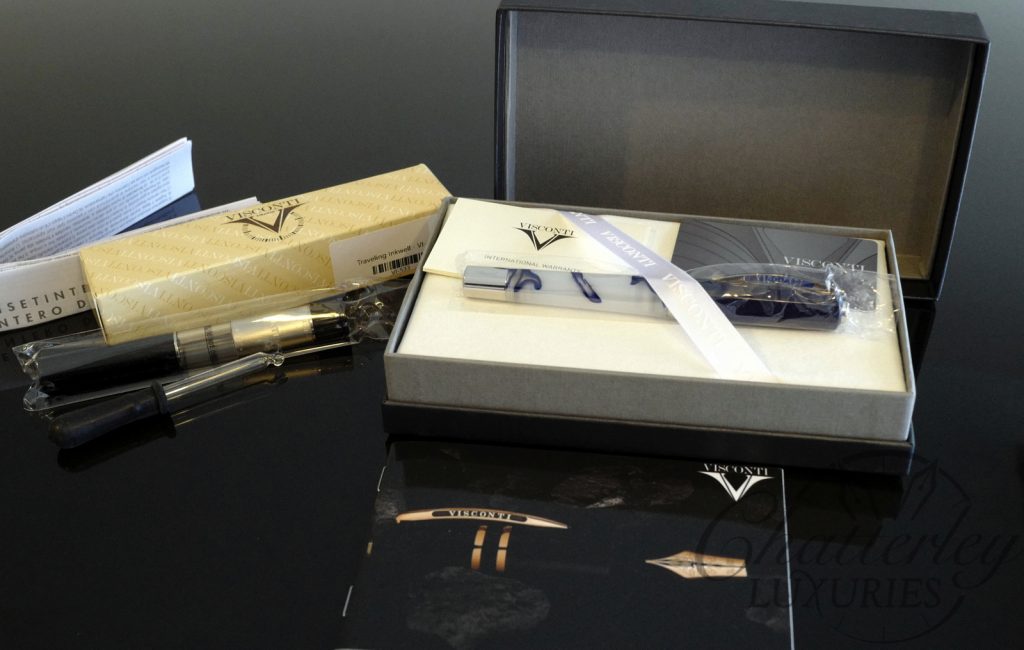 Because of the variations in the designs of these pens, we have taken pictures and they are below to show the actual pen you can choose. Just decide which pen you would like and add that number to your cart. 
#150/250


#146/250


The Opera Master Blue Swirl has waves of blue resin envelop the semi-translucent acryloid in the barrel, which is matched together with a deep navy blue cap, for a unique elegant effect. Every pen is polished twice: externally and internally, to give just the right finish to the acryloid.
The Opera Master Blue Swirls is available in fountain only, limited to 250 pieces and features the patented Visconti Double Reservoir Power Filler, a unique filling system that allows a greater ink capacity and safe usage during air flights.