Visconti Opera Master Fountain Pen in Honey Cream, a Visconti Pens Limited Edition No. 1 of 88
Up for sale is the
Visconti Opera Master Honey Cream Limited Edition 

Fountain Pen
  1 of 88 . It is fitted with a Medium nib, and other nib grades may be available, email us at info@chatterleyluxuries.com before purchasing to find out what other nib grades we may have.
Visconti writing instruments are handmade in Florence, Italy from precious and unique materials. With an eye toward re-discovering and preserving forgotten artisan traditions, toward devising and implementing advanced technology, and toward fitting inspired form to function, Visconti is the world leader in design and technical innovation.
This Honey Cream Opera Master pen also features the patented Visconti double reservoir power. The body has a fantastic oversized squared-circle barrel that feels authoritative in your grip. The arc-shaped clip that is accented with the trademark Visconti name patterned on the sides.The nib is artfully crafted with a crescent shaped breather hole and has a beautifully carved Visconti name and emblem.
Enjoy the Honey Cream Opera Master, limited to only 88 pieces. This fountain pen exclusively accepts bottle ink fills. MSRP on the Visconti Opera Master Limited Edition Honey Cream is $995
More info from Visconti: In 1998, Visconti applied for the Italian patent for its Double Reservoir Power Filler, a unique filling system that allows a greater ink capacity and safe usage during air flights. Utilizing this revolutionary Double Reservoir Power Filler, Visconti created the Opera Master Demonstrator. To allow an appreciation of its fine components as well as an unobstructed view of the ink, the Demo is a new semitransparent color, honey cream. Every pen is polished twice: externally and internally, to give just the right finish to the acryloid. Visconti's large, 23 kt palladium nib, is available in EF, F, M, B, BB and Stub widths.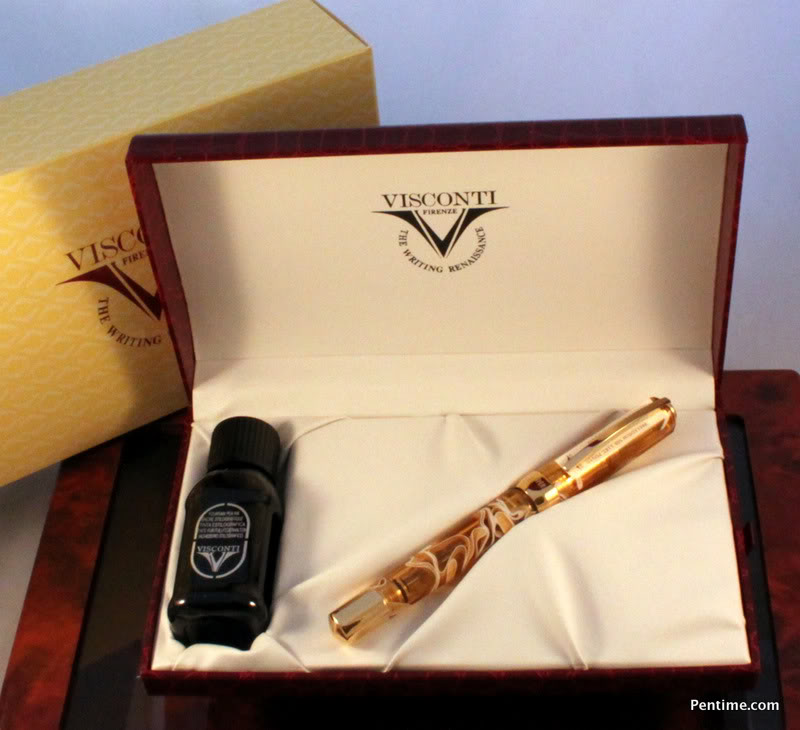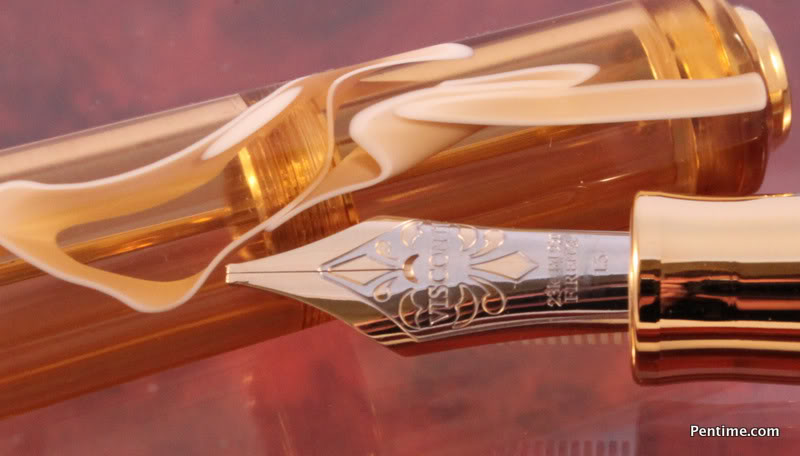 Product Specifications Writing instrument: Fountain pen Limited edition: 99 pens Dimension: Oversize Material: Resin Design: "Squaring the circle" Color: Honey Cream Trims: Gold plated My pen system: Yes, regular Filling system: Double Reservoir Power Filler Lock System: Screw system Clip: Visconti clip white, gold plated Nib: Two-tone 23kt Palladium nib Nib Gradee: EF-F-M-B-BB-S Feeder: White Case: Regular standard brown case Warranty: Visconti general warranty Identity Card: Yes Price: MSRP $995