Armando Simoni Arlecchino 2 Limited Edition Celluloid Fountain Pen
This pen is pre-owned, but like new with box and papers.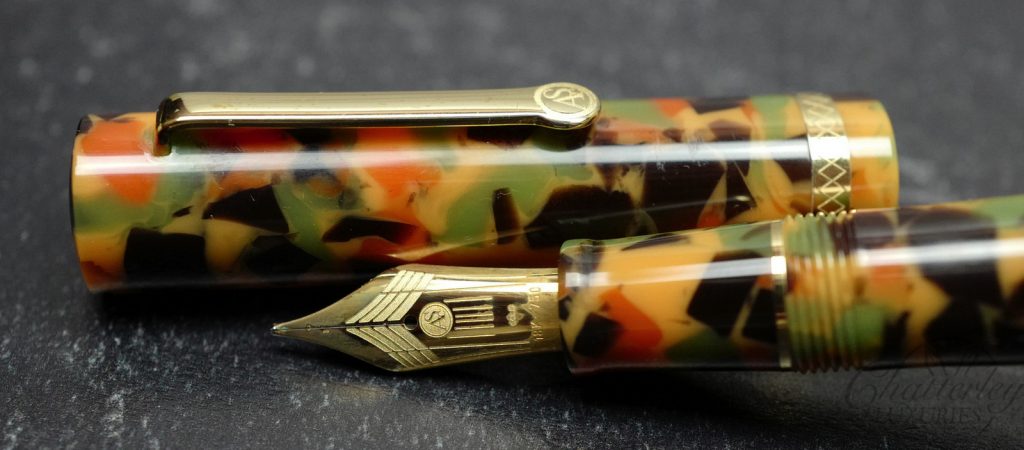 One of the most storied pens to have come from the workshop of Armando Simoni is the Arlecchino. Legend has it, that Simoni mixed a batch of several colors of doughy celluloid, put it through a hand pasta maker, and came up with enough plastic to form twelve pens, the best of which he gave to his wife.
The harlequin colors, and the magic of the old-time circus, are captured in this reproduction of Cavilieri Simoni's inspired creation, the Arlecchino.  The 2017 Arlecchino 2 is a Limited Edition of 100 pens worldwide.
The pen and barrel are composed of black, green, orange, yellow, transparent red, and solid red celluloid with yellow gold trim.
Pen aficionados will appreciate the superb writing characteristics from the combination of the 'Magic Flex' 14K solid gold yellow nib, and an innovative ebonite feed that flexes to provide superb ink flow. Everything about this design enables you to vary the line width by changing the amount of pressure on the nib as you write. Be careful not to push too hard, as you can bend the nib.
The Arlecchino 2 comes equipped with a twist piston filling mechanism. You simply unscrew the celluloid end cap, immerse the nib in ink, rotate the end of the metal filler back and forth fully three times for a full fill, and replace the end cap.
The Manufacturers Suggested Retail Price is $975.