Armando Simoni Club Oversized Bologna Extra Egyptian Series Ramses II Fountain Pen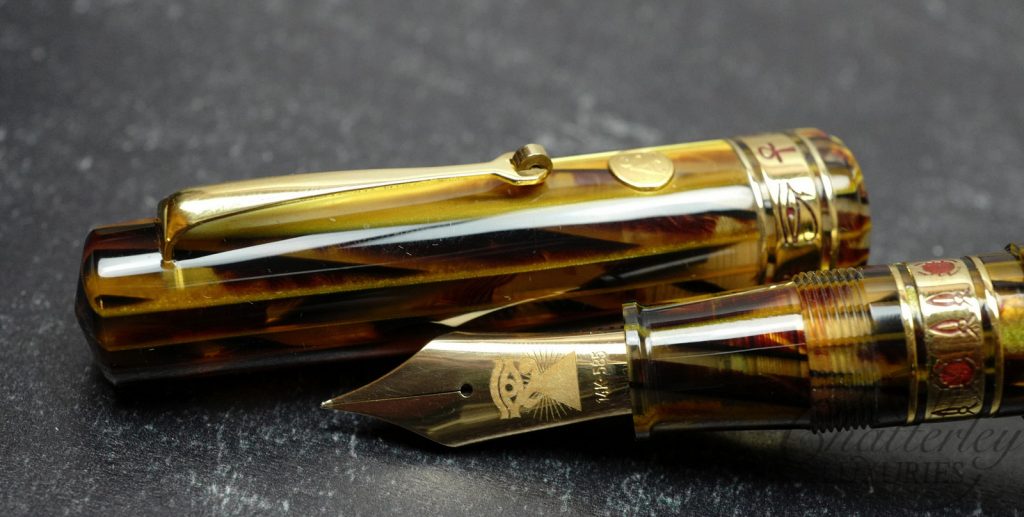 From Mount Sinai to the Pyramid at Giza, Egypt is a stunning country seeping with rich ancient history. It is home to one of the Earth's oldest civilizations and located on the northeast corner of Africa. Our new ASC Egyptian Series honors the great Kings and Queens that ruled throughout various dynasties of ancient Egypt.
Inspired by Egyptian designs and colors, the gold trims follow a pattern of ancient hieroglyphics, which decorate the barrel above the grip section and cap.
The material used for this pen is our new, in-house celluloid, that we have developed over the past three years. Several layers were used to deepen and enhance the color of the material that creates a unique pattern.
As with previous Bologna releases, we offer a large volume, quick-acting pneumatic filling system.
Our 14K585 gold MEDIUM #8 nib features an innovative ebonite feed that flexes to provide superb ink flow. The nib is also engraved with the Eye of Horus and a the Great Pyramid at Giza. Everything about this design enables you to vary the line width by changing the amount of pressure on the nib as you write. Be careful not to push too hard, as you can bend this flexible nib.