Armando Simoni Club Oversized Ogiva Burlwood Celluloid Fountain Pen
These pens are Ogiva Shaped, but in a large size. They are the same size as the Oversized Bologna with the #8 nib.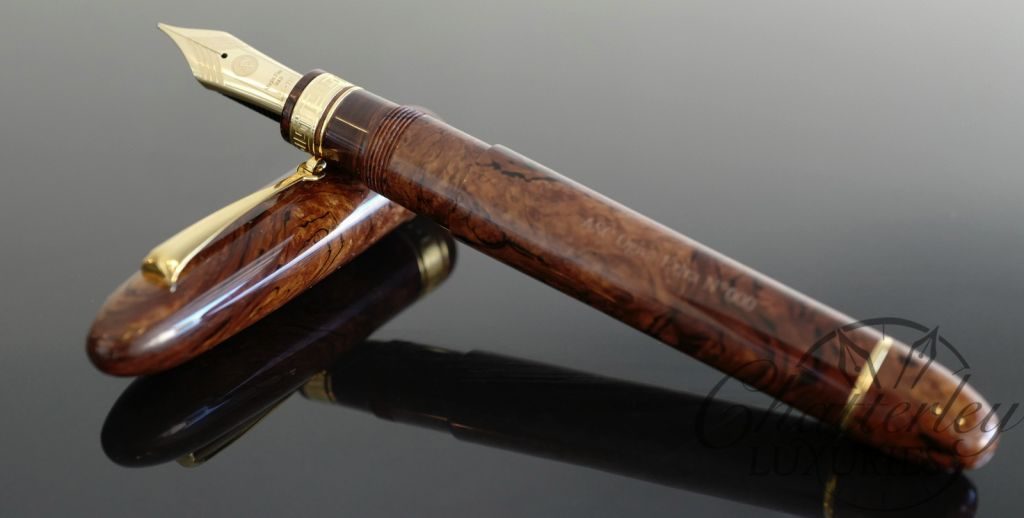 Straight from the atelier and crafted from a celluloid rod, Armando Simoni Club is proud to introduce the  Ogiva Series — Burlwood.
The shape that defined an era — the ogiva or bullet shape. Hold it in your hand, and you will know the difference. Bring it close to the light, and the semblance to wood is striking. A spectacle for the fine pen connoisseur.
As always, the signature Greek Key pattern appears on both the cap band and the barrel above the grip section.
Everything about this design enables you to vary the line width by changing the amount of pressure on the nib as you write. Be careful not to push too hard, as you can bend this flexible nib. The old-fashioned turning knob and piston is superseded by a large volume, compressor filling system.
MSRP  $1195