Closeout-Montegrappa NeroUno Linea Duetto Matte Black/Ruthenium Fountain Pen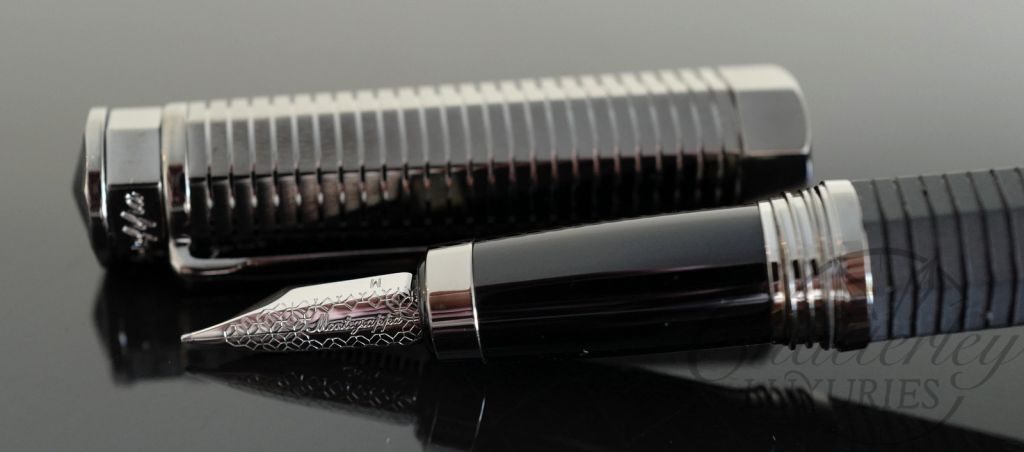 Contrasts of tone and material bring new subtlety and sophistication to the NeroUno, Montegrappa's most defiantly modern silhouette. A choice of metallic trims provides a dramatic counterpoint to a barrel realised in dull black resin. A distinctive fluted profile and contrasting brilliance across both sections add technical accents and executive class to an object of rare balance and harmony.
The secret of Italian design lies in the ability to reinvent itself introducing constantly new changes to amaze, yet always remaining faithful to the original style. The NeroUno Duetto pen collection is the perfect example of such challenge.
This new line, striking for its ultimate design and high-tech accents, is the renewed witness that Montegrappa – the first Italian manufacturer of superior writing instruments, after almost a century of extraordinary craftsmanship, is still here to impress its life-long admirers.
The NeroUno Duetto boasts the unmistakable by now octagonal design with a conic shape – a hallmark of the of Montegrappa products, while taking on new inspiring details such as the line-patterned pen cap, which is entirely made in shiny metal and offered in the three plated shades of palladium, 18k rose gold or ruthenium. The cap top, embellished by the brand's logo, remains the inimitable signature of excellence just as the 18k gold nib is.
Available as fountain, rollerball and ballpoint pens, the NeroUno Duetto writing instruments remain faithful to their minimal simplicity and somewhat male allure, but are enriched with details of an ever more contemporary flair.