Conway Stewart Winston Heritage Limited Edition Fountain Pen
The Winston Heritage is a limited edition of 50 pens worldwide, this one for sale here is the #1/50 pen. This pen is fitted with an Italic Medium nib, it you would like a different nib please email us at info@chatterleyluxuries.com.
The Winston model is named in honor of Sir Winston Churchill, a well known and respected Prime Minister. Sir Winston Churchill was a man who was larger than life and had opinions to match.
From a design standpoint, the most prominent feature of the new Winston Heritage is the engraving covering both cap and barrel. Or on the other hand, it might just be the striking color! Both combine to make this Conway Stewart Heritage a real standout. Their goal from the beginning was to arrive at a design that stood out, but which was also tasteful and elegant. Rather than simply rely upon a bold color, the design team strove to locate a middle ground that brought together new materials and mixed them with an understated engraving pattern on the cap and barrel.
The Conway Stewart Heritage Winston is good choice for those who want a large pen, one that stands out in a crowd, but which still stays true to the classic style and feel of a classic vintage Conway Stewart design. The color chosen is a deep green teal that blends blue and green in a pleasing shade, perfectly complimenting the engraving pattern. The cap and barrel are set off by rich jet black accents at cap top and barrel end, matched by a black section. The 18kt solid gold nib is plated with rhodium to match the sterling silver trim. The result is a classic understated writing instrument, the perfect choice for those who want to make a statement, but in a subtle way!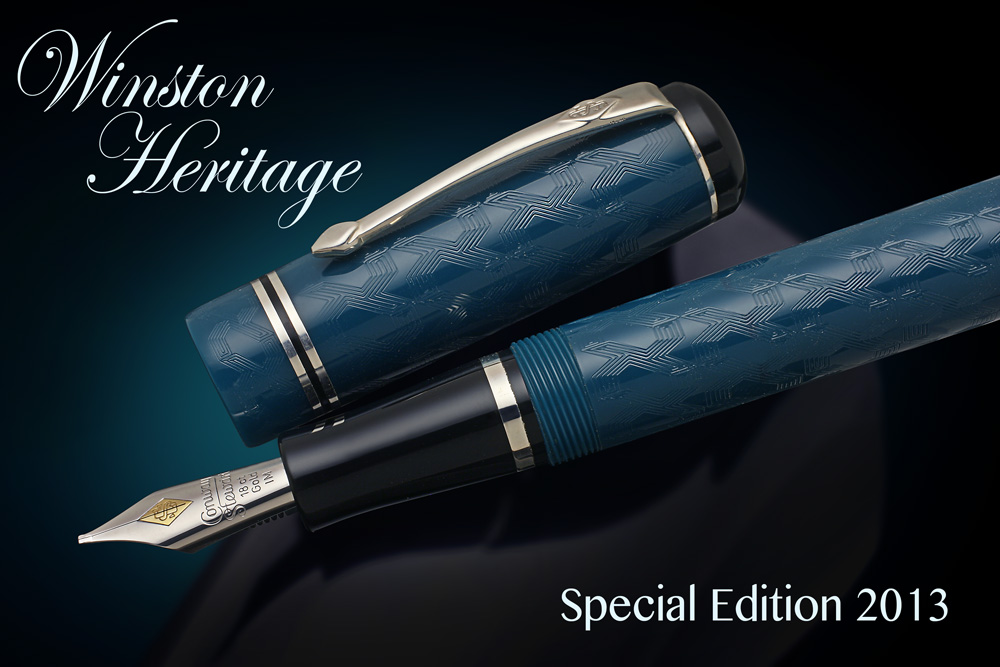 Conway Stewart Heritage Collection
The Conway Stewart Heritage Collection is Conway Stewart's celebration of timeless and classic models. The Duro model launched the Conway Stewart Heritage Collection and was followed by the Award Winning Dandy Heritage and the much loved Nelson model. The latest monthly Special Limited Edition from Conway Stewart is the Winston Heritage, bringing a refined combination of elegant shape, subtle engraving and stunning color choice together in a symphony of visual appeal that truly rises above the sum of its parts.
The Conway Stewart Winston Heritage Fountain Pen fills via cartridge convertor and is available with EF, F, IF, M, IM, B, IB or BB nibs.
Retail List Price for the Conway Stewart Limited Edition Heritage Winston Fountain Pen – LIST RETAIL £484 €581 $820
Dimensions:
Closed: 142 mm – Posted 178 mm – Barrel incl nib 137 mm – Cap 66 mm
Barrel Diam 15 mm – Cap Diam 18 mm – Weight 54 gms
Fountain Pen Filling Mechanism: Converter Cartridge