Description
Danitrio Urushi Nashiji-nuri Red on Takumi Fountain Pen with painted clip
This pen is brand new, but does not come with its Original box. They are short from the suppliers due to Covid.
Contact us for the Chatterley Loyalty Discount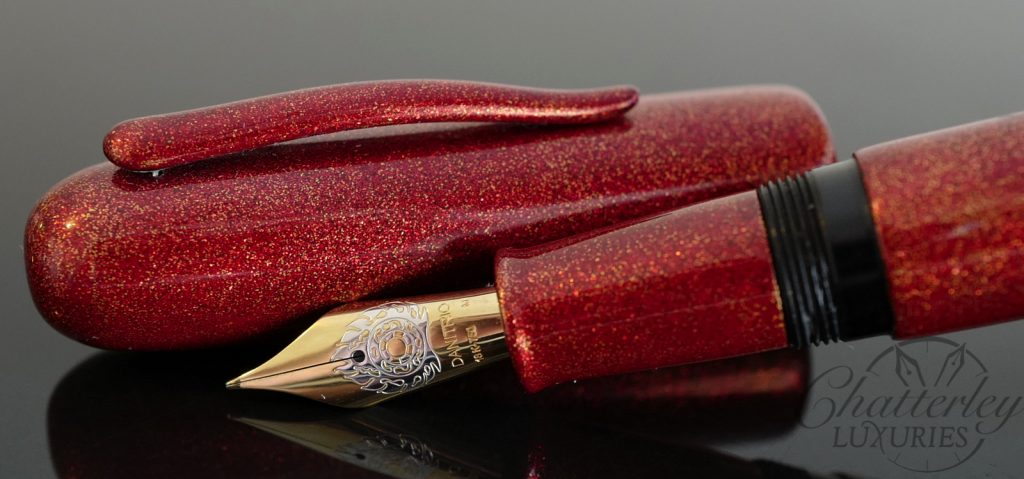 Craftsmen call Urushi a living thing. Its qualities differ even from the same trees, but the quality is different from the trunk or branches. Different qualities from different trees or different areas or countries.  Then, crude Urushi must be refined to make more than 10 different qualities of Urushi for different usage. Now craftsmen have to pay more than $600.00 per pound for genuine Japanese Urushi, $250.00 for Urushi imported from China.  They use it on different occasions and different places, while manmade Urushi or plastic paint only cost a few dollars a pound. Genuine Urushi is like pure gold, only for fine jewelry. and pure gold is too expensive for cheap works with cheap materials.
Nashiji-nuri
Variation: Nashiji-nuri uses fine size gold powders to sprinkle on the base that is already painted with Urushi in black or other colors and burnished. And the surface is covered with clear Urushi and it is burnished until the coating is just thick enough to keep the powders underneath and shiny. The look is like the skin of pear (Nashi) and that's why they call it Nashiji-nuri. The craftsmen always like to do something new and different. So they use flattened gold powders called Hirame which is larger then Nashiji powders to sprinkle on the surface as Nashiji does, but the coatings will be burnished until the Hirame shows up from the beneath. The Hirame will look even shinier than Nashiji and since the powders are larger than Nashiji, the effect is more visible.
The base for Urushi paintings must be smooth and strong in order to have a good Urushi painting, which will last thousands of years. When the base is ready for painting, the first painting uses Sabi, Urushi mixed with polishing powders, as its base painting and call it Shita-nuri, the base painting. Then, Naka-nuri, the interim painting with Urushi is preparing for better Uwa-nuri, the finishing part of painting. The color of the interim painting has to be selected according to the color of the finishing part of painting. All these works are usually done by Nu-shi, craftsmen of Urushi paintings, painting 7 times in average and it takes 2-3 weeks before the Nu-shi can send back the pens to our Maki-e sh, who will do more Urushi painting works or Maki-e onto the pens.