Description
Delta Red Fusion Momo Limited Edition Fountain Pen
Delta in a collaboration with Momo Design back in 1992 first introduced a pen manufacturer to utilize combined materials of carbon fiber and titanium in producing a fine Italian writing instrument.  Fast forward 20 years and in recognition of Momo Design's 30th anniversary as an Italian company specializing in high end luxury good, it then collaborated with Delta to create the Delta Momo 30th Anniversary Pen Limited Edition Collection.
Due to its popularity, Delta is now introducing a newly redesigned Delta Momo 30th Anniversary Limited Edition Pen Collection in 3 versions. Red, black and Orange.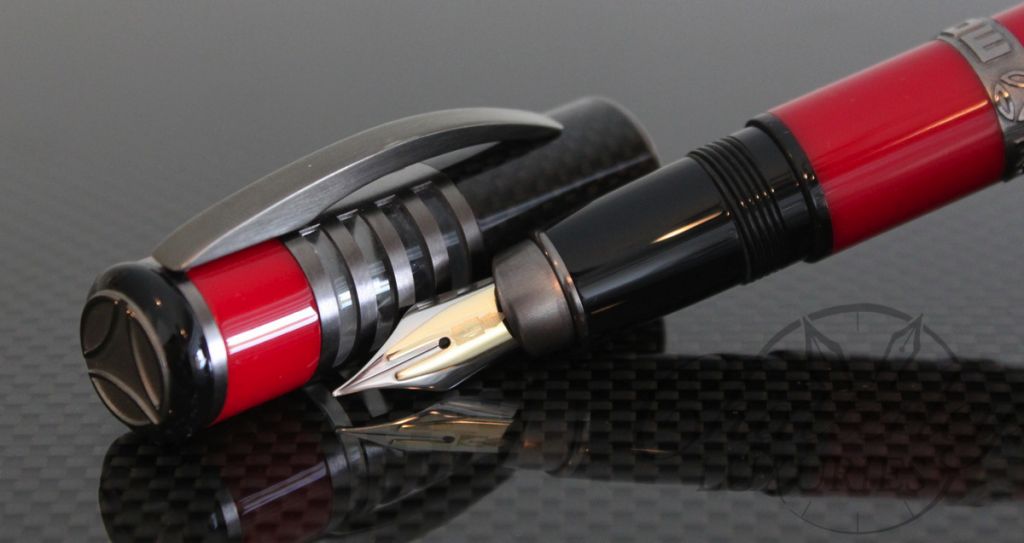 The cap offers a hand carved cage, which contains the inner body in clear resin offering a "Vista" special effect, showing off the Fusion nib. The extremity in the top of the cap which offers a medal featuring the Momo design logo, the clip and tridimensional ring in sculptured with the words MOMO DESIGN have all been plated with Ruthenium, something rarely seen on Delta pens. The clip features a "pull-spring" mechanism.
This pen features a Fusion nib and is available in either EF, F, M, B or Stub. This collection is a limited edition and numbered to 981 fountain pens, 981 Rollerballs and 981 Ballpoint pens.
MSRP on the Fountain Pen is $995.
MSRP on the Rollerball is $695.
MSRP on the Ballpoint Pen is $395.