Montegrappa Fountain Pen Carbon Fiber Limited Edition Alfa Romeo
Two legendary Italian brands are nearing their centenaries. It is thus both fitting and timely that Montegrappa, which has been producing superior fountain pens and writing instruments in the same factory since 1912, has been chosen to produce the centenary pen for Alfa Romeo, born in 1910.
The first fruit of this new partnership is an elegant set of pens that embody the essence of Alfa Romeo's history and prestige. The series created by the Bassano master craftsmen for this important anniversary comprises twelve different pens (three versions of fountain, ballpoint and roller ball pens and mechanical pencils) to celebrate and honour the glorious car manufacturer in each and every design detail. The date on which the Anonima Lombarda Fabbrica Automobili was founded – 24th June 1910 – is referred to by the number of pens produced in this limited edition series.
Montegrappa has crafted a total of 1910 items: 246 (24-6, i.e. June) celluloid and carbon fiber fountain, ballpoint and roller ball pens; 246 celluloid and silver fountain, ballpoint and roller ball pens, plus 167 of each of the respective mechanical pencils and 25 of each of the four series in celluloid and solid 18K gold.
The exquisite artistic designs etched in low-relief on the body of the silver and gold versions in the Montegrappa collection are inspired by the stylistic elements on the evocative Alfa Romeo logo (the Visconti snake, badge and vintage logo).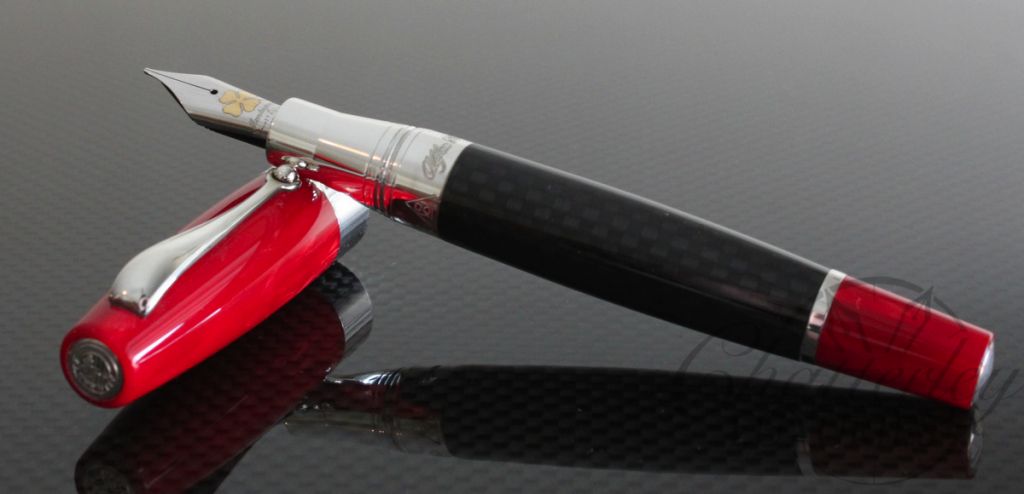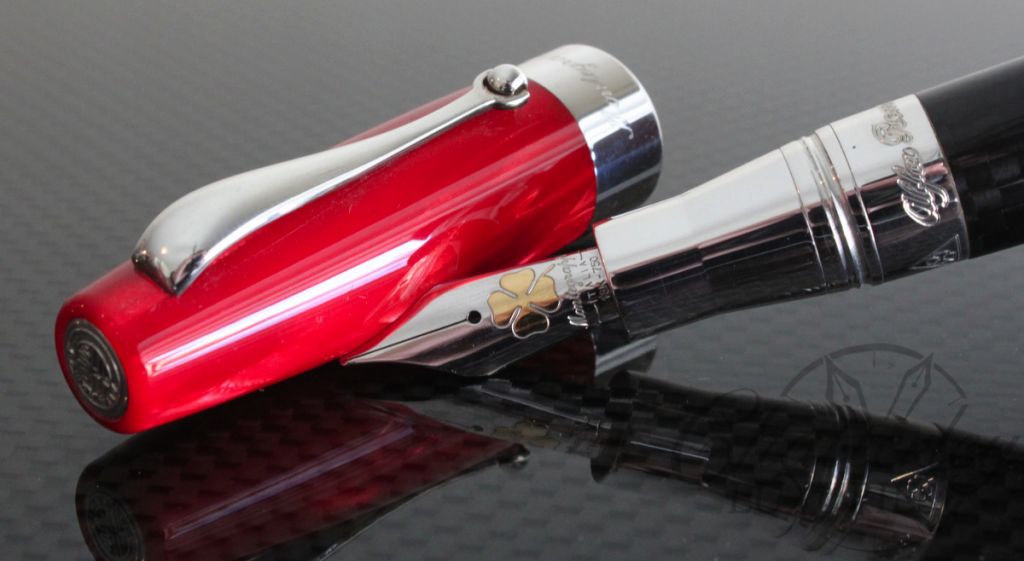 The brand also appears in relief on the top of the cap, while the classic Alfa four-leaf clover is etched on the two-tone nib of the fountain pen, which is partially rhodium-plated.
This pen features an ebonite feeder and a nib made out of solid 18k gold. It is made out of true Celluloid and carbon fiber. The section is also made of sterling silver, not just the trim and this pen uses a cartridge convertor filling system.
This pen is sold without the box or papers, the is brand new and was purchased from the distributor, so it carries the full manufacturers warranty.
MSRP on the Motegrappa Carbon Fiber Alfa Romeo Fountain Pen is $1725