Namiki by Pilot Emperor Maki-e Elephant Limited Edition (99 total pens) 2022 Fountain Pen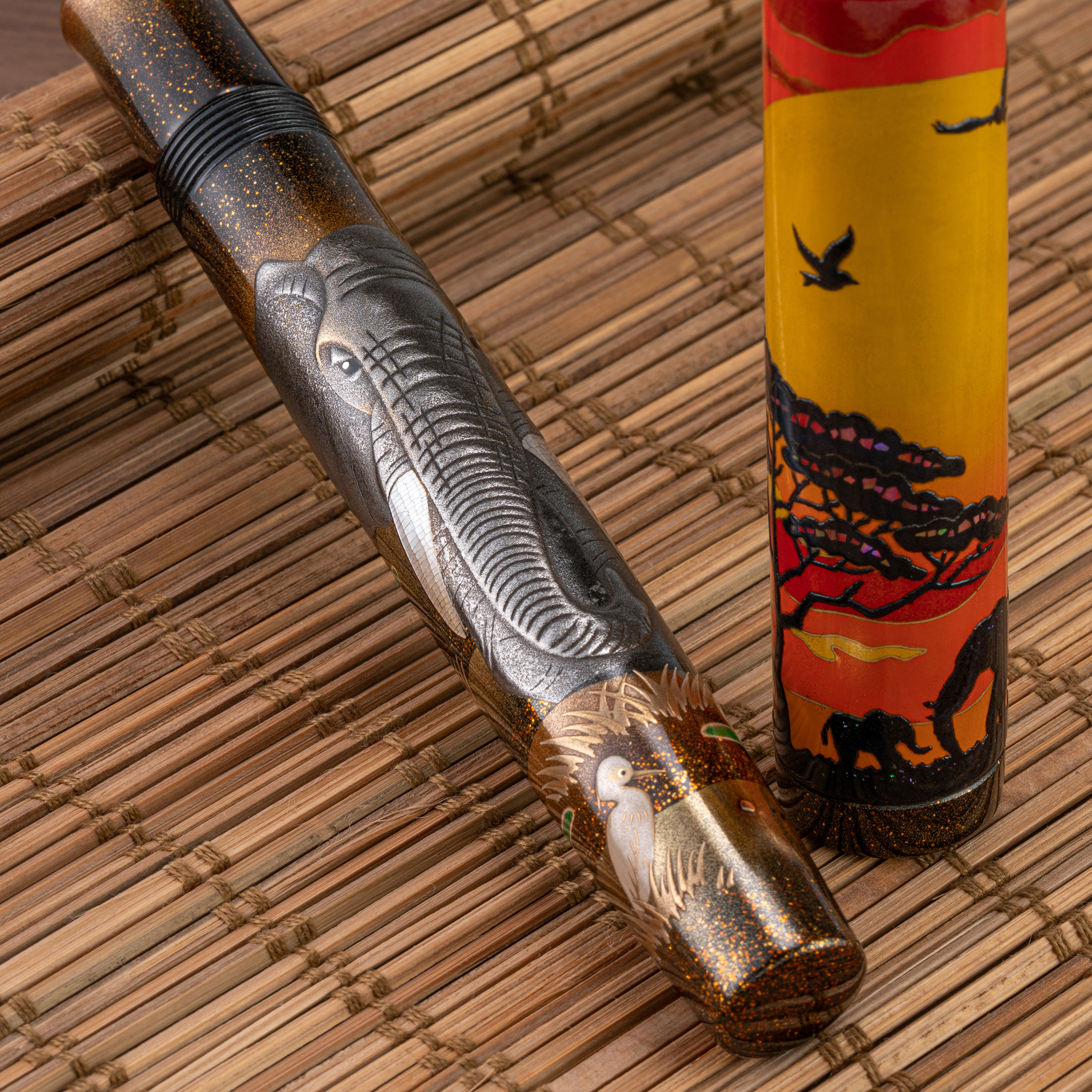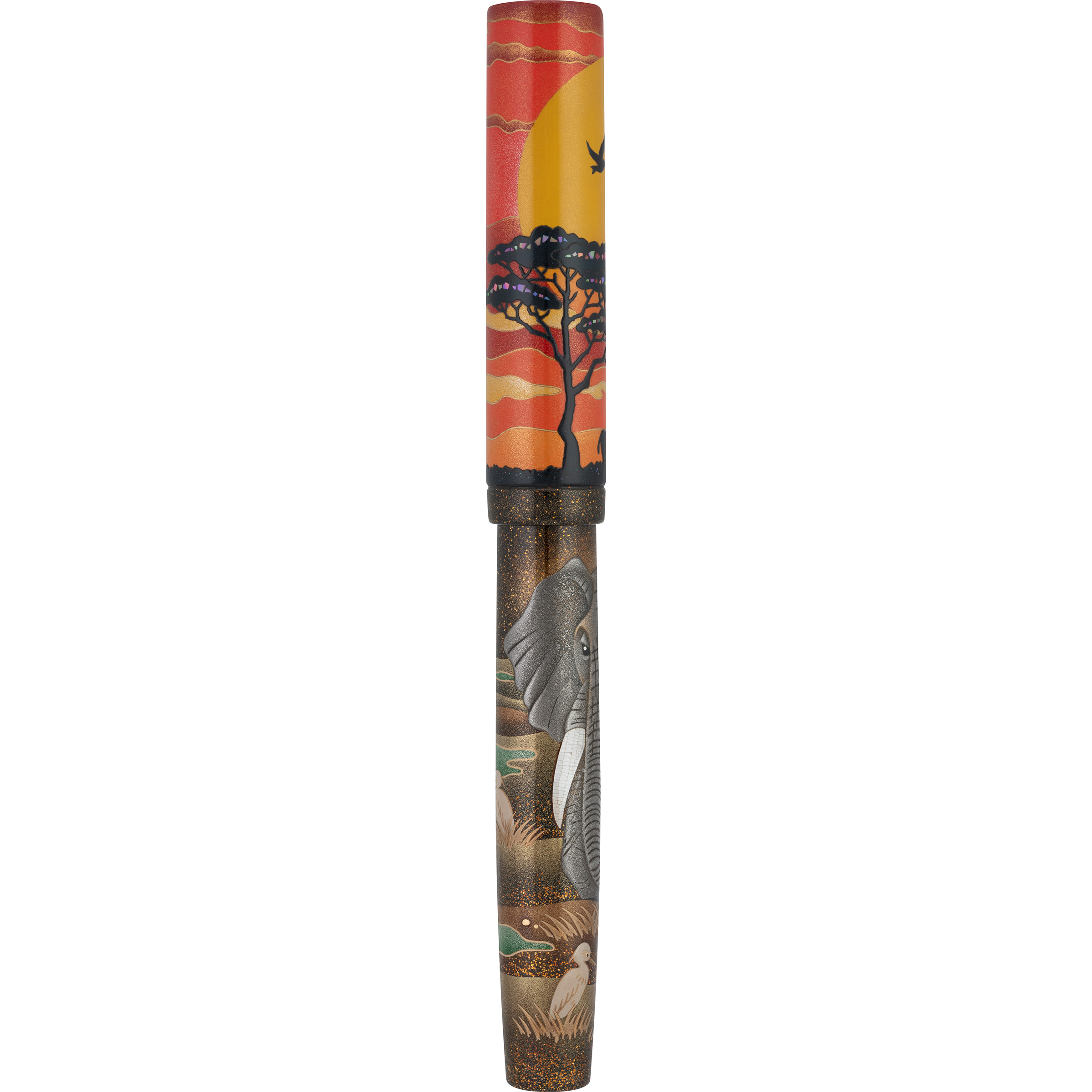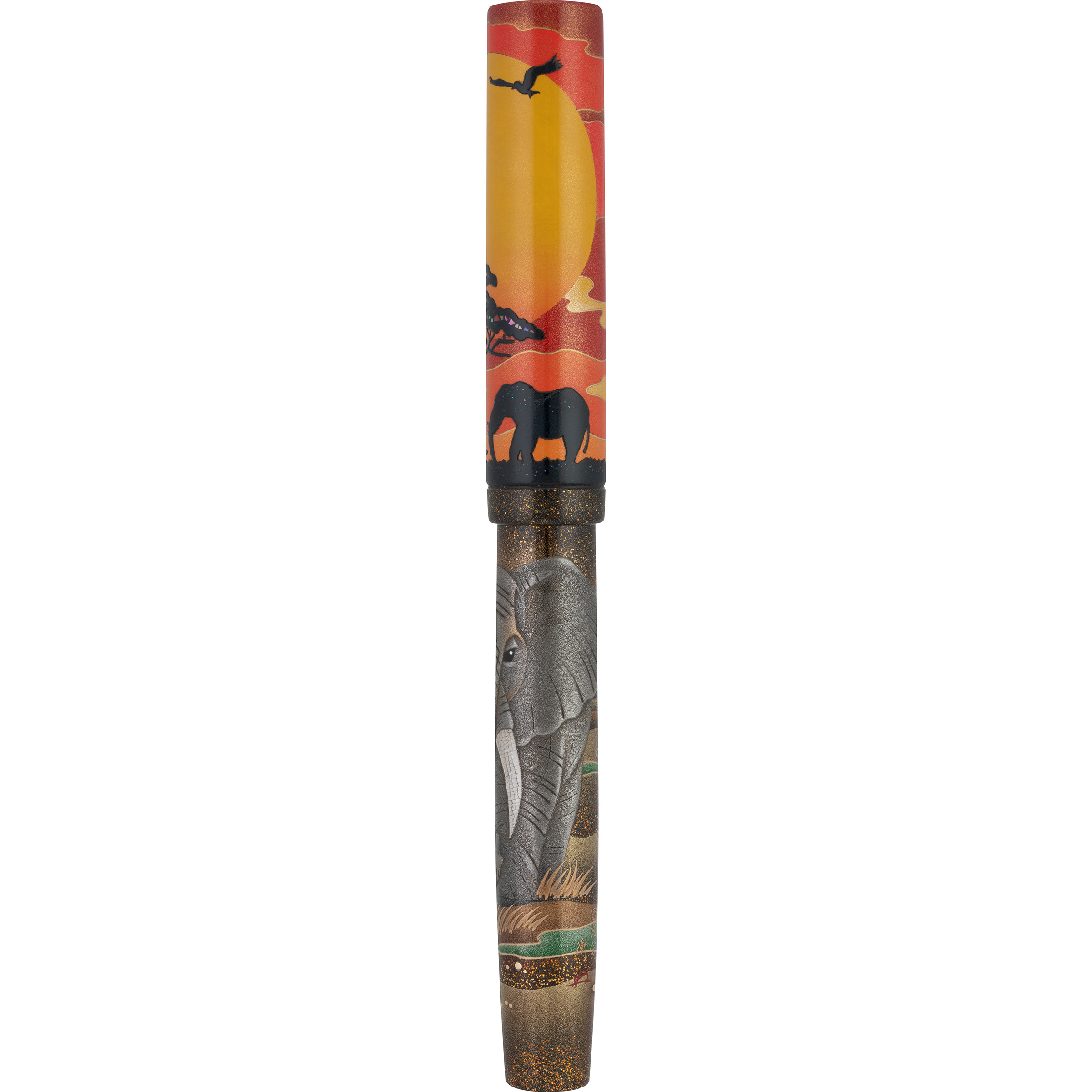 The newest addition to the Namiki Collection is a Limited Edition Emperor called Elephant. The exceptional artwork featured on this fountain pen was designed by Mamoru Wakabayashi (若林 衛) of the highly revered Kokkokai group. It takes many months to expertly handcraft each Elephant pen and there are only 99 available worldwide.
The barrel artwork was designed using the traditional Maki-e lacquer work, including Taka, Togidsashi, and Shishiai Togidashi-Taka Maki-e techniques with stunning mother-of-pearl Raden elements. The Elephant has a classical Emperor vest-type body style and is enhanced with a traditional 18-karat gold, rhodium plated nib featuring the iconic silhouette of Mount Fuji, available in Medium or Broad nib sizes.
African elephants are the largest land mammals on the planet and live extraordinarily long lives, with an average life expectancy of 60 years. Elephants symbolize survival, prosperity, and life due to their intelligence, wisdom, patience, and fierce loyalty. Elephants are also symbols of family happiness, as they live in close-knit family units. Female elephants live together with their calves in a herd of three to ten until the calves become independent. African elephants grow in their mothers' wombs until they are quite developed, weighing up to 265 lbs., and immediately join the herd at birth. Upon the calf's arrival, all elephants in the heard recognize the newborn as family and protect both the calf and the mother. The herd shares information with each other such as where to find food and water, how to live on the move, and how to behave in a group of adults, acquiring social skills in the same way as humans do.
The vibrant scene of a sunset over the Savannah is depicted on the cap of the fountain pen using Togidashi Maki-e. The mother and calf, tree, and birds are brought to life through Taka Maki-e and with Raden inlay. On the front of the barrel, a single elephant is represented using Shishiai Togidashi-Taka Maki-e (Combined Raised and Burnished Maki-e), allowing the elephant's strength and texture to be felt by the touch of the hand. Also on the barrel is an egret bird – which are symbolically depicted for the beautiful, historical relationship that the egret birds share with elephants – egrets eat the parasites that live on the elephants' skin, and elephants reciprocate by protecting the egrets from predators. This gorgeous Limited Edition Emperor fountain pen depicts an entire masterpiece of art on a single body of pen.
Each of the 99 Elephant fountain pens is presented in an elegant, limited edition wooden gift box with a gorgeous earthly green silk lining and a serial number plate. It is accompanied by a limited edition bottle of black ink (cap adorned with a gold egret), maroon polishing cloth, artisan card, and use and care guide.
PRODUCT SPECIFICATIONS:
Numbered Limited Edition up to 99 • Capped Fountain Pen
Medium or Broad 18kt gold rhodium plated nib
Black, limited edition ink bottle included
Maroon polishing cloth included
Serial number plate, leaflet with certificate card, artisan card, and use & care guide included in the box
Packaged in an elegant, unique wooden giftbox with a gorgeous green, silky lining
Below is a picture of the Large #50 nib compared to a Montblanc 149 nib.